Pushing the limits of collaboration and time shifting!
For 48 hours, 11 teams from 37 countries collaborated together online to competitively demonstrate the best use of building information modelling (BIM) to design a museum in East London for the third successful Build London Live collaborative BIM event.
Global Teams Collaborate in the Cloud to Demonstrate the Best Use of Building Information Modelling.
It is inspiring to hear the perspective of someone whose brain works like Chris Brogan's on the topic of virtual team management. Brogan is a social media pro's pro. His blog is in the Top 5 of Advertising Age's Power 150, he's a New York Times bestselling author and he speaks and consults with the world's premier companies about the intersection of technology, media, and customers acquisition.
In this Forbe's interview Brogan speaks of maintaining a 'leadership presence' and promotes the use of 'just having video cameras on and open' while working so that you get that "random banter" element that's missing in virtual experiences.
I've yet to meet a professional who says they prefer virtual leadership. Instead, it's a part of the job generally endured and managed as best as possible. Death by meeting has been replaced by a long slow soul-crush by global conference call.

But what if, instead of simply coping with virtual management, we were inspired because of it? How could we reach more people, in authentic ways, and build stronger connection?

KH: You talk about the human digital channel. How does that apply to relationships inside an organization?

CB: The human digital channel as I talk about it is a sales channel, but inside organizations, the same premises relate. I talk about needing sustainable, relationship-minded business practices. Internally, this is true as well. We have a paperwork glut. We have a trust deficit. These things could be fixed, if people cared to fix them, and then ALL of business would function better.
Read the rest of this great interview here:
How Social Media Icon Chris Brogan Would Run Your Virtual Team – Forbes.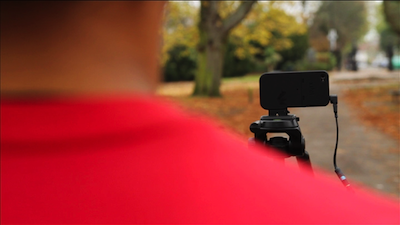 Former MTV and BBC TV Director Jules Watkins has created a video course that shows you how to make awesome videos using just your iPhone. He contacted us here at T.A.O. and asked if we'd be interested in a look at his program to review for our blog. From the minute I logged into Jules' iPhone Video Hero site I knew I was looking at some genuine expert training. By the end of even just the first module I was confident I could shoot a better, more appealing, more professional looking video with my iPhone – no joke.
Jules has directed hit TV shows including The Biggest Loser and Pimp My Ride and knows a thing or two about how to make videos that attract a following. The videos he has made ON HIS iPhone for this training will stun you; and he's a real show 'em don't tell 'em kind of teacher, so he gets right to the point.
If you are an entrepreneur, small business owner, solo professional, independent artist, design freelancer or just want to make better videos with your iPhone then you need to watch Jules' video at iPhone Video Hero.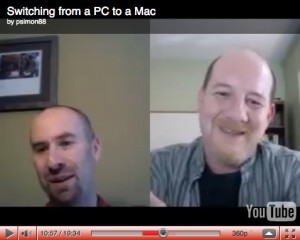 As you know I have done a series of posts (with many more to come) about my switch last year from PC to Mac.  Well recently, thanks to the amazing social media tool that is Twitter, I met Phil Simon. He is the author of several books the most recent of which is The New Small.  The book looks awesome and I just started reading it last night.  I'll be interviewing Phil here soon and giving away a copy of the book.
After chatting Phil and I realized we had a lot more than a first name/hairline in common – we both were born in Brooklyn NY, grew up in New Jersey, went to school in Ithaca NY and have a lot of the same views about emerging technologies and how small businesses/entrepreneurs can leverage these tools to grow their businesses.  We also like the same music (especially Rush, Pink Floyd and the Police) and have a very similar sense of humor (I think that is a NY/Jersey thing).
We also both recently switched from using PCs to Macs and are both now happily plugging away on our MacBook Pros. He also wrote  a series of posts detailing his transition to the Mac. I was sharing some of the great apps I discovered with him and told him about eCamm Call Recorder which makes it super easy to record Skype video and audio chats. He was excited by this and asked if we could do a video interview me about my switch to the Mac so I could share some tips.  Of course I said YES – so visit his blog and check out the interview.
I'll be returning the favor and interview Phil in the coming weeks once I finish reading The New Small and giving away a copy to a lucky reader so be sure to check back!
Yesterday I did something I've been wanting to do for some time – I did my first live Ustream Broadcast to have an open Q&A about mobile work technology, working from anywhere, and growing your business online.  In case you are not familiar with Ustream it is a service that allows you to do live real-time online broadcasts using nothing more than your webcam and a microphone.  You can check out the replay of yesterdays session: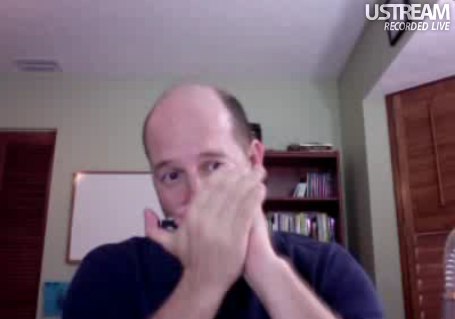 In this initial broadcast I chatted with some folks about mobile work technology – we discussed online musical collaboration, co-working and coffee shops, why it makes sense to create your website in WordPress, CRM software, Windows vs Mac, Skype and Tokbox, multi-person video chats, the Blue Yeti microphone, Twitter Apps, and I even jammed a little harmonica! Read more