I was very excited last week when this short video from 37 Signals showed up in my inbox promoting their new book REMOTE – Office Not Required.  Take a few minutes and watch it as they talk about all the things I've long championed as the advantages of embracing and working in The Anywhere Office® – especially with regards to lifestyle compatibility and productivity.
If you've read the articles I post on this blog it should come as no surprise to you that I loved the NY Times Bestseller REWORK written by Jason Fried and David Heinemeier Hansson of 37 Signals (the company that created the popular  online collaboration and project management software  Basecamp). In REWORK they challenge the usual thoughts and paradigm about work, meetings and what you need to run a successful company. It really changes the way you think about running a business in today's world of work.
Well it looks like Jason and David have done it again this week with the release of their new book called REMOTE – Office Not Required. This book speaks more directly to the concept of The Anywhere Office® that we discuss and celebrate here on this blog. This short blurb about their book says it all:
As an employer, restricting your hiring to a small geographic region means you're not getting the best people you can. As an employee, restricting your job search to companies within a reasonable commute means you're not working for the best company you can. REMOTE, the new book by 37signals, shows both employers and employees how they can work together, remotely, from any desk, in any space, in any place, anytime, anywhere.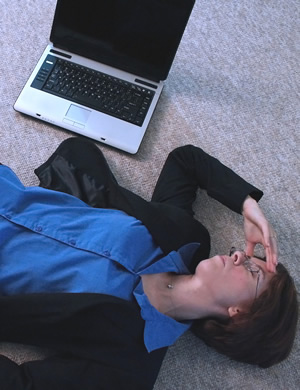 Melanie Slaugh, a reader of our blog and host of MyISPFinder, recently published a great article examining some of the real challenges of telecommuting or working remotely from the office.
Being aware that issues like this exist allows you to plan for how to address them. It is also important that remote workers and their managers and principles are able to have open communication about how and where they are struggling so that the distributed work or virtual team process can be improved and refined over time.
5 Situations Where Remote Workers are at a Disadvantage.
Are there other universal disadvantages any one else has experienced while working remotely? Leave your comments below.
The infographic below shows the cost of commuting in both finances and time – then extrapolates the cost over a 10 year period for an eye-opening revelation. Thanks to Jessica Anderson for sharing this infographic she helped to create.
The numbers on this graphic remind me of a lightbulb moment I had many years ago while sitting in traffic during my daily commute to my job in New Jersey. I, also, took a moment to do the math and realized how much time I was losing just getting back and forth to my physical office.
That realization was the proverbial "straw that broke the camel's back" which has led to over 18 years of me helping people be more mobile and work in The Anywhere Office.
Take a look and be prepared for a shock:
 Click image to enlarge


Via: Streamline Refinance
A bit sickening when you think about it, huh?  Amazing that so many companies still insist on having everyone in a central office when it really isn't necessary considering these costs.
Post a comment below and share your thoughts!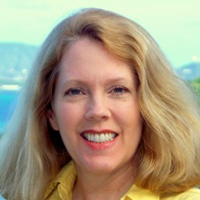 I had the pleasure of recently interviewing Pat Katepoo – a flexible work advisor and the founder of WorkOptions.com. Pat is the developer of a series of Flexible Work Proposal Packages which have equipped thousands of professionals to negotiate the flexible work arrangement they want.
On September 13, she's presenting a free webinar called Telecommute Now! How to Get Fast Approval to Work from Home where she will be sharing secrets for the easiest way to ask for a flexible work arrangement and get your managers to say YES.
In our short interview Pat and I talk about:
the importance of knowing how to negotiate the flexible work arrangement you want and how to ask with confidence.
the different shapes and sizes of flexible work: including telecommuting, compressed workweek, part-time, and job sharing.
the three-ingredient formula that gets managers to agree to a telework request — even where there are barriers. She also reveals a preview of two barriers that keep people from asking for a flexible work arrangement.
Listen to this 15 minute interview to learn more:
Podcast: Play in new window | Download (Duration: 14:50 — 13.6MB)
Pat's expert advice on flexible work has been featured in several national publications including The Wall Street Journal, US News & World Report, and also on NBC Nightly News. I've been following Pat's work in this space for the last 15 years and we first spoke many years ago when I was working on my book – Lose Your Commute. Read more
This is only the second guest post we have had here on The Anywhere Office. I was delighted when Ripley Daniels approached me about writing this for the blog. As someone who has been working virtual for years and now works with a company that is completely remote she has some great lessons learned to share about making the shift to virtual work.
I was just talking with someone the other day about when I first started working primarily from my home office.  The adjustment period took at least 6 months for me to find my workflow and adjust to my space (or adjust my space to my work).  Ripley shares some essential strategies here to help make the transition easier.
Thanks for the great article Ripley . . . take it away . . .
– – – – – – – – – – – – – –
Being a telecommuter may seem like a dream come true but there are often many aspects of working from home that can cause tension, stress and even depression. For most people, transitioning from an office environment to a home office is both daunting and difficult. The office environment facilitates a social setting where you interact with your co-workers throughout the day. Working from home immediately limits your opportunity to socialize and at times can create a sense of isolation that can be hard to adjust to. Another possible change you will undergo is balancing your work and home life. This can be extremely challenging as working from home blurs the lines.
In order to get the most out of your telecommuting experience, it's important to have a strategy. Here are some simple steps to help relieve the pressure and tension that working at home might create:
Create a specific work space. There is nothing more distracting than trying to work in front of the television or in a common area where the children might be playing or your spouse might be on the phone. If possible, turn a guest room into a home office where you can set up a desk, computer and other office supplies as well as where you can hold conference calls and teleconference calls without any distractions or disruptions. If you do not have an additional room or space, designate a Read more