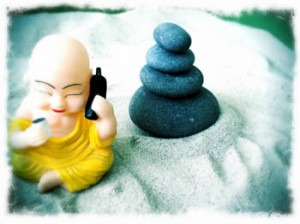 Cloud computing, smart phones, and technology truly allow you to have The Anywhere Office: the ability to get work done and be productive anywhere has brought untold flexibility to mobile professionals and web workers today.
This mobility and anywhere access has caused the lines to blur between our work and personal lives. For most entrepreneurs and small business owners, the two are forever intermingled. If done right, mobile work should be empowering: providing you more freedom and flexibility than you ever imagined as you easily manage the shifting flow of tasks, responsibilities, and communication that are part of your daily life.
But it's easy to let the technology, and our work, start to take over and demand more and more of our time.
I discovered that in today's eBusiness world, pure "work/life balance" doesn't seem to work (at least not for me). What seems a better, more dynamic, fit is a zen-like approach which aims for "work/life integration" instead. This quote called "Master the Art of Living" sums it up.
So how do you do it?  How do you handle the demands of today's fast paced, 24/7 business environment, along with all of the commitments and enterprises in your personal and family life?
Here are my top 5 tips for a zen approach to mobile work. They will help you achieve "work/life integration," and ensure that technology is your tool and not your master.
Know how your technology works. Turn off audible or visible notifications so they don't provide unnecessary interruptions when you are not working or need single-minded focus on a particular project or task.
Setup clear communication guidelines. Make sure everyone knows what is expected of them with regard to accessibility. These include prioritizing communication channels and determining expected turnaround times for different modes of communication (ie. 3 hours for emails, 1 hour for voice mail).
Centralize email and social media messages. Find ways to filter these messages into as few programs as possible so you can easily and quickly check and reply to them without feeling overwhelmed by too many systems.
Consolidate Technology. Find one tool that can serve multiple purposes. Smartphones and tablets can take the place of many devices such as point and shoot cameras, video cameras, laptops, voice recorders, and more. Finding ways to consolidate several tools, and information, into one device lets you travel lighter and stop wasting time switching between multiple platforms or programs.
Unplug and Turn off. Just because you can work from any place at any time doesn't mean you should. These tools have an off switch – use it! Give projects their proper focus and attention. And don't be so distracted that you fail to stay present with family and friends.
Following these simple steps will help you navigate the flow of digital information in your life.
Do you have a great tips or suggestion for clearing digital clutter?  Don't keep it a secret! Post a comment below and share it with the rest of the tribe here on The Anywhere Office.
Video conferencing has changed.  What was once a very costly technology only used by large enterprise type organizations with dedicated IT departments is now easier to use and more cost effective. There are a variety of solutions to fit almost any budget.
This was the topic of discussion a few weeks ago when I joined Bloomberg Businessweek in their New York Studios for a live Video Webcast called "Video Breaks Out of the Boardroom".  The show was hosted by Jim Ellis, Assistant Managing Editor of Bloomberg Businessweek, and I was delighted that they invited me to join Marc  Beattie from Wainhouse Research to be part of this episode.  Here is a photo from our broadcast: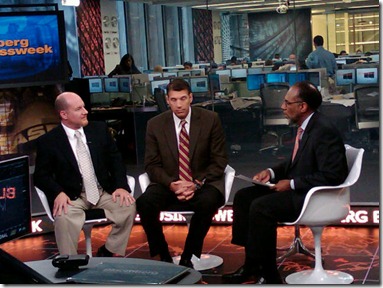 The Bloomberg building was amazing and everyone I met there was extremely friendly and helpful.  We had a wonderful discussion and looked at what's involved with implementing video conferencing including how much technical know-how it takes, how and why companies using it, what it costs, and what are some of the stumbling blocks. We also took some great questions from those that were viewing the live broadcast.
In case you missed it you can now view the entire Video Webcast live.  Just register here and you can watch the whole show.  We discussed the topic for about 20 minutes and then had about 10 minutes of Q&A.  If you're currently using video conferencing, or thinking about it, you definitely want to catch this.
A big thanks to everyone at Bloomberg Businessweek for having me be a part of this event. I hope to join them again for future shows!
Please post a comment below and let me know what you thought of the webcast and feel free to ask me any questions you might have about using video to connect with your virtual teams and remote workers.
In consulting with companies off all different sizes in a variety of industries I've found one of the biggest challenges they need to overcome in order to embrace flexible work is management resistance.
Despite the long list of benefits to virtual work or telecommuting many managers are simply uncomfortable with the thought of managing remote employees.  That's why a recent article by Fast Company really caught my eye. It describes 3 recent scenarios where managers didn't want to provide workplace flexibility and the unfortunate results:
Managers, sticking your fingers in your ears, closing your eyes and saying "La, la, la, la" when a valuable, competent current or prospective employee presents a plan for flexibility doesn't make it go away.

via Dont Let "Flexibility Just Doesnt Work for Me"="I Dont Care If You Leave"…Because It Will | Fast Company.
The article shares some excellent suggestion for what managers can do when approached by employees proposing a flexible work agreement and also what employees can do if a managers shrugs off the request with the "that doesn't work for me" rebuttal. Read more
On Wednesday, February 17th we had our first Flexwork Chat on Twitter.  I was joined by Jasper
Westerway (@JasperWestaway), CEO of OneDrum, and Lokesh Datta (@LDatta) of AllCollaboration.com as well as a bunch of other great twitter folks who were eager to discuss and debate the current state and challenges of flexible work.
The discussion centered around some of the findings from One Drum's recent flexible work study.
We discussed a number of topics including:
How can flexible/remote working can make you more productive?
What are some of barriers to productive remote working?
What should businesses consider when choosing tools to facilitate remote working?
View this post on the One Drum blog for a summary of some of the key points and a full transcription is available in PDF form here (Thanks Chip!).
It was fun, exciting, and informative and we are planning to make this a fairly regular event.  It looks like we will be doing one again next Wednesday so I hope you will join us!
What is a tweet chat?
For those of you unfamiliar with this online discussion format, a tweetchat is simply an organized group chat that takes place using the Twitter platform. Participants use an assigned hashtag (in our case #flexworkchat) for their tweets during the discussion. For more information on Tweet chats check out this short article.
You can follow along, or participate, by visiting http://tweetchat.com/room/flexworkchat or simply following the #flexworkchat hashtag on twitter.
If you want to know about upcoming chats (and other events) please subscribe to our email newsletter (on the right hand side of any page of this blog) or follow me on Twitter!
I had the pleasure of joining my friends Sam Bushman and Jay Harrison, the hosts of Techwatch Radio, last Saturday on their weekly tech talk show.  I've been a fairly regular guest on their show over the last 5 years and always enjoy the discussions we have. What I love about their show is that, much like this blog,  they take a practical approach to technology and living a digital lifestyle.
The program consists of fast-paced news, callers, guests, and features such as the website of the week and the do's and dont's of tech. Sam and Jay focus on balancing technology in your life and letting hi-tech serve you, not own you! Their fun, casual way of simplifying complex issues will help the average person get up-to-speed on the tricks and tools for the times we live in.
Last week I joined them for the second half of the show and we discussed elearning, managing remote workers, the growth of telecommuting, why I'm drinking the Apple Kool-Aid (and switching to a Mac soon), cloud computing, and the shifts involved with successful distributed work. You can listen using the player below and I invite you to comment on this post and share your thoughts on these topics and our discussion.
Techwatch Radio can be heard Saturday mornings from 10-11am ET.  You can listen live from anywhere online or download past shows from their RSS feed.  I subscribe to their podcast and listen on my iPod Touch so I don't miss a thing!
Podcast: Play in new window | Download (Duration: 19:36 — 3.4MB)