5 Tips for Clearing Digital Clutter – A Zen Approach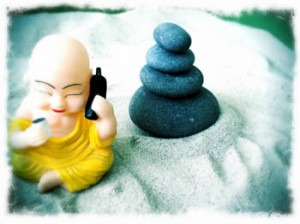 Cloud computing, smart phones, and technology truly allow you to have The Anywhere Office: the ability to get work done and be productive anywhere has brought untold flexibility to mobile professionals and web workers today.
This mobility and anywhere access has caused the lines to blur between our work and personal lives. For most entrepreneurs and small business owners, the two are forever intermingled. If done right, mobile work should be empowering: providing you more freedom and flexibility than you ever imagined as you easily manage the shifting flow of tasks, responsibilities, and communication that are part of your daily life.
But it's easy to let the technology, and our work, start to take over and demand more and more of our time.
I discovered that in today's eBusiness world, pure "work/life balance" doesn't seem to work (at least not for me). What seems a better, more dynamic, fit is a zen-like approach which aims for "work/life integration" instead. This quote called "Master the Art of Living" sums it up.
So how do you do it?  How do you handle the demands of today's fast paced, 24/7 business environment, along with all of the commitments and enterprises in your personal and family life?
Here are my top 5 tips for a zen approach to mobile work. They will help you achieve "work/life integration," and ensure that technology is your tool and not your master.
Know how your technology works. Turn off audible or visible notifications so they don't provide unnecessary interruptions when you are not working or need single-minded focus on a particular project or task.
Setup clear communication guidelines. Make sure everyone knows what is expected of them with regard to accessibility. These include prioritizing communication channels and determining expected turnaround times for different modes of communication (ie. 3 hours for emails, 1 hour for voice mail).
Centralize email and social media messages. Find ways to filter these messages into as few programs as possible so you can easily and quickly check and reply to them without feeling overwhelmed by too many systems.
Consolidate Technology. Find one tool that can serve multiple purposes. Smartphones and tablets can take the place of many devices such as point and shoot cameras, video cameras, laptops, voice recorders, and more. Finding ways to consolidate several tools, and information, into one device lets you travel lighter and stop wasting time switching between multiple platforms or programs.
Unplug and Turn off. Just because you can work from any place at any time doesn't mean you should. These tools have an off switch – use it! Give projects their proper focus and attention. And don't be so distracted that you fail to stay present with family and friends.
Following these simple steps will help you navigate the flow of digital information in your life.
Do you have a great tips or suggestion for clearing digital clutter?  Don't keep it a secret! Post a comment below and share it with the rest of the tribe here on The Anywhere Office.