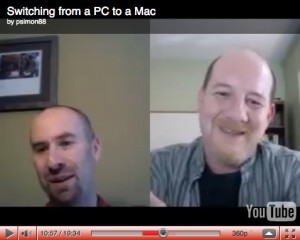 As you know I have done a series of posts (with many more to come) about my switch last year from PC to Mac.  Well recently, thanks to the amazing social media tool that is Twitter, I met Phil Simon. He is the author of several books the most recent of which is The New Small.  The book looks awesome and I just started reading it last night.  I'll be interviewing Phil here soon and giving away a copy of the book.
After chatting Phil and I realized we had a lot more than a first name/hairline in common – we both were born in Brooklyn NY, grew up in New Jersey, went to school in Ithaca NY and have a lot of the same views about emerging technologies and how small businesses/entrepreneurs can leverage these tools to grow their businesses.  We also like the same music (especially Rush, Pink Floyd and the Police) and have a very similar sense of humor (I think that is a NY/Jersey thing).
We also both recently switched from using PCs to Macs and are both now happily plugging away on our MacBook Pros. He also wrote  a series of posts detailing his transition to the Mac. I was sharing some of the great apps I discovered with him and told him about eCamm Call Recorder which makes it super easy to record Skype video and audio chats. He was excited by this and asked if we could do a video interview me about my switch to the Mac so I could share some tips.  Of course I said YES – so visit his blog and check out the interview.
I'll be returning the favor and interview Phil in the coming weeks once I finish reading The New Small and giving away a copy to a lucky reader so be sure to check back!
This video is the basically part 3 of my series on switching from Windows to Mac. Yes I know I said it was a 2 part series but I thought this video would make a good 3rd part. In it I share 2 great resources I found that were invaluable to help me cut the learning curve.  These resources let me get up to speed quickly and be productive in no time!
Here are links to the resources in case you want to check them out yourself:
Switching to the Mac: The Missing Manual, Snow Leopard Edition By David Pogue
MacProVideo.com – Great video tutorials on Mac programs.  They are running a special sale until October 20th – use these special links to take advantage of these discounts: Read more
Podcast: Play in new window | Download (17.7MB)
This is the second of my 2-part video series on why I switched from Windows to Mac (click here to see Part 1).  In this video I discuss how cloud computing, being a web worker, and compatibility made this an easier switch than it would have been in the past.
In my next video I'll share some resources I found that really helped me get up to speed quick and shortened the learning curve as a new Mac user.
Have you made the switch to Mac or been thinking about it? Post a comment below and let me know your thoughts, what has made you want to switch, or what is keeping you on Windows.
Podcast: Play in new window | Download (Duration: 5:29 — 26.1MB)
Well it's official – a few weeks ago I finally made the shift I've been talking about for the last 6 months or more and jumped from Windows to Mac (some say I've joined the dark side but it sure feels like the other way around). I decided to go with a MacBook Pro and I have to tell you I couldn't be happier.
It has certainly been a learning curve and in even the just the short time I've been a Mac user I've learned A LOT about some of the differences between the two operating systems, found some really cool new software and utilities, and basically been having a ball.
Sure I've been a bit less productive while making the transition but it is well worth it (and at least the lost productivity isn't due to blue screens and dll errors)!
The video below is Part 1 of a 2 part series I shot about why I made the switch from Windows to Mac and why I felt I could make this jump without too much grief (my first project in iMovie):
Along with this post and video goes out a big heartfelt apology to all my family and friends who have been long time Mac users.  I gave you all a lot of shit over the years about living in your "Mac world" and not using a "realcomputer" but let me tell you . . . I've drunk the koolaid and it's good!!
Podcast: Play in new window | Download (34.6MB)