This guest post was submitted to The Anywhere Office by Gean Biffulco of  Idea180.com
Can Social Media Marketing Work For Your Business (Or Is It Yet Another Service Marketers Want to Promote)?
The short answer  to both questions is, 'YES.' Social Media Marketing (SMM) can generate brand awareness (locally, nationally or globally), it can influence purchases (give your brand "social endorsements") and can even generate a return on investment if set up and measured properly. The problem many businesses run into is they set the wrong expectations about SMM right from the start and then consider they have wasted marketing dollars paying for "fans", "subscribers" or an "amazing Facebook app/game" that didn't seem to do anything for sales. This is not only the marketer's fault for setting the wrong expectations, but also the businesses' for lacking the proper knowledge.
We have seen the expressions of many business owners who just don't get what social media is (they call it the Twitter, the Facebook, the YouTube, and others like it), and the truth is that some authors or pseudo-experts can make any internet marketing subject too complex. This is why idea180 has prepared this article, intended for small or medium business owners who want to understand social media in laymen's terms, and to help determine just how much social media their business needs.
Why Are You Considering Social Media?
If your interest in social media is to have the same high number of Facebook fans as your friend's page, you can buy a few thousand fans from India or some other countries for a couple of hundred dollars and be done with it. This is not really cheating, it's just plain stupid. A couple of hundred dollars used in Facebook ads can give your business a few thousand impressions from the right pair of eyes. You can choose if you want your promotional ad to be seen by males or females, specific age ranges, run it in specific towns, cater to people with specific interests, and based your campaign on any other demographic data Facebook collects. You can also decide if you want to create fans for your page or drive traffic to a landing page on your site. If you compare creating "fake fans" made in Pakistan to "targeting the right people", the choice is obvious – social media is quality over quantity. The right people are more likely to buy than some "fake fan" that could care less about you or your products.
The example above shows how setting the right expectations in SMM matter a lot, thousands of fans means nothing – SMM it's all about interaction. Some small businesses have only a few clients, not thousands, who generate 100% of their revenue; the relationship with these clients is based in quality interactions.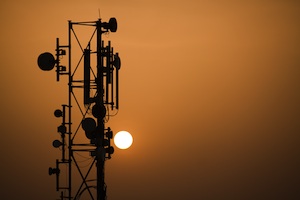 If you are interested in some heady conversation about the intersection of mobile technology, social networks, and marketing – give a minute to this Lin Humphrey article where he offers his informed opinion about Amber Case's discussion (and Tedtalk) "We Are All Cyborgs Now". I think I lean toward agreeing with Humphrey on the point that mobile technology and social networks actually enhance human relationships which might not otherwise exist or be developed. Then again, I also want an army of robots… I think we'll have a whole lot more insight to gain from Lin as he pursues his PHD and ruminates on these topics.
…we must remember that this technology facilitates rich connections to a network we might not be able otherwise to maintain. Much work remains on the research I discuss here; through future waves of the online study, a rich, academically sound understanding of how social media and mobile technology consumers use the technology, how they interact with their network, and how they make purchase decisions based on social media input will be developed. At the end of this project, I will defend my dissertation to earn my Ph.D. in marketing. But beyond that, the goal is to provide a rich contribution on how social media and mobile technology usage by "Connected Consumers" is associated with psychological and technology factors.
Read More:
Lin Humphrey: Mobile and Social Technology: Emergence of a Shared Consumption Experience.
This guest post was submitted to The Anywhere Office by Sapna of  Taaza.com
To what extent is today's workforce adapting to the features that the smartphone offers cannot be exactly determined. The smartphone has taken communication to a whole new level. With features like Wi-Fi connectivity, fast processors and futuristic applications, smartphones have improved efficiency and made work fun in the process. Taking into account the rate at which the technology has been improving, the change in today's work environment is quite noticeable.
Social Media Plug-ins – With Facebook, Twitter, Linkdin and now Pinterest reaching out to everyone globally, accessibility of these social media platforms are being improved on a daily basis. The transition from desktops to mobile to satisfy browsing needs has been tremendously fast. Sharing information on facebook and promoting it on twitter is just a few touches or buttons away. Public Relations and corporate communications have become extensively easy with the social media addition on the smartphone.
Live Feeds – RSS feeds and news feeds for related information can be streamed into the mobile with ease. At work, knowledge is power and acquiring relevant knowledge has never been easier. With relevant feeds, everyone is armed with knowledge as the deals could be worked out and strategies could be planned with the right information obtained at the right time.
Chat Applications – Blackberry's BBM and Whats App for the rest of the phones have actually given a new meaning to instant communication. Speaking to a colleague or a team mate from any part of the world has become child's play these days. Getting in touch with a business client and arranging appointments has never been simpler. This in-turn improves the communicability within the organization and also externally.
Maps – One of the most useful additions to the array of smart phone features is the navigation application loaded with maps. It also serves as a guide to the lost traveler as it gives out a person's current location and the suggested route to the destination. A dream just comes true for the sweating door-to-door salesman as he can easily figure out his way around the city. Moreover, it also helps a frequent traveler to navigate his/her way through decent places to visit and spend the night at hotels well within the required budget. This in turn has helped the business traveler as searching for an office at new destinations is no more a difficult task.
The mobile phone manufactures make it a point to add in new features almost daily in order to make their products stand out from the rest. It is now up to today's work-force to get their hands on one of these smartphones and start touching screens or pushing buttons to enhance personal productivity at work.
Author Biography: This is a guest article written by Sapna, Manager at Taaza.com, an Indian horizontal site. Significant verticals include Jobs, Classifieds, News, Education, Photos, Movies, Shopping and Finance.
I came across this article on Canada's The Globe and Mail newspaper's site. The writer makes some excellent points about the 'naturalness' of electronic communication – and how collaboration across distance becomes easier and more productive as we grow accustomed to these new modes of communication.
via How to make the most of virtual teams – The Globe and Mail.
But I mostly wanted to share this because they are holding an online event at noon ET Friday that appears to be free to register for. The event is billed as a chat with Dr. Andrew Gaudes, an associate professor of business at the University of New Brunswick, about the new far-flung workplace.
There is a registration form on the page linked above.
Recently I had the pleasure of having a video chat on Skype with my friend Phil Simon about his upcoming book The Age of the Platform. In it he explores how Amazon, Apple, Facebook, and Google are using the "platform" as a new business model. He explains how they are embracing partnerships, third parties, communities, and ecosystems in very interesting and different ways.
After talking with Phil about the book it sounds fascinating and it's obvious he is passionate about the topic. I can't wait to read it!
What's really interesting is the way he's publishing the book. Rather than go the traditional publishing route his is going it on his own (with his own publishing company he started when writing his last book The New Small).
In the video interview below we talk about the book and how he's using crowdsourcing and Kickstarter.com to fund this project. You can also win a free signed copy of the book – just read on below:
Here are a few links to info we mention in this video: Phil talks about a Korean Movie Director who shot an entire movie on his iPhone. He also mentions the Nano Watch as one of the most successful Kickstarter projects ever.
If you haven't heard about Kickstarter it is a funding platform focused on a broad spectrum of creative projects. Through it you can offer rewards such as copies of the work, limited editions, fun experiences in exchange for different amounts of money that people donate to fund or back a project.
If you are an aspiring author, or have any great idea for a project but need funding for it you'll be very interested to hear Phil talk about Kickstarter in this video. Read more