One of my main mantra's regarding the technology side of virtual teamwork and remote collaboration has always been "It's not about technology – it's the right technology thoughtfully applied".  I was delighted  a few weeks back when Lisette Sutherland, the Director of Collaboration Superpowers, contacted me about doing a Google Hangout video interview to talk about my ideas and thoughts regarding remote collaboration for her upcoming book Collaboration Superpowers – The Field Guide. This book, which you can preorder now, is packed with stories and tips for those whose business models depend upon successfully bridging distance to accomplish knowledge work.  She has interviewed a number of experts and early adopters and brings you their lessons learned.
It was great to get a chance to talk with Lisette. She has over 10 years experience with web-based collaboration tools and online community management and her goal is to get the best people working together regardless of location. A woman after my own heart!
With both our varied experience we had no shortage of things to talk about! We had a great discussion about a variety of topics including The Anywhere Office – what we like about remote working, what the major stumbling blocks are to successful virtual teamwork, tips for managing remote workings, work-life balance, and how to choose the best technology for remote collaboration.
The interview was done via video with Google Hangouts but unfortunately about half way through we had some audio issues.  Lisette had the interview transcribed and posted it to her website today along with the YouTube video of the interview.  You can check out the interview here.
I urge you to sign up for her mailing list and pre-order her book as it will be filled with lots of great tips and best practices for remote collaboration.
In this excellent Forbes article powerhouse body language expert and leadership communication coach Carol Kinsey Goman shares some expert advice about virtual collaboration.
Virtual collaboration holds amazing promise. When successful, it enables talented peers to work together regardless of location and organizations to mine the collective wisdom of a widely dispersed employee population. In order to tap into this potential, enterprises are increasingly using geographically distributed teams as a key part of their business strategy.

But virtual collaboration comes with its own unique challenges — especially for leaders whose previous experience has been mainly with collocated teams. Various studies have shown that it is more difficult to get virtual teams to bond, harder for informal leaders to emerge, tougher to create genuine dialogue, and easier for misunderstandings to escalate.

As an Institute for Management Studies faculty member, I present a seminar on "The Power of Collaborative Leadership." From that program, here are five tips for virtual collaboration:
5 Tips for Virtual Collaboration – Forbes.
Here is some good, pragmatic advice from Carrie Sommers about how to address some of the unique challenges of virtual team management.
Managing a virtual workforce has its own set of challenges. It can be hard to keep track of what everyone's working on. Similarly, without the ability to stop by someone's office, it can be hard to keep a constant finger on the pulse of employee morale. Here are a few ways to manage these issues and get the most out of working with a virtual team:
3 Tips For Managing A Virtual Work Force | Fast Company.
Having problems with the Home button on your iPhone not working or being very unresponsive? You're not alone. I'm going to show you an easy quick way to fix your iPhone!
The home button on my iPhone used to be unresponsive to the point where it wouldn't respond at all or I had to push it 4 or 5 times just to get it to work. Very frustrating!
Well don't panic . . . there's no need to restore your phone, take it apart or pay someone $100 or more to fix it for you. I found a quick easy way to fix the iPhone home button problem using nothing more than isopropyl alcohol and a q-tip.
Watch this video to see these 3 Easy Steps to fix your unresponsive iphone home button.
[iframe src="http://www.youtube.com/embed/ZtQ18n7PzRM?list=UUvQGZUOn8dZQW7mm-ZqoBPA&hl=en_US" frameborder="0" width="600" height="338"]
IMPORTANT NOTE: If you were using your iPhone home button problem as an excuse to upgrade to the new iPhone 5 . . . move along there's nothing to see here – don't worry I won't tell anyone . . . lol!
If this didn't do the trick for you I did come across another technique that seems to have worked for some which involves using the sync cable and gently pushing to realign home button. You can find a video on how to use this method here.
Did this fix your problem?  If so please take a moment and post a comment below and let me know I helped you out.  Don't miss a video – Subscribe to our YouTube Channel!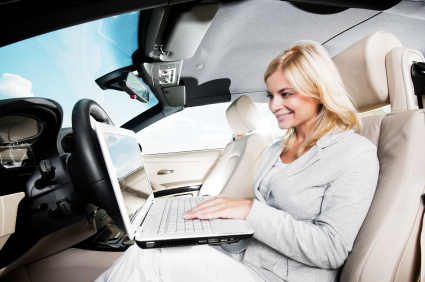 This guest post was submitted to The Anywhere Office by Joel Arnold of InkPal.com
Mobile computing is quickly changing the way that most people work. Because of their slim form factor and snappy speed, tablets are coming closer than ever before to making the paperless office possible. But it's still a basic reality that there is sometimes no substitute for printing things out. Unfortunately, mobile computing has only complicated things, since now it has become necessary to print on the go. So if you're looking for a printer you can tuck in a bag between your laptop and your iPad, what are some of the best options?
1) Epson PictureMate Charm
If you need a way to print full-color photos while traveling, you'll have a hard time beating the PictureMate for quality and cost. You can get your pictures to the printer through CompactFlash, Memory Stick, SD card, or XD-Picture Card, or of course connect it to your computer with USB. Bluetooth will cost an extra $39.
The PictureMate only prints in 4×6, but it is incredibly simple to use and the quality of the result is outstanding. Best of all, if you buy specially designed printer packs that include both ink cartridges and paper, it works out to around 25 cents per picture—not as good, obviously as color laser toners, but better than any other mobile printer.
2) HP Photosmart A646
The Photosmart A646 is a close competitor to the PictureMate Charm and performs the same basic set of functions. For a very reasonable price, the A646 delivers impressive versatility and reasonably good results. The printer body is quite solid and the carrying case is made of recycled bottles. The interface is fairly easy to use and the printer has the same media card slots except for CompactFlash. Bluetooth is built in, however. Very nice is the ability to print in 4×6, 4×12 or 5×7—a rare extra feature for most mobile photo printers. Unfortunately, the cost of replacement ink and paper is a little high and print quality leaves some serious room for improvement. Depending on your needs, this may or may not be a viable option for you.