A few weeks ago I had the pleasure of joining my friends Dave Yankowiak and Brian Casel on their awesome web video show Freelance Jam. Dave runs AnywhereMan.com and once we met on Twitter and chatted on Skype we knew we had a lot in common! The show is targetted toward independent professionals who build the web but anyone who runs a small business can learn a lot from their guests and discussions.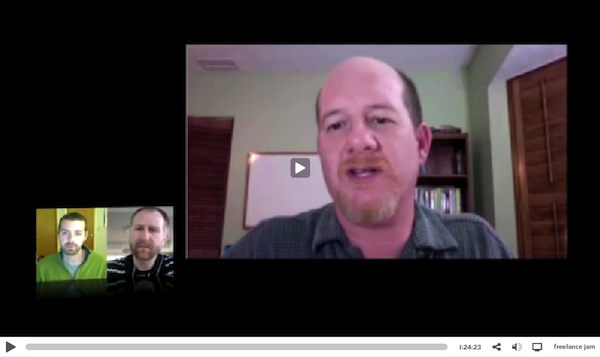 In this edition of the show we talked about things like how to build trust with clients you may never meet face to face, working in virtual teams, what effect technology has on the shift from employee to freelancer and the future of the "anywhere lifestyle" – being able to do the work where and when you want. Read more
I had the pleasure of being interviewed via Skype recently by Karl Walinskas, Founder of Smart Company Growth, to talk about virtual work, distributed teams and tips for growing a successful virtual organization. Karl's company helps small to mid-size businesses grow sustainable profits by leveraging the best strategies, appropriate talent and cost effective resources. In short he helps his clients ignite their sales and control expenses.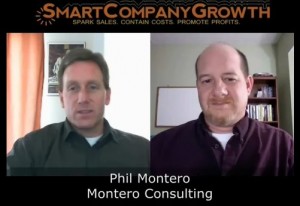 I met Karl late last year we instantly hit if off.  As we talked further he told me he wanted to embrace a virtual business model for Smart Company Growth. Shortly afterward I started working with Karl to help him refine his business model and choose the best strategies and tools that would allow him the flexibility to work from anywhere, keep his costs low, and work with clients from all over the world without the expenses and headaches of all that travel.
One of the things we discussed was how to use Skype for video conferencing and remote interviews as Karl wanted to include a series of these interviews with noted authorities on his blog. So after getting the technology in place he figured what better way to kick them off than by interviewing me about the strategies and technology that help entrepreneurs, small businesses, and solo professionals to work virtually.
Click below to watch the interview is broken down into 2 parts:
Video Interview Part 1 where we talk about the shift toward mobile work, how and why companies are embracing this type of work, some of the challenges, and what  it means to work with people you don't see every day.
Video Interview Part 2 where we talk about some of the non-tech elements critical for success when leading virtual or distributed workforces as well as some of the key gadgets and technology that help you and your team stay connected.  We also talk briefly about my on-demand webinar The Art of Virtual Leadership and how it helps managers learn to lead virtual teams.
I hope you enjoy the interview and find it informative.  Karl did a great job and had some great insight from his own experiences about what it means to work virtually and work with clients and team members remotely.
What do you think is the biggest shift in working virtually?  Please share your thoughts by posting a comment below.
Although many people feel remote collaboration is all about technology – the truth is virtual team work is a human endeavor – it's about people working with people. Sure the tech is important as it enables people to work together while apart – but the strategy behind which tools you choose and how you use them is easily just as critical.
As Jason and I often say it's about "the right tools thoughtfully applied". Yesterday I came across a great blog post by Isaac Gube (@IAMTHEGUBE) about the tools and strategies he and his brother put into place when they launched their latest venture DesignInstruct.com – a regularly updated web magazine for designers and digital artists where you can find and learn design tips and tricks. The Brothers Gube clearly share the same philosophy as the Brothers Montero:
Design Instruct is our first real venture together. It is the first time my brother and I sought to actually build something of our own (unless of course you count all the make-believe forts we built when we were kids).

There are many challenges associated with working with someone over a long distance. However, we found that there are solutions to those challenges, and so far, we've managed to make it work.
I love the way the post breaks down the 5 main challenges they had and describes the solutions they came up with.  When technology was needed they used free or low cost tools that can be embraced by any small business owner, solo professional, or entrepreneur. Read more
It's no surprise with all the ads you see for iPhones, iPads, Blackberry's, and Android phones that accessing the web on mobile devices is a growing trend. I probably spend a good 1/3 or more of my time on the internet using my iPod Touch rather than my laptop to search Google, view websites, and connect with people on Twitter.
This article shares some eye-opening stats and graphs from Morgan Stanley analysts showing the most important online trends:
Here are a few highlights:
Video accounts for 69% of mobile data traffic.
Facebook is the single largest repository for user-generated content such as pics, videos, links and comments.
Apple and Android platforms are gaining in the mobile OS market, while Windows Mobile, RIM and Palm decline. Read more
I'm always surprised that more people don't use instant messaging as one of their key business communication tools.  Sure everyone uses email (probably too much) but IM is often relegated to chatting with friends or family.  That's why this recent post by Jerry Lattimore on his excellent Refocusing Technology blog really caught my eye.
Are you using instant messaging?
Instant messaging is a fantastic tool and should be utilized by many businesses to allow for greater communication between their resources. It fits a need that isn't completely served by email or phone communication.
In this post he gives some excellent examples of how companies are using IM – even some using it to communicate between different floors of the same building. My wife and I use to work down the hall from each other in our old apartment and we used it rather than yelling down the hall.
I use it all the time with Jason when we are collaborating on something or just have a quick questions.  It's also a great way with co-workers or team members to share files and create a sense of "presence" being that you can "see" each other online even though you are not in the same place.
What about you?  Do you use IM for business communication and collaboration? Please post a comment below and let us know!