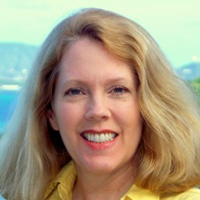 I had the pleasure of recently interviewing Pat Katepoo – a flexible work advisor and the founder of WorkOptions.com. Pat is the developer of a series of Flexible Work Proposal Packages which have equipped thousands of professionals to negotiate the flexible work arrangement they want.
On September 13, she's presenting a free webinar called Telecommute Now! How to Get Fast Approval to Work from Home where she will be sharing secrets for the easiest way to ask for a flexible work arrangement and get your managers to say YES.
In our short interview Pat and I talk about:
the importance of knowing how to negotiate the flexible work arrangement you want and how to ask with confidence.
the different shapes and sizes of flexible work: including telecommuting, compressed workweek, part-time, and job sharing.
the three-ingredient formula that gets managers to agree to a telework request — even where there are barriers. She also reveals a preview of two barriers that keep people from asking for a flexible work arrangement.
Listen to this 15 minute interview to learn more:
Podcast: Play in new window | Download (Duration: 14:50 — 13.6MB)
Pat's expert advice on flexible work has been featured in several national publications including The Wall Street Journal, US News & World Report, and also on NBC Nightly News. I've been following Pat's work in this space for the last 15 years and we first spoke many years ago when I was working on my book – Lose Your Commute. Read more
With our first named storm bearing down this season (Hurricane Irene) and a recent earthquake in the Washington, DC area it's the yearly wake-up call for small businesses to start thinking about business continuity and disaster preparedness. I prefer to talk about it from this perspective, 'continuity' and 'preparedness',  rather than "disaster recovery". With a smart, flexible business structure in place, hopefully you won't need much recovery.  Instead, you are fluid and can simply roll with whatever comes along.  If  you work in The Anywhere Office – you're mobile and  can communicate and collaborate across time and distance. You can work where and when you need to – just like you do every day.
Not quite there yet?  That's OK – you're not alone – and we've got you covered!
Below are some useful disaster preparedness resources including websites, an episode of our radio show, a free business continuity teleseminar,  and some recommended tools to help you weather any storm.
AUDIO (Radio Show Archive):
Failing to Plan is Planning to Fail (Business Continuity in the Changing World of Work)
There are many potential obstacles that can interrupt a company's ability to do business as usual: inclement weather, natural disasters, special events, transit strikes, and skyrocketing transportation costs just to name a few. In this episode from our radio show archive we took a look at the differences between business continuity and disaster recovery as well as some strategies and technology to help you and your organization prepare. Jason and I talk with Brian Donahoo of Citrix Online, makers of GoToMyPC and GoToMeeting, to explore how aspects of the digital lifestyle can address and overcome these obstacles. As the Zen proverb says . . . The obstacle is the path.
FREE TELESEMINAR:

Riding the Storm Out (Tips to develop a business continuity plan)
Consider this, almost 40% of small businesses that close due to a disaster event never re-open.
What would you do if the building your business is located within was damaged or destroyed in a disaster? Where would you go to continue providing your business services? Would you have the resources, databases, contact information and other necessary items to adapt to these changes? Read more
Recently I had the pleasure of having a video chat on Skype with my friend Phil Simon about his upcoming book The Age of the Platform. In it he explores how Amazon, Apple, Facebook, and Google are using the "platform" as a new business model. He explains how they are embracing partnerships, third parties, communities, and ecosystems in very interesting and different ways.
After talking with Phil about the book it sounds fascinating and it's obvious he is passionate about the topic. I can't wait to read it!
What's really interesting is the way he's publishing the book. Rather than go the traditional publishing route his is going it on his own (with his own publishing company he started when writing his last book The New Small).
In the video interview below we talk about the book and how he's using crowdsourcing and Kickstarter.com to fund this project. You can also win a free signed copy of the book – just read on below:
Here are a few links to info we mention in this video: Phil talks about a Korean Movie Director who shot an entire movie on his iPhone. He also mentions the Nano Watch as one of the most successful Kickstarter projects ever.
If you haven't heard about Kickstarter it is a funding platform focused on a broad spectrum of creative projects. Through it you can offer rewards such as copies of the work, limited editions, fun experiences in exchange for different amounts of money that people donate to fund or back a project.
If you are an aspiring author, or have any great idea for a project but need funding for it you'll be very interested to hear Phil talk about Kickstarter in this video. Read more
How much time do people waste in the workplace?  A lot more than most people probably think!  I came across this great infographic today in a post on Campus Socialite called Hardly Working: A Look In To Laziness In The Workplace.  They grabbed these statistics from Online MBA who put together this eye opening display:
And this doesn't even touch on all the useless meetings and other time sucks of office life – one more feather in the cap of working from The Anywhere Office!  It's a wonder anything gets done at all. With a more flexible work schedule it's easier to schedule some of these "distractions" into your day and still get solid work time in – but when you are in the cube farm from 9 – 5 it's a different story.
What do you think are you surprised by any of these statistics?  Post a comment below and let us know!
Yesterday I did something I've been wanting to do for some time – I did my first live Ustream Broadcast to have an open Q&A about mobile work technology, working from anywhere, and growing your business online.  In case you are not familiar with Ustream it is a service that allows you to do live real-time online broadcasts using nothing more than your webcam and a microphone.  You can check out the replay of yesterdays session: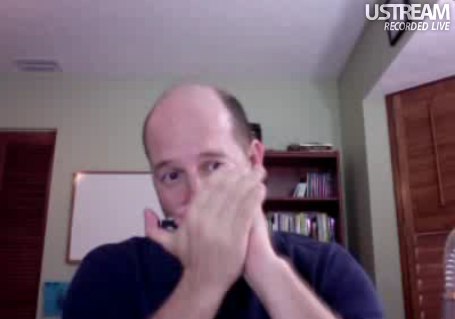 In this initial broadcast I chatted with some folks about mobile work technology – we discussed online musical collaboration, co-working and coffee shops, why it makes sense to create your website in WordPress, CRM software, Windows vs Mac, Skype and Tokbox, multi-person video chats, the Blue Yeti microphone, Twitter Apps, and I even jammed a little harmonica! Read more