Video conferencing has changed.  What was once a very costly technology only used by large enterprise type organizations with dedicated IT departments is now easier to use and more cost effective. There are a variety of solutions to fit almost any budget.
This was the topic of discussion a few weeks ago when I joined Bloomberg Businessweek in their New York Studios for a live Video Webcast called "Video Breaks Out of the Boardroom".  The show was hosted by Jim Ellis, Assistant Managing Editor of Bloomberg Businessweek, and I was delighted that they invited me to join Marc  Beattie from Wainhouse Research to be part of this episode.  Here is a photo from our broadcast: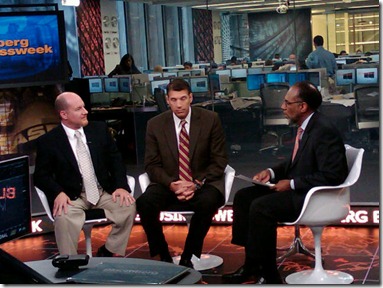 The Bloomberg building was amazing and everyone I met there was extremely friendly and helpful.  We had a wonderful discussion and looked at what's involved with implementing video conferencing including how much technical know-how it takes, how and why companies using it, what it costs, and what are some of the stumbling blocks. We also took some great questions from those that were viewing the live broadcast.
In case you missed it you can now view the entire Video Webcast live.  Just register here and you can watch the whole show.  We discussed the topic for about 20 minutes and then had about 10 minutes of Q&A.  If you're currently using video conferencing, or thinking about it, you definitely want to catch this.
A big thanks to everyone at Bloomberg Businessweek for having me be a part of this event. I hope to join them again for future shows!
Please post a comment below and let me know what you thought of the webcast and feel free to ask me any questions you might have about using video to connect with your virtual teams and remote workers.
I've been invited by Bloomberg BusinessWeek to be a panelist on a free live video webcast this Thursday (June 10th) all about video conferencing –  I hope you can tune in! Here is the description:
Video Breaks Out of the Boardroom
Thursday, June 10 at
10am PT | 1pm ET | 6pm GMT
Video is changing how companies interact with employees, suppliers, partners and customers. It's an important area for growth and an essential tool for global businesses.
Join us as we speak to executives and thought leaders in the video collaboration space about emerging technologies and how these tools offer so much promise for business.
Build & sustain business relationships
Broaden the scope of your markets
Strengthen customer relations and loyalty
Our expert panel, moderated by Jim Ellis of Bloomberg Businessweek, includes Marc Beattie, co-founder, Managing Partner, and Co-Manager ofUnified Collaboration Practice at Wainhouse Research and a recognized expert on the collaboration services market and Phil Montero, CEO of Montero Consulting, Founder of YouCanWorkFromAnywhere.com, and the spearhead of the remote work movement for more than a decade.
Work happens everywhere – virtual offices, client sites, home offices, coffee shops, airports, hotels, and any number of remote workplaces.  However, despite all the advantages of flexible work – most companies struggle when making this shift.
The biggest problem is that most organizations take an ad-hoc approach to workshifing, which has been thrust upon them. The business landscape began to change; they increasingly found themselves working across time and distance with team mates, remote offices, clients, vendors, and other outsourced professionals. And they mostly left individual employees, project teams, and offices to decide for themselves how best to conduct business. Virtual teamwork was not deliberate, and not undertaken with any real strategy.
If you're in this boat – what are you to do? You can't just stop the flow of business and start over with a brand new plan. But you also can't just lumber forward and say to your people, 'Work virtually better.' What you CAN do is take a step back to get a perspective on your process and workflow in order to isolate and highlight areas for improvement and adjustment. One way to accomplish this is by conducting  my ICC Workflow Audit™ which helps you take a look at your needs for Information, Communication, and Collaboration in order to guide you in choosing and throughtfully apply the right technology and guidelines for your organization or team.
I recently partnered with Citrix Online to discuss this topic in a free webinar – Work Unchained: The Competitive Edge of the Anywhere Office®. We had a great turnout for the event and some interesting discussions.  If you missed it you can watch it on-demand.
For more information on how to implement the ICC Workflow Audit™, read my white paper or my guest post on their blog Workshifting.com
I'd love to hear your thoughts on how you or your organization have adopted to virtual teamwork.  Please post a comment below and share your stories and feedback!
Hello Folks  – I am going to be a panelist on a virtual event next Monday (the event described below) and the hosts have provided me with 2 free tickets to give away. So if you are interested in attending the Building and Managing Effective Virtual Teams vpanel, put your name into the hat to win a free ticket by using the comments section below this post to contribute a favorite or poignant quotation about any aspect of virtual work. It can be a famous quote, or something you heard, or a quote of your own.
You only have a couple of days, on Friday afternoon I will select 2 names at random from the contributors to each receive a free pass. I will not choose based on the 'best' quotes, and you only have 2 days, so don't be shy. Just a fun way to get some food for thought and give away the tickets.
To get the wheel turning I am going to offer a great quote that I believe relates to virtual teams, and in managing virtual workers in particular:
"If you want to build a ship, don't drum up people together to collect wood and don't assign them tasks and work, but rather teach them to long for the endless immensity of the sea."
~Antoine de Saint-Exupery
and Jason wants to share one of his favorites and a classic mobile work/telework quote:
"Work is something you do, not some place you go." ~ Unknown
Now it's your turn. Learn more about the vpanel below and contribute a quote in the comments section of this post. Read more
On Wednesday, February 17th we had our first Flexwork Chat on Twitter.  I was joined by Jasper
Westerway (@JasperWestaway), CEO of OneDrum, and Lokesh Datta (@LDatta) of AllCollaboration.com as well as a bunch of other great twitter folks who were eager to discuss and debate the current state and challenges of flexible work.
The discussion centered around some of the findings from One Drum's recent flexible work study.
We discussed a number of topics including:
How can flexible/remote working can make you more productive?
What are some of barriers to productive remote working?
What should businesses consider when choosing tools to facilitate remote working?
View this post on the One Drum blog for a summary of some of the key points and a full transcription is available in PDF form here (Thanks Chip!).
It was fun, exciting, and informative and we are planning to make this a fairly regular event.  It looks like we will be doing one again next Wednesday so I hope you will join us!
What is a tweet chat?
For those of you unfamiliar with this online discussion format, a tweetchat is simply an organized group chat that takes place using the Twitter platform. Participants use an assigned hashtag (in our case #flexworkchat) for their tweets during the discussion. For more information on Tweet chats check out this short article.
You can follow along, or participate, by visiting http://tweetchat.com/room/flexworkchat or simply following the #flexworkchat hashtag on twitter.
If you want to know about upcoming chats (and other events) please subscribe to our email newsletter (on the right hand side of any page of this blog) or follow me on Twitter!