Yesterday I did something I've been wanting to do for some time – I did my first live Ustream Broadcast to have an open Q&A about mobile work technology, working from anywhere, and growing your business online.  In case you are not familiar with Ustream it is a service that allows you to do live real-time online broadcasts using nothing more than your webcam and a microphone.  You can check out the replay of yesterdays session: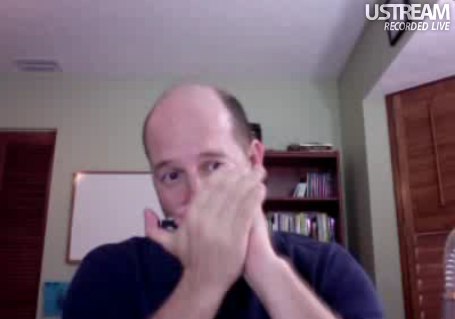 In this initial broadcast I chatted with some folks about mobile work technology – we discussed online musical collaboration, co-working and coffee shops, why it makes sense to create your website in WordPress, CRM software, Windows vs Mac, Skype and Tokbox, multi-person video chats, the Blue Yeti microphone, Twitter Apps, and I even jammed a little harmonica! Read more
I'm really loving the growth of social media – especially the way it can serve as a watercooler and networking environment for those that work in The Anywhere Office.  One of the downsides of being virtual is losing the connections and social element of working in an office.
I have found Twitter to be a great way to connect with people and in many ways it's even more powerful than the traditional water cooler as I have connected with people from all over the globe!
Being a work at home dad, entrepreneur, and small business owner it's hard to find the time in my schedule to get out to networking events. This is another area where social media has really been amazing – I'm able to take a more asynchronous approach to finding and starting conversations with other liked minded people I meet.  I think the key, however, is to then take those conversations to the next step and schedule a real-time phone call, Skype chat, or in person meeting when possible.
Still haven't taken the social media plunge?  I came across a recent article that helps you get up to speed on the big three:
Here's a quick 101 on how to best leverage the top three social networking sites — Twitter, Facebook, and LinkedIn. via Twitter, Facebook or LinkedIn? Finding the Right Fit for Your Small Business | Small Business Matters.
If you haven't explored any of these services yet I strongly urge you to do so!  You can connect with me on all three here – Twitter, LinkedIn, Facebook.
Twitter is by far my favorite – which is yours? Post your thoughts in the comments below.
I love it when people get creative with the tools and technology available to them!  When you think of social media you may think of staying in touch with friends, or another avenue of business networking – but what about tapping into this amazing technology in the classroom?
I came across a great post that was chock-full of ideas for how to use social media for learning.  It breaks them down into grade levels and topics and even links to some case studies or articles that explain in more detail the specific examples:
Sites such as Facebook and Twitter and tools such as Skype are connecting students to learning opportunities in new and exciting ways. Whether you teach an elementary class, a traditional college class, or at an online university, you will find inspirational ways to incorporate social media in your classroom with this list.

via Fred's Head from APH: 100 Inspiring Ways to Use Social Media In the Classroom.
Have you heard of any other innovative or creative uses of social media? Post a comment below and share!
On Wednesday, February 17th we had our first Flexwork Chat on Twitter.  I was joined by Jasper
Westerway (@JasperWestaway), CEO of OneDrum, and Lokesh Datta (@LDatta) of AllCollaboration.com as well as a bunch of other great twitter folks who were eager to discuss and debate the current state and challenges of flexible work.
The discussion centered around some of the findings from One Drum's recent flexible work study.
We discussed a number of topics including:
How can flexible/remote working can make you more productive?
What are some of barriers to productive remote working?
What should businesses consider when choosing tools to facilitate remote working?
View this post on the One Drum blog for a summary of some of the key points and a full transcription is available in PDF form here (Thanks Chip!).
It was fun, exciting, and informative and we are planning to make this a fairly regular event.  It looks like we will be doing one again next Wednesday so I hope you will join us!
What is a tweet chat?
For those of you unfamiliar with this online discussion format, a tweetchat is simply an organized group chat that takes place using the Twitter platform. Participants use an assigned hashtag (in our case #flexworkchat) for their tweets during the discussion. For more information on Tweet chats check out this short article.
You can follow along, or participate, by visiting http://tweetchat.com/room/flexworkchat or simply following the #flexworkchat hashtag on twitter.
If you want to know about upcoming chats (and other events) please subscribe to our email newsletter (on the right hand side of any page of this blog) or follow me on Twitter!
Let's face it you can't read an article anywhere these days without someone mentioning social media, social networking, Twitter, YouTube, or Facebook. These tools not only affect the way we connect to each other as people but also how we share information and communicate.
Businesses of all size have now adopted the use of social media from large corporations and small businesses to solo-preneurs and freelancers.  Much in the way desktop publishing and blogs put the power to spread information in the hands of the masses – social media has provided unprecedented ways for us to connect and network with one another. Check out this eye-opening video I found on YouTube that shares some amazing stats about the social media revolution.
One of the common myths we often dispel with virtual teamwork is that using technology makes relationships less personal and you can't build trust or get to know people who you rarely or never see.  I don't agree – using these tools like Twitter and Facebook allows you to connect (or re-connect) with people, stay in touch, and get to know each other. Read more