Talking Mobile Work (and playing harmonica) on My First Live Ustream Broadcast
Yesterday I did something I've been wanting to do for some time – I did my first live Ustream Broadcast to have an open Q&A about mobile work technology, working from anywhere, and growing your business online.  In case you are not familiar with Ustream it is a service that allows you to do live real-time online broadcasts using nothing more than your webcam and a microphone.  You can check out the replay of yesterdays session: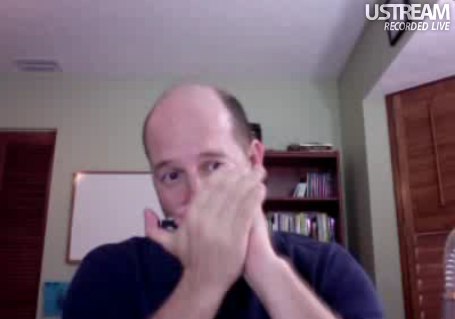 In this initial broadcast I chatted with some folks about mobile work technology – we discussed online musical collaboration, co-working and coffee shops, why it makes sense to create your website in WordPress, CRM software, Windows vs Mac, Skype and Tokbox, multi-person video chats, the Blue Yeti microphone, Twitter Apps, and I even jammed a little harmonica!I'm thinking of doing these either weekly (or bi-weekly) to make myself available to answer any burning questions you may have about mobile work technology, cloud computing, setting up an effective home office, using social media, automating common business processes, internet marketing, and anything else about working from anywhere or growing your business online.
Let me know what you think of the idea and what time/day might work best for you.