Tips and Strategies for Working Virtually (2 Part Video Interview)
I had the pleasure of being interviewed via Skype recently by Karl Walinskas, Founder of Smart Company Growth, to talk about virtual work, distributed teams and tips for growing a successful virtual organization. Karl's company helps small to mid-size businesses grow sustainable profits by leveraging the best strategies, appropriate talent and cost effective resources. In short he helps his clients ignite their sales and control expenses.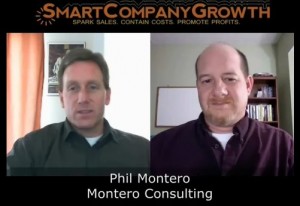 I met Karl late last year we instantly hit if off.  As we talked further he told me he wanted to embrace a virtual business model for Smart Company Growth. Shortly afterward I started working with Karl to help him refine his business model and choose the best strategies and tools that would allow him the flexibility to work from anywhere, keep his costs low, and work with clients from all over the world without the expenses and headaches of all that travel.
One of the things we discussed was how to use Skype for video conferencing and remote interviews as Karl wanted to include a series of these interviews with noted authorities on his blog. So after getting the technology in place he figured what better way to kick them off than by interviewing me about the strategies and technology that help entrepreneurs, small businesses, and solo professionals to work virtually.
Click below to watch the interview is broken down into 2 parts:
Video Interview Part 1 where we talk about the shift toward mobile work, how and why companies are embracing this type of work, some of the challenges, and what  it means to work with people you don't see every day.
Video Interview Part 2 where we talk about some of the non-tech elements critical for success when leading virtual or distributed workforces as well as some of the key gadgets and technology that help you and your team stay connected.  We also talk briefly about my on-demand webinar The Art of Virtual Leadership and how it helps managers learn to lead virtual teams.
I hope you enjoy the interview and find it informative.  Karl did a great job and had some great insight from his own experiences about what it means to work virtually and work with clients and team members remotely.
What do you think is the biggest shift in working virtually?  Please share your thoughts by posting a comment below.