Using Technology for a Lean, Green, Virtual Team
It's no surprise that telecommuting, workshifting, or virtual work – whatever you choose to call it – not only makes smart business sense but can also help you run a more environmentally friendly business.
Whether you are a large corporation, small business, or solo professional there is a lot you can do to lighten your ecological footprint. When you reduce the need to travel and take advantage of technology to collaborate from anywhere you keep tons of carbon emissions from polluting the world.  A shift to printing less and using more digital documents saves untold numbers of trees.
By taking The Anywhere Office® approach you'll save money, be more productive, and be more green. So this Earth Day make a commitment to make even a small adjustment to the way you work to do your part.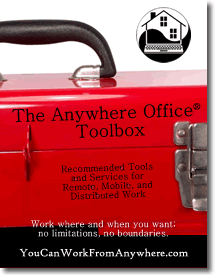 You can start by downloading The Anywhere Office Toolbox – our free eBook contains information and links to technology, services, and other resources we find of benefit to mobile workers, virtual teams and supporting virtual offices and distributed work.
You'll find tools for gaining remote access to your documents or computer, holding web meetings and conferences, sending and receiving digital faxes, sending video email and holding video conferences, dealing with time-zones, and marketing your business online.
These are all free or affordable solutions with free trials – so there is no excuse!  Incorporate some of these tools today and make your business more green.
Unchain yourself from the office; work where and when you want.