I was very excited last week when this short video from 37 Signals showed up in my inbox promoting their new book REMOTE – Office Not Required.  Take a few minutes and watch it as they talk about all the things I've long championed as the advantages of embracing and working in The Anywhere Office® – especially with regards to lifestyle compatibility and productivity.
If you've read the articles I post on this blog it should come as no surprise to you that I loved the NY Times Bestseller REWORK written by Jason Fried and David Heinemeier Hansson of 37 Signals (the company that created the popular  online collaboration and project management software  Basecamp). In REWORK they challenge the usual thoughts and paradigm about work, meetings and what you need to run a successful company. It really changes the way you think about running a business in today's world of work.
Well it looks like Jason and David have done it again this week with the release of their new book called REMOTE – Office Not Required. This book speaks more directly to the concept of The Anywhere Office® that we discuss and celebrate here on this blog. This short blurb about their book says it all:
As an employer, restricting your hiring to a small geographic region means you're not getting the best people you can. As an employee, restricting your job search to companies within a reasonable commute means you're not working for the best company you can. REMOTE, the new book by 37signals, shows both employers and employees how they can work together, remotely, from any desk, in any space, in any place, anytime, anywhere.
Pushing the limits of collaboration and time shifting!
For 48 hours, 11 teams from 37 countries collaborated together online to competitively demonstrate the best use of building information modelling (BIM) to design a museum in East London for the third successful Build London Live collaborative BIM event.
Global Teams Collaborate in the Cloud to Demonstrate the Best Use of Building Information Modelling.
A few weeks ago I was interviewed by Elissa Vallano for an article she was writing for the Mindjet Blog about remote collaboration and one of the true benefits of working virtually: being able to hire the best talent regardless of location.
In this interview I shared tips for creating an effective distributed team, including my 3 keys for remote collaboration in The Anywhere Office – 1. a shift in perspective  2. finding the right tools and thoughtfully applying them and 3. becoming a conscious communicator. The result of these steps is a highly productive virtual team that functions as smoothly as its in-office counterparts.
The interview was used for an excellent article which you can find here, "Never hire based solely on geography again".
If you are not familiar with Mindjet,  they provide software and services that allow teams to collaborate in the cloud sharing tasks, mind mapping.  I recently discovered them and look forward to learning more about their services.
Their blog is full of great articles, so I encourage you to check it out!
Image Credits: Mindjet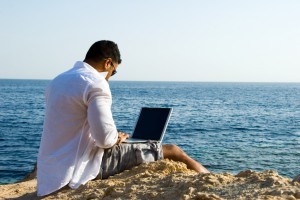 Late last year, I had the pleasure of presenting a webinar for Cisco where I shared my three secrets for turning your office into The Anywhere Office®. In the presentation I discussed how the world of work has changed and that whether you're a freelancer, entrepreneur, telecommuter or remote worker, there are smart ways to work without an office.
In case you missed it – you can watch the replay of  3 Secrets to Turning Your Office Into The Anywhere Office®. In this webinar I share three secrets to mobilize your workstyle and make your business and projects more flexible. These simple steps will allow you to work wherever and whenever you want.
We had a lot of questions during the webinar and not all were answered, so I answered the bulk of them in a 2 part guest blog post I did for the WebEx blog. There were some excellent questions – here are the links so you can check it out:
In this post I answer these questions:
How can you stay connected with workmates and interact with your team in a virtual office while avoiding feeling isolated?
What is the best way to convince 'old school' management that this will better for yourself and the company?
How do you keep the team spirit and consistency in the quality of work when everyone is working from home?
How do you convince a customer to trust in remote management of his/her data?
If you're currently a mobile worker, or you're starting to get more involved with virtual teamwork and remote collaboration the tools and strategies I discuss in this Q&A will help. The key to success is embracing the change about what defines work and taking the time to really think about how business gets done.
So check out the webinar and part 1 and part 2 of my Q&A blogpost on the Webex blog.
If you have further questions, you can post them as comments below or over at the webex blog and I'll answer them there.
I'm excited to be hosting a free webinar with Cisco/Webex on November 17th titled "3 Secrets to Turning Your Office Into The Anywhere Office®" as part of their No Office Required series.
Business as usual no longer involves working in a centralized office at set times. Whether you're a freelancer, entrepreneur, telecommuter or remote worker, modern workflow is far more dynamic and individual. There are smart ways to work without an office.
As you know, as a reader of this blog, I've created a blueprint for virtual work that I call The Anywhere Office®. In this webinar I'll shares three secrets to mobilize your workstyle and make your business and projects more flexible. These simple steps will allow you to work wherever and whenever you want.
I'll show you how to:
Make your work location independent
Improve communication and keep people connected
Manage a virtual team, distributed project group, or ebusiness across time and distance
This recent Cisco interactive infographic  serves as  a great visual representation of The Anywhere Office® concept I've been talking about for the last decade and will be discussing on this upcoming webinar. It shows the current and future state of workplace mobility. As Cisco states "Long commutes and being in an office at a certain time with limited flexibility is gradually becoming a thing of the past. The future will see an increase in workplace mobility creating the "anywhere office," a place where employees can work anytime from anywhere." By 2013, mobile workers will make up 35 percent of the worldwide workforce. While that leaves out over half of the global workforce, it shows us a new world of opportunity.  Are you shifting your business to "The Anywhere Office®?"

Who should attend
This webinar is perfect for anyone who must coordinate with co-workers, clients, vendors, or contractors across time and distance: project managers, program directors, team leaders, project coordinators, or anyone in a leadership role for a virtual team or distributed project group. This includes freelancers, entrepreneurs, telecommuters and remote workers.
Make sure to signup today and reserve your spot.  Even if you can't make the live event you will be emailed a link to the recording so you can still benefit from all the tips and strategies I'll be sharing.
I'm looking forward to a fun webinar and I hope to see you there!