With our first named storm bearing down this season (Hurricane Irene) and a recent earthquake in the Washington, DC area it's the yearly wake-up call for small businesses to start thinking about business continuity and disaster preparedness. I prefer to talk about it from this perspective, 'continuity' and 'preparedness',  rather than "disaster recovery". With a smart, flexible business structure in place, hopefully you won't need much recovery.  Instead, you are fluid and can simply roll with whatever comes along.  If  you work in The Anywhere Office – you're mobile and  can communicate and collaborate across time and distance. You can work where and when you need to – just like you do every day.
Not quite there yet?  That's OK – you're not alone – and we've got you covered!
Below are some useful disaster preparedness resources including websites, an episode of our radio show, a free business continuity teleseminar,  and some recommended tools to help you weather any storm.
AUDIO (Radio Show Archive):
Failing to Plan is Planning to Fail (Business Continuity in the Changing World of Work)
There are many potential obstacles that can interrupt a company's ability to do business as usual: inclement weather, natural disasters, special events, transit strikes, and skyrocketing transportation costs just to name a few. In this episode from our radio show archive we took a look at the differences between business continuity and disaster recovery as well as some strategies and technology to help you and your organization prepare. Jason and I talk with Brian Donahoo of Citrix Online, makers of GoToMyPC and GoToMeeting, to explore how aspects of the digital lifestyle can address and overcome these obstacles. As the Zen proverb says . . . The obstacle is the path.
FREE TELESEMINAR:

Riding the Storm Out (Tips to develop a business continuity plan)
Consider this, almost 40% of small businesses that close due to a disaster event never re-open.
What would you do if the building your business is located within was damaged or destroyed in a disaster? Where would you go to continue providing your business services? Would you have the resources, databases, contact information and other necessary items to adapt to these changes? Read more
If you're a mobile worker on the go, one of the challenges you've probably faced is how to print your documents when you're on the move.  Maybe you're on the road meeting with clients, or on your way to make a presentation, and need to get some handouts or a report printed.  Well here's a solution – a great service I tested recently from FedEx Office called Print & Go. It lets you print from your mobile device or USB flash drive at more than 1600 FedEx Office locations. I was very impressed with how well it worked, so I want to explain what it does and how it works as I know for many of you it's probably just what you have been looking for.
Let me start by letting you know, in the spirit of transparency, that I was contacted by the folks at FedEx as they were looking for bloggers in the mobile work space to review this new service.  They sent me a "test kit" which included a 512 MB USB flash drive pre-loaded with instructions on how to use the service and a $25 FedEx Office gift card to cover the cost of anything I chose to print with the service.  They also offered to provide a similar "test kit" for me to giveaway, so make sure you read to the end of this post to find out how you can enter to win.
With FedEx Print & Go you can print from your iPhone®, BlackBerry® smartphone,  AndroidTM phone, or USB flash drive. I tested the service with my iPhone 4 as well as the USB flash drive they sent me.
Their service allows you to print to any of their self-service machines. What can you print you ask?
Accepted file types include Microsoft Word, Microsoft PowerPoint and Adobe PDF documents. (Update – the service now also supports JPG, TIF, and other image formats)
To print other formats, or for binding and other finishing options, you can see a FedEx Office employee at the store.
To begin using FedEx Office Print & Go from your iPhone, BlackBerry smartphone, or Android device you first have to download the HP ePrint app.
I jumped to the Apple App store and downloaded the HP ePrint app. This app lets you do more than print to the FedEx Print and Go service.  It also lets you print to other public print locations as well as to wireless HP printers that support AirPrint.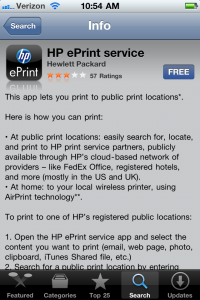 The app wanted to use my current location to find nearby public print locations so I clicked OK.  It then asked me to create an account with my email address. I receive an activation code via email and enter into the app and clicked activate to complete the registration process. Read more
A few weeks ago I had the pleasure of joining my friends Dave Yankowiak and Brian Casel on their awesome web video show Freelance Jam. Dave runs AnywhereMan.com and once we met on Twitter and chatted on Skype we knew we had a lot in common! The show is targetted toward independent professionals who build the web but anyone who runs a small business can learn a lot from their guests and discussions.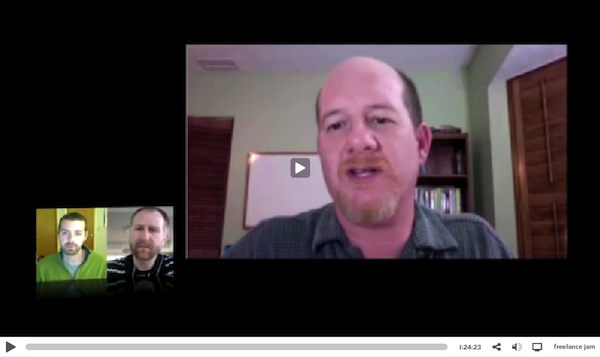 In this edition of the show we talked about things like how to build trust with clients you may never meet face to face, working in virtual teams, what effect technology has on the shift from employee to freelancer and the future of the "anywhere lifestyle" – being able to do the work where and when you want. Read more
I had the pleasure of being interviewed via Skype recently by Karl Walinskas, Founder of Smart Company Growth, to talk about virtual work, distributed teams and tips for growing a successful virtual organization. Karl's company helps small to mid-size businesses grow sustainable profits by leveraging the best strategies, appropriate talent and cost effective resources. In short he helps his clients ignite their sales and control expenses.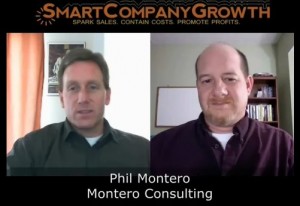 I met Karl late last year we instantly hit if off.  As we talked further he told me he wanted to embrace a virtual business model for Smart Company Growth. Shortly afterward I started working with Karl to help him refine his business model and choose the best strategies and tools that would allow him the flexibility to work from anywhere, keep his costs low, and work with clients from all over the world without the expenses and headaches of all that travel.
One of the things we discussed was how to use Skype for video conferencing and remote interviews as Karl wanted to include a series of these interviews with noted authorities on his blog. So after getting the technology in place he figured what better way to kick them off than by interviewing me about the strategies and technology that help entrepreneurs, small businesses, and solo professionals to work virtually.
Click below to watch the interview is broken down into 2 parts:
Video Interview Part 1 where we talk about the shift toward mobile work, how and why companies are embracing this type of work, some of the challenges, and what  it means to work with people you don't see every day.
Video Interview Part 2 where we talk about some of the non-tech elements critical for success when leading virtual or distributed workforces as well as some of the key gadgets and technology that help you and your team stay connected.  We also talk briefly about my on-demand webinar The Art of Virtual Leadership and how it helps managers learn to lead virtual teams.
I hope you enjoy the interview and find it informative.  Karl did a great job and had some great insight from his own experiences about what it means to work virtually and work with clients and team members remotely.
What do you think is the biggest shift in working virtually?  Please share your thoughts by posting a comment below.
In my blog post yesterday I showed you how to configure Google Sync to keep your Gmail, Google Calendar, and Contacts in sync with your iPhone, iPad, or iPod Touch.  Those steps work great if you use your Gmail address as your primary email address but they won't let you send mail from your own domain.
I have several different email addresses with different domains names all forwarding mail to Gmail and thanks to it's flexibility I was able to configure Gmail so that I can send or reply from any of them (with one being the default address for new messages).  For example even though I use Gmail as my email program I rarely use my Gmail address – instead my FROM address is phil@theanywhereoffice.com.
Although Gmail handles this perfectly I was disappointed when first configured my iPod Touch a few years back using Google Sync that it ignored these settings and always sent mail from my Gmail address.  This was unacceptable to me as I wanted emails I sent to come from my business address and didn't want to confuse my clients, customers, and colleagues.  I hunted and searched and tested and finally found out how to get this to work. You can still use the steps I shared in yesterday's post/video to sync your Google Calendars and contacts with your iPhone but you need to turn off the mail option there and follow some special (and somewhat convoluted) steps to get the mail to sync with Gmail AND send from your own domain.
No worries – I'm here to help.  I recorded 2 videos for you below walking you step-by-step through the entire process. The first step would be to have mail from your other domain forward to your Gmail account. I assume you're probably already doing this but if not you'll need to go into your current email settings for your domain and set it to forward your mail to your Gmail account. The steps for this will vary depending on how you currently get your email – most likely these settings can be controlled in the control panel of your web or email host.
The next step is to configure Gmail to send mail from your own domain rather than using your Gmail address.  Watch this video to learn how to do this:
The final step is the tricky part – how to get your iPhone, iPad, or iPod Touch to sync with Gmail and use your own domain.  Make sure to follow all the steps in the next video – there are a few gotcha's (like one part where you have to set it up with your Gmail address, back out, then go back in and Read more