Mobile Printing with FedEx Office Print & Go (win a free test kit)
If you're a mobile worker on the go, one of the challenges you've probably faced is how to print your documents when you're on the move.  Maybe you're on the road meeting with clients, or on your way to make a presentation, and need to get some handouts or a report printed.  Well here's a solution – a great service I tested recently from FedEx Office called Print & Go. It lets you print from your mobile device or USB flash drive at more than 1600 FedEx Office locations. I was very impressed with how well it worked, so I want to explain what it does and how it works as I know for many of you it's probably just what you have been looking for.
Let me start by letting you know, in the spirit of transparency, that I was contacted by the folks at FedEx as they were looking for bloggers in the mobile work space to review this new service.  They sent me a "test kit" which included a 512 MB USB flash drive pre-loaded with instructions on how to use the service and a $25 FedEx Office gift card to cover the cost of anything I chose to print with the service.  They also offered to provide a similar "test kit" for me to giveaway, so make sure you read to the end of this post to find out how you can enter to win.
With FedEx Print & Go you can print from your iPhone®, BlackBerry® smartphone,  AndroidTM phone, or USB flash drive. I tested the service with my iPhone 4 as well as the USB flash drive they sent me.
Their service allows you to print to any of their self-service machines. What can you print you ask?
Accepted file types include Microsoft Word, Microsoft PowerPoint and Adobe PDF documents. (Update – the service now also supports JPG, TIF, and other image formats)
To print other formats, or for binding and other finishing options, you can see a FedEx Office employee at the store.
To begin using FedEx Office Print & Go from your iPhone, BlackBerry smartphone, or Android device you first have to download the HP ePrint app.
I jumped to the Apple App store and downloaded the HP ePrint app. This app lets you do more than print to the FedEx Print and Go service.  It also lets you print to other public print locations as well as to wireless HP printers that support AirPrint.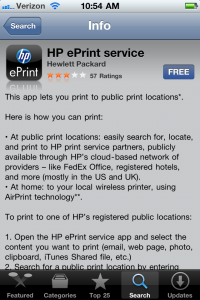 The app wanted to use my current location to find nearby public print locations so I clicked OK.  It then asked me to create an account with my email address. I receive an activation code via email and enter into the app and clicked activate to complete the registration process.
I was then presented with a screen of what I could print using the app: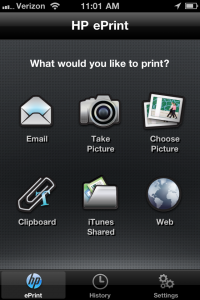 I choose the email option from my iPhone and was presented with the choices of Google Gmail, AOL, Mobile Me, or Other IMAP.  I choose Gmail and was asked for my login credentials. I then took the following steps:
It showed me my inbox. I could then click on a message and choose to print the message body or the attachment.
I choose an email with a PDF attached and clicked ATTACHMENT (PDF). It generated a preview along with a PRINT THIS button.
 The app then showed a select printer screen with options for local printers, search, and near me.  One click of the "near me" option showed the closest FedEx Office location which was only about 5 miles away.
I was then able to view the document preview again and it told me a release code would be required (so that only I could get the print job). It also gave me the address and phone number of the FedEx Office location, showed me their business hours, and allowed me to add this location as a favorite.  After reviewing this information I clicked PRINT.
I then had to accept some standard terms and agreements. At that point it created the print job. The app told me the job was submitted and would be available for printing with 15 minutes from time of submission. I was a bit confused on where I could choose the number of copies, but it turns out you do this when you are actually at the printer at the FedEx Office location. It also gave me some other details including the Release Code (a series of letters and numbers) I needed to get the printout. Conveniently, with one click on my iPhone I could call the store or find it on a map.
I then tried to print a photo I had taken with my iPhone. It followed the same basic steps but I was eventually greeted with an error message saying it couldn't handle JPG files.  This surprised me but after I called FedEx they told me that functionality should be added within a few months time. (UPDATE: Since writing this initial review I have been informed the Print & Go service now supports JPG, TIFF, and other image formats)
I also wanted to test printing from the USB Flash drive they sent me so I copied a few PDF files from my laptop onto the drive and headed to the local FedEx Office location I had chosen to print to from my iPhone.
Upon entering the store I quickly found a printer clearly labeled for self-service with the Print & Go Service: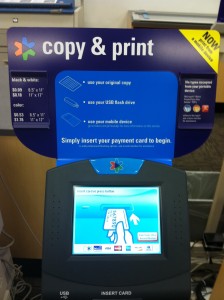 I followed the prompts to insert  a card for payment.  I used the $25 dollar gift card FedEx had provided me.  I then was able to choose to print from a download (the files I sent using my iPhone) or a USB Flash drive.  I tried them both and the steps were easy to follow.  In each case I was prompted to choose color or black and white, 1-sided or 2-sided, and the number of copies. When choosing to print from the download I was asked to enter the release code to verify the print job.
In each instance it quickly processed the job and printed without a hitch. I have to say that my overall impression is that the FedEx Print and Go service was easy to use and would be a big help to any mobile worker.
Currently, the service is limited to Adobe PDF, MS Word, and PowerPoint files up to 50MB in size. While this might seem limiting being the PDF format is supported, it means you can print just about anything as long as you take the initial step to convert it to a PDF file first.
I would have liked the ability to print a photo directly from my iPhone, but as I stated earlier, that feature is coming in the very near future. With more than 1600 FedEx Office locations to choose from (you can find them at http://www.fedex.com/office) you are never far away from a place to print your documents on the go.
Services like this are what make The Anywhere Office possible!
ENTER OUR CONTEST TO WIN A FREE 'PRINT ON THE GO TEST KIT' AND TRY THIS SERVICE OUT FOR YOURSELF:
Want to give the FedEx Print & Go service a try yourself for free?  FedEx was nice enough to offer me a "test kit" to give away to a member of The Anywhere Office tribe.  This includes a 512 MB USB flash drive pre-loaded with instructions on how to use the service and a $25 FedEx Office gift card to cover the cost of anything you choose to print with the service.
To enter the contest, post a comment below with the answer to this question: "Who originally coined the term 'Telecommuting?'"  The contest will run till next Friday – August 19th at midnight EST.  I will pick one winner at random from those that correctly answer the question.
(Hint if you're stumped you can find the answer in our Special Report – Work Unchained)
UPDATE: I am happy to announce that Dick Robinson was the lucky winner of the FedEx Print & Go Test Kit – congrats Dick!  He successful answered our question "How first coined the phrase telecommuting" – the answer was Jack Nilles.