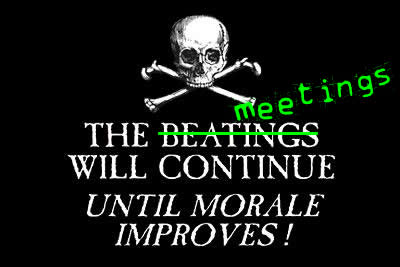 Once again Wayne Turmell has gotten right down to the core of a common problem. Sometimes it seems like most meetings are so dreadful because everyone is just smiling and nodding; that moves nothing forward and improves no one's morale. As you know, these 'time and energy suck' issues are often exacerbated when taken virtual. And that can be enough to make you want to go, as Turmell would say, 'full Captain Bligh on people'… lol.
This is not to say you go full Captain Bligh on people, humiliating them at will and whipping them into shape, but it does mean that both meeting leaders and participants have expectations on them that need to be met.
Read this excellent article at the link below.
How politeness can ruin your team's meetings.
In this informative article technology expert Midori Connolly shares her top picks for tools to improve virtual team productivity. Connolly specializes in providing end-to-end hybrid meeting design, strategic planning, and technological execution. Here she shares some key collaboration and scheduling tools useful for working with distributed teams.
Digital Dish: 7 Tools for Virtual Team Collaboration
The Globe and Mail delivers again with this helpful article of real-world tips for improving your online and virtual meetings. I think #10 might be the best and most overlooked, it can be so difficult to force yourself to do nothing, it is like some kind of Zen koan.
10 tips for running online meetings – The Globe and Mail.
Leave a comment with any tips you have found for facilitating online meetings.
I came across this article recently talking about some of the fundamentals of being the leader of a successful and productive virtual team: Effective management of virtual teams.
What I really liked about this is how it talks about the shift from the departmental mindset that most companies used to have to the ability to collaborate and work with global virtual teams. The post states:
When organisations got out of the department mindset, it became possible to work with the best of global talent.
This ability to work with the best people regardless of location is one of the key strategic benefits of The Anywhere Office. One that I feel many businesses overlook when considering how virtual to be.
There is no doubt there can be challenges with how to instill a sense of belonging and trust among virtual team members. It's just these challenges we show you how to overcome in our on-demand workshop – The Art of Virtual Leadership.
Working on dispersed teams across time and distance is not some vision of the future – it has become commonplace.  Almost all of us collaborate with others virtually almost every day – the question is are you managing it properly?
Share your thoughts about leading virtual teams and managing remotely in the comments below: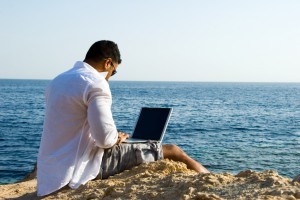 Late last year, I had the pleasure of presenting a webinar for Cisco where I shared my three secrets for turning your office into The Anywhere Office®. In the presentation I discussed how the world of work has changed and that whether you're a freelancer, entrepreneur, telecommuter or remote worker, there are smart ways to work without an office.
In case you missed it – you can watch the replay of  3 Secrets to Turning Your Office Into The Anywhere Office®. In this webinar I share three secrets to mobilize your workstyle and make your business and projects more flexible. These simple steps will allow you to work wherever and whenever you want.
We had a lot of questions during the webinar and not all were answered, so I answered the bulk of them in a 2 part guest blog post I did for the WebEx blog. There were some excellent questions – here are the links so you can check it out:
In this post I answer these questions:
How can you stay connected with workmates and interact with your team in a virtual office while avoiding feeling isolated?
What is the best way to convince 'old school' management that this will better for yourself and the company?
How do you keep the team spirit and consistency in the quality of work when everyone is working from home?
How do you convince a customer to trust in remote management of his/her data?
If you're currently a mobile worker, or you're starting to get more involved with virtual teamwork and remote collaboration the tools and strategies I discuss in this Q&A will help. The key to success is embracing the change about what defines work and taking the time to really think about how business gets done.
So check out the webinar and part 1 and part 2 of my Q&A blogpost on the Webex blog.
If you have further questions, you can post them as comments below or over at the webex blog and I'll answer them there.