I'm excited to be hosting a free webinar with Cisco/Webex on November 17th titled "3 Secrets to Turning Your Office Into The Anywhere Office®" as part of their No Office Required series.
Business as usual no longer involves working in a centralized office at set times. Whether you're a freelancer, entrepreneur, telecommuter or remote worker, modern workflow is far more dynamic and individual. There are smart ways to work without an office.
As you know, as a reader of this blog, I've created a blueprint for virtual work that I call The Anywhere Office®. In this webinar I'll shares three secrets to mobilize your workstyle and make your business and projects more flexible. These simple steps will allow you to work wherever and whenever you want.
I'll show you how to:
Make your work location independent
Improve communication and keep people connected
Manage a virtual team, distributed project group, or ebusiness across time and distance
This recent Cisco interactive infographic  serves as  a great visual representation of The Anywhere Office® concept I've been talking about for the last decade and will be discussing on this upcoming webinar. It shows the current and future state of workplace mobility. As Cisco states "Long commutes and being in an office at a certain time with limited flexibility is gradually becoming a thing of the past. The future will see an increase in workplace mobility creating the "anywhere office," a place where employees can work anytime from anywhere." By 2013, mobile workers will make up 35 percent of the worldwide workforce. While that leaves out over half of the global workforce, it shows us a new world of opportunity.  Are you shifting your business to "The Anywhere Office®?"

Who should attend
This webinar is perfect for anyone who must coordinate with co-workers, clients, vendors, or contractors across time and distance: project managers, program directors, team leaders, project coordinators, or anyone in a leadership role for a virtual team or distributed project group. This includes freelancers, entrepreneurs, telecommuters and remote workers.
Make sure to signup today and reserve your spot.  Even if you can't make the live event you will be emailed a link to the recording so you can still benefit from all the tips and strategies I'll be sharing.
I'm looking forward to a fun webinar and I hope to see you there!
With our first named storm bearing down this season (Hurricane Irene) and a recent earthquake in the Washington, DC area it's the yearly wake-up call for small businesses to start thinking about business continuity and disaster preparedness. I prefer to talk about it from this perspective, 'continuity' and 'preparedness',  rather than "disaster recovery". With a smart, flexible business structure in place, hopefully you won't need much recovery.  Instead, you are fluid and can simply roll with whatever comes along.  If  you work in The Anywhere Office – you're mobile and  can communicate and collaborate across time and distance. You can work where and when you need to – just like you do every day.
Not quite there yet?  That's OK – you're not alone – and we've got you covered!
Below are some useful disaster preparedness resources including websites, an episode of our radio show, a free business continuity teleseminar,  and some recommended tools to help you weather any storm.
AUDIO (Radio Show Archive):
Failing to Plan is Planning to Fail (Business Continuity in the Changing World of Work)
There are many potential obstacles that can interrupt a company's ability to do business as usual: inclement weather, natural disasters, special events, transit strikes, and skyrocketing transportation costs just to name a few. In this episode from our radio show archive we took a look at the differences between business continuity and disaster recovery as well as some strategies and technology to help you and your organization prepare. Jason and I talk with Brian Donahoo of Citrix Online, makers of GoToMyPC and GoToMeeting, to explore how aspects of the digital lifestyle can address and overcome these obstacles. As the Zen proverb says . . . The obstacle is the path.
FREE TELESEMINAR:

Riding the Storm Out (Tips to develop a business continuity plan)
Consider this, almost 40% of small businesses that close due to a disaster event never re-open.
What would you do if the building your business is located within was damaged or destroyed in a disaster? Where would you go to continue providing your business services? Would you have the resources, databases, contact information and other necessary items to adapt to these changes? Read more
I had the pleasure of being interviewed via Skype recently by Karl Walinskas, Founder of Smart Company Growth, to talk about virtual work, distributed teams and tips for growing a successful virtual organization. Karl's company helps small to mid-size businesses grow sustainable profits by leveraging the best strategies, appropriate talent and cost effective resources. In short he helps his clients ignite their sales and control expenses.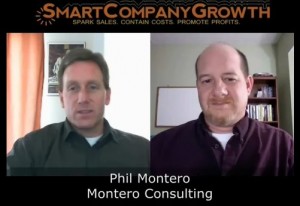 I met Karl late last year we instantly hit if off.  As we talked further he told me he wanted to embrace a virtual business model for Smart Company Growth. Shortly afterward I started working with Karl to help him refine his business model and choose the best strategies and tools that would allow him the flexibility to work from anywhere, keep his costs low, and work with clients from all over the world without the expenses and headaches of all that travel.
One of the things we discussed was how to use Skype for video conferencing and remote interviews as Karl wanted to include a series of these interviews with noted authorities on his blog. So after getting the technology in place he figured what better way to kick them off than by interviewing me about the strategies and technology that help entrepreneurs, small businesses, and solo professionals to work virtually.
Click below to watch the interview is broken down into 2 parts:
Video Interview Part 1 where we talk about the shift toward mobile work, how and why companies are embracing this type of work, some of the challenges, and what  it means to work with people you don't see every day.
Video Interview Part 2 where we talk about some of the non-tech elements critical for success when leading virtual or distributed workforces as well as some of the key gadgets and technology that help you and your team stay connected.  We also talk briefly about my on-demand webinar The Art of Virtual Leadership and how it helps managers learn to lead virtual teams.
I hope you enjoy the interview and find it informative.  Karl did a great job and had some great insight from his own experiences about what it means to work virtually and work with clients and team members remotely.
What do you think is the biggest shift in working virtually?  Please share your thoughts by posting a comment below.
It's clear that video is booming on the web.  Video sharing sites like YouTube and portable camcorders like the Flip have exploded.  Also, as I've discussed in previous blog articles and in the recent Businessweek Video Webcast – video conferencing is growing in leaps and bounds.
I've seen significant growth in the desktop video conferencing space with services like Skype, Tokbox, and ooVoo being used for everything from virtual meetings and remote collaboration to friends and family keeping in touch.   Thanks to the increase in broadband and wi-fi people can meet face-to-face virtually from almost anywhere.
Well now it looks like video chat/conferencing is about to get even more mobile.   Last week Apple released the iPhone 4 which includes a forward facing camera and a built in program called FaceTime that allows video chatting from iPhone to iPhone.  Also Sprint released the EVO 4G which also includes a front-facing camera and the QIK video chat software. It seems like the natural next step . . .
There is no mistaking that the time is ripe to get into the mobile video chatting game. It is already big enough with tools from Skype, Google (Talk) and others, and it's only going to get bigger. There are already millions of notebook owners in the mix, and when you add what is likely going to be millions of smartphone and tablet owners, the potential market for video chat offerings is going to be huge.
I'm sure these two phones are only the start of this trend.  In fact you can be sure that once Apple starts to push this envelope others will be soon to follow – much the way that the iPhone invigorated the smartphone market and the iPad has woken up the sleeping tablet market.  I'm still shocked that the iPad didn't include a camera on it for video chats – but I'm almost certain the next generation will include that feature.  In fact it's Read more
Although many people feel remote collaboration is all about technology – the truth is virtual team work is a human endeavor – it's about people working with people. Sure the tech is important as it enables people to work together while apart – but the strategy behind which tools you choose and how you use them is easily just as critical.
As Jason and I often say it's about "the right tools thoughtfully applied". Yesterday I came across a great blog post by Isaac Gube (@IAMTHEGUBE) about the tools and strategies he and his brother put into place when they launched their latest venture DesignInstruct.com – a regularly updated web magazine for designers and digital artists where you can find and learn design tips and tricks. The Brothers Gube clearly share the same philosophy as the Brothers Montero:
Design Instruct is our first real venture together. It is the first time my brother and I sought to actually build something of our own (unless of course you count all the make-believe forts we built when we were kids).

There are many challenges associated with working with someone over a long distance. However, we found that there are solutions to those challenges, and so far, we've managed to make it work.
I love the way the post breaks down the 5 main challenges they had and describes the solutions they came up with.  When technology was needed they used free or low cost tools that can be embraced by any small business owner, solo professional, or entrepreneur. Read more