Aaaaaaand it's a wrap! I would count last week as a successful Telework Week 2012. More than 69,000 pledged to telework.  Collectively, these pledges saved $5.5 million and removed 3,358 tons of pollutants from the air during Telework Week.  If all pledges teleworked for a year, they would collectively save $275 million.
Here is a snapshot of the final stats: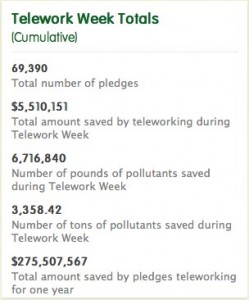 Pretty impressive! Currently, Telework Exchange and Cisco are compiling a report on the success of Telework Week 2012.   They will release the report at the upcoming Spring Town Hall Meeting on May 2.  To register for the event, click here.  To sign up to receive the latest information on the report, please contact info@teleworkexchange.com.
It's been proven time and again that telework or remote work can save money, be good for the environment, help improve employee recruiting and retention, and lead to increased productivity.
I challenge you to take this opportunity to go beyond "telework week" and really think about what providing a more flexible workplace can mean to you, your employees, and your business. Then stop thinking and START DOING!
Here are some resources we've put together to help you learn more about telework and jump start your efforts:
Announcing the Winners of our Virtual Team Management Webinar
Speaking of The Art of Virtual Leadership we had a fun contest encouraging you all to tweet about telework week and the resources we shared to help spread the word.  We are giving away 2 FREE enrollments to The Art of Virtual Leadership webinar (registration is currently $157).
The lucky winners are (drum roll please . . . . . . .) Read more
With our first named storm bearing down this season (Hurricane Irene) and a recent earthquake in the Washington, DC area it's the yearly wake-up call for small businesses to start thinking about business continuity and disaster preparedness. I prefer to talk about it from this perspective, 'continuity' and 'preparedness',  rather than "disaster recovery". With a smart, flexible business structure in place, hopefully you won't need much recovery.  Instead, you are fluid and can simply roll with whatever comes along.  If  you work in The Anywhere Office – you're mobile and  can communicate and collaborate across time and distance. You can work where and when you need to – just like you do every day.
Not quite there yet?  That's OK – you're not alone – and we've got you covered!
Below are some useful disaster preparedness resources including websites, an episode of our radio show, a free business continuity teleseminar,  and some recommended tools to help you weather any storm.
AUDIO (Radio Show Archive):
Failing to Plan is Planning to Fail (Business Continuity in the Changing World of Work)
There are many potential obstacles that can interrupt a company's ability to do business as usual: inclement weather, natural disasters, special events, transit strikes, and skyrocketing transportation costs just to name a few. In this episode from our radio show archive we took a look at the differences between business continuity and disaster recovery as well as some strategies and technology to help you and your organization prepare. Jason and I talk with Brian Donahoo of Citrix Online, makers of GoToMyPC and GoToMeeting, to explore how aspects of the digital lifestyle can address and overcome these obstacles. As the Zen proverb says . . . The obstacle is the path.
FREE TELESEMINAR:

Riding the Storm Out (Tips to develop a business continuity plan)
Consider this, almost 40% of small businesses that close due to a disaster event never re-open.
What would you do if the building your business is located within was damaged or destroyed in a disaster? Where would you go to continue providing your business services? Would you have the resources, databases, contact information and other necessary items to adapt to these changes? Read more
Work happens everywhere – virtual offices, client sites, home offices, coffee shops, airports, hotels, and any number of remote workplaces.  However, despite all the advantages of flexible work – most companies struggle when making this shift.
The biggest problem is that most organizations take an ad-hoc approach to workshifing, which has been thrust upon them. The business landscape began to change; they increasingly found themselves working across time and distance with team mates, remote offices, clients, vendors, and other outsourced professionals. And they mostly left individual employees, project teams, and offices to decide for themselves how best to conduct business. Virtual teamwork was not deliberate, and not undertaken with any real strategy.
If you're in this boat – what are you to do? You can't just stop the flow of business and start over with a brand new plan. But you also can't just lumber forward and say to your people, 'Work virtually better.' What you CAN do is take a step back to get a perspective on your process and workflow in order to isolate and highlight areas for improvement and adjustment. One way to accomplish this is by conducting  my ICC Workflow Audit™ which helps you take a look at your needs for Information, Communication, and Collaboration in order to guide you in choosing and throughtfully apply the right technology and guidelines for your organization or team.
I recently partnered with Citrix Online to discuss this topic in a free webinar – Work Unchained: The Competitive Edge of the Anywhere Office®. We had a great turnout for the event and some interesting discussions.  If you missed it you can watch it on-demand.
For more information on how to implement the ICC Workflow Audit™, read my white paper or my guest post on their blog Workshifting.com
I'd love to hear your thoughts on how you or your organization have adopted to virtual teamwork.  Please post a comment below and share your stories and feedback!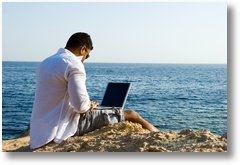 If you have employees working remotely or are just getting started with telecommuting, virtual teams, or workshifting you won't want to miss the free webinar I'm delivering next Thursday, April 29th:
Work Unchained: The Competitive Edge
of the Anywhere Office®
Thursday, April 29 at 11 AM (PDT) / 2 PM (EDT)
Business as usual no longer involves working in a traditional workplace at set hours. Today's workforce is more mobile than ever, and every day more people are working from virtual offices, client sites, home offices, coffee shops, airports, hotels, and any number of remote workplaces. Companies that take an ad-hoc approach to this work-style struggle, while those with a strategic, planned approach reap the benefit and flexibility of distributed work.
I partnered with Citrix (makers of GoToMyPC) to deliver this free Webinar. Learn how to evaluate your own organization's workflow to strategically turn your ordinary office into The Anywhere Office®.
Attend to learn:
Why workshifting provides a critical competitive edge
Common mistakes to avoid when enabling a mobile workforce
Best practices for evaluating your organization before implementing a workshifting strategy
And more…
Click here to reserve your complimentary seat
I'm looking forward to the presentation and I hope you'll join us!
Welcome to Part 13 – the final part of our 13 part audio series on Flexible Work and Telecommuting –  Telecommuting in the 21st Century: How to Implement or Improve Virtual Teams and Flexible Work in Your Organization".
Today, in part 13 (the final part) of our telework podcast series our panel of experts answer any remaining questions from those who attended the teleseminar on how to start an effective telework program.
So listen in to Part 13: Q&A
Armed with the ideas, tips, and best practices we shared over the 13 sessions you can develop a telework plan that will dynamically change where and how you and your people work. We wish you the utmost success in embracing telework in your organization and enjoying all the benefits it has to offer!

Podcast: Play in new window | Download (Duration: 14:19 — 13.1MB)
.