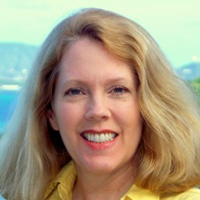 I had the pleasure of recently interviewing Pat Katepoo – a flexible work advisor and the founder of WorkOptions.com. Pat is the developer of a series of Flexible Work Proposal Packages which have equipped thousands of professionals to negotiate the flexible work arrangement they want.
On September 13, she's presenting a free webinar called Telecommute Now! How to Get Fast Approval to Work from Home where she will be sharing secrets for the easiest way to ask for a flexible work arrangement and get your managers to say YES.
In our short interview Pat and I talk about:
the importance of knowing how to negotiate the flexible work arrangement you want and how to ask with confidence.
the different shapes and sizes of flexible work: including telecommuting, compressed workweek, part-time, and job sharing.
the three-ingredient formula that gets managers to agree to a telework request — even where there are barriers. She also reveals a preview of two barriers that keep people from asking for a flexible work arrangement.
Listen to this 15 minute interview to learn more:
Podcast: Play in new window | Download (Duration: 14:50 — 13.6MB)
Pat's expert advice on flexible work has been featured in several national publications including The Wall Street Journal, US News & World Report, and also on NBC Nightly News. I've been following Pat's work in this space for the last 15 years and we first spoke many years ago when I was working on my book – Lose Your Commute. Read more
This video is the basically part 3 of my series on switching from Windows to Mac. Yes I know I said it was a 2 part series but I thought this video would make a good 3rd part. In it I share 2 great resources I found that were invaluable to help me cut the learning curve.  These resources let me get up to speed quickly and be productive in no time!
Here are links to the resources in case you want to check them out yourself:
Switching to the Mac: The Missing Manual, Snow Leopard Edition By David Pogue
MacProVideo.com – Great video tutorials on Mac programs.  They are running a special sale until October 20th – use these special links to take advantage of these discounts: Read more
Podcast: Play in new window | Download (17.7MB)
This is the second of my 2-part video series on why I switched from Windows to Mac (click here to see Part 1).  In this video I discuss how cloud computing, being a web worker, and compatibility made this an easier switch than it would have been in the past.
In my next video I'll share some resources I found that really helped me get up to speed quick and shortened the learning curve as a new Mac user.
Have you made the switch to Mac or been thinking about it? Post a comment below and let me know your thoughts, what has made you want to switch, or what is keeping you on Windows.
Podcast: Play in new window | Download (Duration: 5:29 — 26.1MB)
Well it's official – a few weeks ago I finally made the shift I've been talking about for the last 6 months or more and jumped from Windows to Mac (some say I've joined the dark side but it sure feels like the other way around). I decided to go with a MacBook Pro and I have to tell you I couldn't be happier.
It has certainly been a learning curve and in even the just the short time I've been a Mac user I've learned A LOT about some of the differences between the two operating systems, found some really cool new software and utilities, and basically been having a ball.
Sure I've been a bit less productive while making the transition but it is well worth it (and at least the lost productivity isn't due to blue screens and dll errors)!
The video below is Part 1 of a 2 part series I shot about why I made the switch from Windows to Mac and why I felt I could make this jump without too much grief (my first project in iMovie):
Along with this post and video goes out a big heartfelt apology to all my family and friends who have been long time Mac users.  I gave you all a lot of shit over the years about living in your "Mac world" and not using a "realcomputer" but let me tell you . . . I've drunk the koolaid and it's good!!
Podcast: Play in new window | Download (34.6MB)
Welcome to Part 13 – the final part of our 13 part audio series on Flexible Work and Telecommuting –  Telecommuting in the 21st Century: How to Implement or Improve Virtual Teams and Flexible Work in Your Organization".
Today, in part 13 (the final part) of our telework podcast series our panel of experts answer any remaining questions from those who attended the teleseminar on how to start an effective telework program.
So listen in to Part 13: Q&A
Armed with the ideas, tips, and best practices we shared over the 13 sessions you can develop a telework plan that will dynamically change where and how you and your people work. We wish you the utmost success in embracing telework in your organization and enjoying all the benefits it has to offer!

Podcast: Play in new window | Download (Duration: 14:19 — 13.1MB)
.