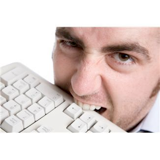 This guest post was submitted to The Anywhere Office by Kaito Mori of TrendMicro.com
For many of us trapped behind the walls of a cubicle for 40 hours a week, having a mobile office just seems like a faraway fantasy, like retiring on a desert island, or decent gas prices. For those of us who do have the luxury to be able to work from home or anywhere else, we know that it's not all roses relaxation. There are risks inherent to having a mobile office that can be devastating and can result in a loss of time and income or both. The danger paramount to one's mobile office is the threat of a malicious virus. A successful virus in your system can spell doom to your entire mobile office setup; even your whole company due to identity theft, damage to equipment, or a compromised bank account. Luckily, all of these doomsday scenarios can be prevented through free or inexpensive programs that you can install on all of your mobile devices.

A tenet of modern business psychology is to give your customer a price on your products that they think is more than a good deal.  If the customer thinks that they are getting such a good deal by purchasing your product that they are GLAD to do it, then you are doing a good job as a business. Antivirus software is a prime example of this pricing model. Most antivirus software out there is available for free or close to it, which means that protecting your mobile office easy and economically feasible. You just have to pick the right software. We'll go over some of the best options available on the market today.
For those of you who include a smartphone or two as part of your "mobile office," there are some great security and antivirus programs that you can use to keep your devices secure.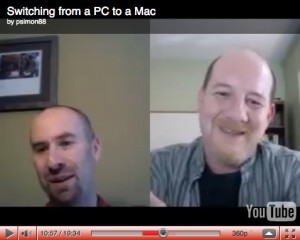 As you know I have done a series of posts (with many more to come) about my switch last year from PC to Mac.  Well recently, thanks to the amazing social media tool that is Twitter, I met Phil Simon. He is the author of several books the most recent of which is The New Small.  The book looks awesome and I just started reading it last night.  I'll be interviewing Phil here soon and giving away a copy of the book.
After chatting Phil and I realized we had a lot more than a first name/hairline in common – we both were born in Brooklyn NY, grew up in New Jersey, went to school in Ithaca NY and have a lot of the same views about emerging technologies and how small businesses/entrepreneurs can leverage these tools to grow their businesses.  We also like the same music (especially Rush, Pink Floyd and the Police) and have a very similar sense of humor (I think that is a NY/Jersey thing).
We also both recently switched from using PCs to Macs and are both now happily plugging away on our MacBook Pros. He also wrote  a series of posts detailing his transition to the Mac. I was sharing some of the great apps I discovered with him and told him about eCamm Call Recorder which makes it super easy to record Skype video and audio chats. He was excited by this and asked if we could do a video interview me about my switch to the Mac so I could share some tips.  Of course I said YES – so visit his blog and check out the interview.
I'll be returning the favor and interview Phil in the coming weeks once I finish reading The New Small and giving away a copy to a lucky reader so be sure to check back!
Well it's official – a few weeks ago I finally made the shift I've been talking about for the last 6 months or more and jumped from Windows to Mac (some say I've joined the dark side but it sure feels like the other way around). I decided to go with a MacBook Pro and I have to tell you I couldn't be happier.
It has certainly been a learning curve and in even the just the short time I've been a Mac user I've learned A LOT about some of the differences between the two operating systems, found some really cool new software and utilities, and basically been having a ball.
Sure I've been a bit less productive while making the transition but it is well worth it (and at least the lost productivity isn't due to blue screens and dll errors)!
The video below is Part 1 of a 2 part series I shot about why I made the switch from Windows to Mac and why I felt I could make this jump without too much grief (my first project in iMovie):
Along with this post and video goes out a big heartfelt apology to all my family and friends who have been long time Mac users.  I gave you all a lot of shit over the years about living in your "Mac world" and not using a "realcomputer" but let me tell you . . . I've drunk the koolaid and it's good!!
Podcast: Play in new window | Download (34.6MB)
It's clear that video is booming on the web.  Video sharing sites like YouTube and portable camcorders like the Flip have exploded.  Also, as I've discussed in previous blog articles and in the recent Businessweek Video Webcast – video conferencing is growing in leaps and bounds.
I've seen significant growth in the desktop video conferencing space with services like Skype, Tokbox, and ooVoo being used for everything from virtual meetings and remote collaboration to friends and family keeping in touch.   Thanks to the increase in broadband and wi-fi people can meet face-to-face virtually from almost anywhere.
Well now it looks like video chat/conferencing is about to get even more mobile.   Last week Apple released the iPhone 4 which includes a forward facing camera and a built in program called FaceTime that allows video chatting from iPhone to iPhone.  Also Sprint released the EVO 4G which also includes a front-facing camera and the QIK video chat software. It seems like the natural next step . . .
There is no mistaking that the time is ripe to get into the mobile video chatting game. It is already big enough with tools from Skype, Google (Talk) and others, and it's only going to get bigger. There are already millions of notebook owners in the mix, and when you add what is likely going to be millions of smartphone and tablet owners, the potential market for video chat offerings is going to be huge.
I'm sure these two phones are only the start of this trend.  In fact you can be sure that once Apple starts to push this envelope others will be soon to follow – much the way that the iPhone invigorated the smartphone market and the iPad has woken up the sleeping tablet market.  I'm still shocked that the iPad didn't include a camera on it for video chats – but I'm almost certain the next generation will include that feature.  In fact it's Read more
There is no shortage of stories about people being laid-off from corporate jobs and having to try and make it on their own.  Maybe you are one of them.  Well sometimes things that on the surface appear to be hardships turn out to be a blessing in disquise – it's all a matter of time and perspective.  I was reading a great article today about two women who wound up starting their own PR firm in Detroit – Entrepreneurs find community, networking and refuge, not to mention free workspaces
They have embraced their mobility and found it has not only saved them lots of money but also provided many networking opportunities with other similar entrepreneurs and solo-professionals.
Now, Ferraro and Marsik Friess, partners in their newly minted public relations firm Volare, have no formal office and no equipment other than their laptops and smart phones. They network like crazy, bartering for a new business logo, say, and taking advantage of coffee shops, a tearoom and other public spaces for meetings instead of renting traditional real estate. They even used Ferraro's Bluetooth-enabled SUV for their first conference call with a client.