Two Phil's Talk About Switching From Windows to Mac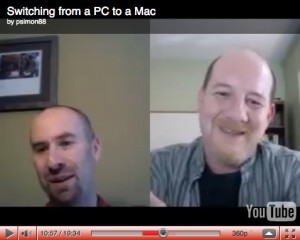 As you know I have done a series of posts (with many more to come) about my switch last year from PC to Mac.  Well recently, thanks to the amazing social media tool that is Twitter, I met Phil Simon. He is the author of several books the most recent of which is The New Small.  The book looks awesome and I just started reading it last night.  I'll be interviewing Phil here soon and giving away a copy of the book.
After chatting Phil and I realized we had a lot more than a first name/hairline in common – we both were born in Brooklyn NY, grew up in New Jersey, went to school in Ithaca NY and have a lot of the same views about emerging technologies and how small businesses/entrepreneurs can leverage these tools to grow their businesses.  We also like the same music (especially Rush, Pink Floyd and the Police) and have a very similar sense of humor (I think that is a NY/Jersey thing).
We also both recently switched from using PCs to Macs and are both now happily plugging away on our MacBook Pros. He also wrote  a series of posts detailing his transition to the Mac. I was sharing some of the great apps I discovered with him and told him about eCamm Call Recorder which makes it super easy to record Skype video and audio chats. He was excited by this and asked if we could do a video interview me about my switch to the Mac so I could share some tips.  Of course I said YES – so visit his blog and check out the interview.
I'll be returning the favor and interview Phil in the coming weeks once I finish reading The New Small and giving away a copy to a lucky reader so be sure to check back!