Aaaaaaand it's a wrap! I would count last week as a successful Telework Week 2012. More than 69,000 pledged to telework.  Collectively, these pledges saved $5.5 million and removed 3,358 tons of pollutants from the air during Telework Week.  If all pledges teleworked for a year, they would collectively save $275 million.
Here is a snapshot of the final stats: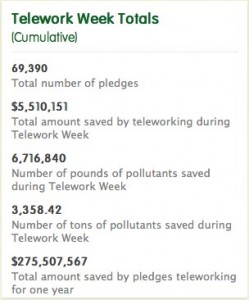 Pretty impressive! Currently, Telework Exchange and Cisco are compiling a report on the success of Telework Week 2012.   They will release the report at the upcoming Spring Town Hall Meeting on May 2.  To register for the event, click here.  To sign up to receive the latest information on the report, please contact info@teleworkexchange.com.
It's been proven time and again that telework or remote work can save money, be good for the environment, help improve employee recruiting and retention, and lead to increased productivity.
I challenge you to take this opportunity to go beyond "telework week" and really think about what providing a more flexible workplace can mean to you, your employees, and your business. Then stop thinking and START DOING!
Here are some resources we've put together to help you learn more about telework and jump start your efforts:
Announcing the Winners of our Virtual Team Management Webinar
Speaking of The Art of Virtual Leadership we had a fun contest encouraging you all to tweet about telework week and the resources we shared to help spread the word.  We are giving away 2 FREE enrollments to The Art of Virtual Leadership webinar (registration is currently $157).
The lucky winners are (drum roll please . . . . . . .) Read more
The infographic below shows the cost of commuting in both finances and time – then extrapolates the cost over a 10 year period for an eye-opening revelation. Thanks to Jessica Anderson for sharing this infographic she helped to create.
The numbers on this graphic remind me of a lightbulb moment I had many years ago while sitting in traffic during my daily commute to my job in New Jersey. I, also, took a moment to do the math and realized how much time I was losing just getting back and forth to my physical office.
That realization was the proverbial "straw that broke the camel's back" which has led to over 18 years of me helping people be more mobile and work in The Anywhere Office.
Take a look and be prepared for a shock:
 Click image to enlarge


Via: Streamline Refinance
A bit sickening when you think about it, huh?  Amazing that so many companies still insist on having everyone in a central office when it really isn't necessary considering these costs.
Post a comment below and share your thoughts!
Work happens everywhere – virtual offices, client sites, home offices, coffee shops, airports, hotels, and any number of remote workplaces.  However, despite all the advantages of flexible work – most companies struggle when making this shift.
The biggest problem is that most organizations take an ad-hoc approach to workshifing, which has been thrust upon them. The business landscape began to change; they increasingly found themselves working across time and distance with team mates, remote offices, clients, vendors, and other outsourced professionals. And they mostly left individual employees, project teams, and offices to decide for themselves how best to conduct business. Virtual teamwork was not deliberate, and not undertaken with any real strategy.
If you're in this boat – what are you to do? You can't just stop the flow of business and start over with a brand new plan. But you also can't just lumber forward and say to your people, 'Work virtually better.' What you CAN do is take a step back to get a perspective on your process and workflow in order to isolate and highlight areas for improvement and adjustment. One way to accomplish this is by conducting  my ICC Workflow Audit™ which helps you take a look at your needs for Information, Communication, and Collaboration in order to guide you in choosing and throughtfully apply the right technology and guidelines for your organization or team.
I recently partnered with Citrix Online to discuss this topic in a free webinar – Work Unchained: The Competitive Edge of the Anywhere Office®. We had a great turnout for the event and some interesting discussions.  If you missed it you can watch it on-demand.
For more information on how to implement the ICC Workflow Audit™, read my white paper or my guest post on their blog Workshifting.com
I'd love to hear your thoughts on how you or your organization have adopted to virtual teamwork.  Please post a comment below and share your stories and feedback!
It's no surprise that telecommuting, workshifting, or virtual work – whatever you choose to call it – not only makes smart business sense but can also help you run a more environmentally friendly business.
Whether you are a large corporation, small business, or solo professional there is a lot you can do to lighten your ecological footprint. When you reduce the need to travel and take advantage of technology to collaborate from anywhere you keep tons of carbon emissions from polluting the world.  A shift to printing less and using more digital documents saves untold numbers of trees.
By taking The Anywhere Office® approach you'll save money, be more productive, and be more green. So this Earth Day make a commitment to make even a small adjustment to the way you work to do your part.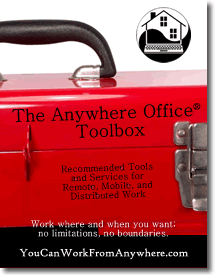 You can start by downloading The Anywhere Office Toolbox – our free eBook contains information and links to technology, services, and other resources we find of benefit to mobile workers, virtual teams and supporting virtual offices and distributed work.
You'll find tools for gaining remote access to your documents or computer, holding web meetings and conferences, sending and receiving digital faxes, sending video email and holding video conferences, dealing with time-zones, and marketing your business online.
These are all free or affordable solutions with free trials – so there is no excuse!  Incorporate some of these tools today and make your business more green.
Unchain yourself from the office; work where and when you want.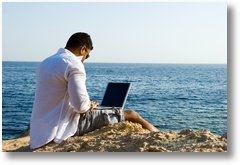 If you have employees working remotely or are just getting started with telecommuting, virtual teams, or workshifting you won't want to miss the free webinar I'm delivering next Thursday, April 29th:
Work Unchained: The Competitive Edge
of the Anywhere Office®
Thursday, April 29 at 11 AM (PDT) / 2 PM (EDT)
Business as usual no longer involves working in a traditional workplace at set hours. Today's workforce is more mobile than ever, and every day more people are working from virtual offices, client sites, home offices, coffee shops, airports, hotels, and any number of remote workplaces. Companies that take an ad-hoc approach to this work-style struggle, while those with a strategic, planned approach reap the benefit and flexibility of distributed work.
I partnered with Citrix (makers of GoToMyPC) to deliver this free Webinar. Learn how to evaluate your own organization's workflow to strategically turn your ordinary office into The Anywhere Office®.
Attend to learn:
Why workshifting provides a critical competitive edge
Common mistakes to avoid when enabling a mobile workforce
Best practices for evaluating your organization before implementing a workshifting strategy
And more…
Click here to reserve your complimentary seat
I'm looking forward to the presentation and I hope you'll join us!