In this informative article technology expert Midori Connolly shares her top picks for tools to improve virtual team productivity. Connolly specializes in providing end-to-end hybrid meeting design, strategic planning, and technological execution. Here she shares some key collaboration and scheduling tools useful for working with distributed teams.
Digital Dish: 7 Tools for Virtual Team Collaboration
This is only the second guest post we have had here on The Anywhere Office. I was delighted when Ripley Daniels approached me about writing this for the blog. As someone who has been working virtual for years and now works with a company that is completely remote she has some great lessons learned to share about making the shift to virtual work.
I was just talking with someone the other day about when I first started working primarily from my home office.  The adjustment period took at least 6 months for me to find my workflow and adjust to my space (or adjust my space to my work).  Ripley shares some essential strategies here to help make the transition easier.
Thanks for the great article Ripley . . . take it away . . .
– – – – – – – – – – – – – –
Being a telecommuter may seem like a dream come true but there are often many aspects of working from home that can cause tension, stress and even depression. For most people, transitioning from an office environment to a home office is both daunting and difficult. The office environment facilitates a social setting where you interact with your co-workers throughout the day. Working from home immediately limits your opportunity to socialize and at times can create a sense of isolation that can be hard to adjust to. Another possible change you will undergo is balancing your work and home life. This can be extremely challenging as working from home blurs the lines.
In order to get the most out of your telecommuting experience, it's important to have a strategy. Here are some simple steps to help relieve the pressure and tension that working at home might create:
Create a specific work space. There is nothing more distracting than trying to work in front of the television or in a common area where the children might be playing or your spouse might be on the phone. If possible, turn a guest room into a home office where you can set up a desk, computer and other office supplies as well as where you can hold conference calls and teleconference calls without any distractions or disruptions. If you do not have an additional room or space, designate a Read more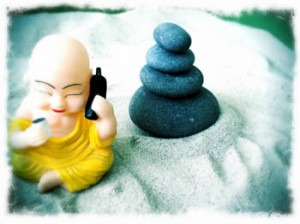 Cloud computing, smart phones, and technology truly allow you to have The Anywhere Office: the ability to get work done and be productive anywhere has brought untold flexibility to mobile professionals and web workers today.
This mobility and anywhere access has caused the lines to blur between our work and personal lives. For most entrepreneurs and small business owners, the two are forever intermingled. If done right, mobile work should be empowering: providing you more freedom and flexibility than you ever imagined as you easily manage the shifting flow of tasks, responsibilities, and communication that are part of your daily life.
But it's easy to let the technology, and our work, start to take over and demand more and more of our time.
I discovered that in today's eBusiness world, pure "work/life balance" doesn't seem to work (at least not for me). What seems a better, more dynamic, fit is a zen-like approach which aims for "work/life integration" instead. This quote called "Master the Art of Living" sums it up.
So how do you do it?  How do you handle the demands of today's fast paced, 24/7 business environment, along with all of the commitments and enterprises in your personal and family life?
Here are my top 5 tips for a zen approach to mobile work. They will help you achieve "work/life integration," and ensure that technology is your tool and not your master.
Know how your technology works. Turn off audible or visible notifications so they don't provide unnecessary interruptions when you are not working or need single-minded focus on a particular project or task.
Setup clear communication guidelines. Make sure everyone knows what is expected of them with regard to accessibility. These include prioritizing communication channels and determining expected turnaround times for different modes of communication (ie. 3 hours for emails, 1 hour for voice mail).
Centralize email and social media messages. Find ways to filter these messages into as few programs as possible so you can easily and quickly check and reply to them without feeling overwhelmed by too many systems.
Consolidate Technology. Find one tool that can serve multiple purposes. Smartphones and tablets can take the place of many devices such as point and shoot cameras, video cameras, laptops, voice recorders, and more. Finding ways to consolidate several tools, and information, into one device lets you travel lighter and stop wasting time switching between multiple platforms or programs.
Unplug and Turn off. Just because you can work from any place at any time doesn't mean you should. These tools have an off switch – use it! Give projects their proper focus and attention. And don't be so distracted that you fail to stay present with family and friends.
Following these simple steps will help you navigate the flow of digital information in your life.
Do you have a great tips or suggestion for clearing digital clutter?  Don't keep it a secret! Post a comment below and share it with the rest of the tribe here on The Anywhere Office.
How much time do people waste in the workplace?  A lot more than most people probably think!  I came across this great infographic today in a post on Campus Socialite called Hardly Working: A Look In To Laziness In The Workplace.  They grabbed these statistics from Online MBA who put together this eye opening display:
And this doesn't even touch on all the useless meetings and other time sucks of office life – one more feather in the cap of working from The Anywhere Office!  It's a wonder anything gets done at all. With a more flexible work schedule it's easier to schedule some of these "distractions" into your day and still get solid work time in – but when you are in the cube farm from 9 – 5 it's a different story.
What do you think are you surprised by any of these statistics?  Post a comment below and let us know!
This video is the basically part 3 of my series on switching from Windows to Mac. Yes I know I said it was a 2 part series but I thought this video would make a good 3rd part. In it I share 2 great resources I found that were invaluable to help me cut the learning curve.  These resources let me get up to speed quickly and be productive in no time!
Here are links to the resources in case you want to check them out yourself:
Switching to the Mac: The Missing Manual, Snow Leopard Edition By David Pogue
MacProVideo.com – Great video tutorials on Mac programs.  They are running a special sale until October 20th – use these special links to take advantage of these discounts: Read more
Podcast: Play in new window | Download (17.7MB)