This guest post was submitted to The Anywhere Office by Gean Biffulco of  Idea180.com
Can Social Media Marketing Work For Your Business (Or Is It Yet Another Service Marketers Want to Promote)?
The short answer  to both questions is, 'YES.' Social Media Marketing (SMM) can generate brand awareness (locally, nationally or globally), it can influence purchases (give your brand "social endorsements") and can even generate a return on investment if set up and measured properly. The problem many businesses run into is they set the wrong expectations about SMM right from the start and then consider they have wasted marketing dollars paying for "fans", "subscribers" or an "amazing Facebook app/game" that didn't seem to do anything for sales. This is not only the marketer's fault for setting the wrong expectations, but also the businesses' for lacking the proper knowledge.
We have seen the expressions of many business owners who just don't get what social media is (they call it the Twitter, the Facebook, the YouTube, and others like it), and the truth is that some authors or pseudo-experts can make any internet marketing subject too complex. This is why idea180 has prepared this article, intended for small or medium business owners who want to understand social media in laymen's terms, and to help determine just how much social media their business needs.
Why Are You Considering Social Media?
If your interest in social media is to have the same high number of Facebook fans as your friend's page, you can buy a few thousand fans from India or some other countries for a couple of hundred dollars and be done with it. This is not really cheating, it's just plain stupid. A couple of hundred dollars used in Facebook ads can give your business a few thousand impressions from the right pair of eyes. You can choose if you want your promotional ad to be seen by males or females, specific age ranges, run it in specific towns, cater to people with specific interests, and based your campaign on any other demographic data Facebook collects. You can also decide if you want to create fans for your page or drive traffic to a landing page on your site. If you compare creating "fake fans" made in Pakistan to "targeting the right people", the choice is obvious – social media is quality over quantity. The right people are more likely to buy than some "fake fan" that could care less about you or your products.
The example above shows how setting the right expectations in SMM matter a lot, thousands of fans means nothing – SMM it's all about interaction. Some small businesses have only a few clients, not thousands, who generate 100% of their revenue; the relationship with these clients is based in quality interactions.
Making the jump from working for someone else to working for yourself is a big step.  There is a lot to learn and much of it you wind up learning the hard way (through trial and error).  The freedom and flexibility that comes from being self-employed and running your own business however makes it all worth it!
I came across a recent blog post today from Glen Allsopp (@viperchill) "Living Self-Employed Online: The Manual They Forgot to Give You".  Glen shares 13 lessons from his first 18 months of being self-employed:
As some people here don't care about making their living from the internet, I understand that this post will not be for everybody. However, if you've just made the leap to working for yourself, currently run your own business, or you're looking to make your money online in the future, this article may be just what you need.

Over the last 18 months of working for myself, I've learned a ton of things on my journey. Not every piece of advice I took on board has helped, with many ideas quickly being discarded. From reading dozens of books, speaking with hundreds of entrepreneurs, and living this life myself for a year and a half, there are a few lessons I would like to share.
I found this post to be full of wisdom and something I wish I had read when I first made the leap.  One tip that I really liked Read more
I'm really loving the growth of social media – especially the way it can serve as a watercooler and networking environment for those that work in The Anywhere Office.  One of the downsides of being virtual is losing the connections and social element of working in an office.
I have found Twitter to be a great way to connect with people and in many ways it's even more powerful than the traditional water cooler as I have connected with people from all over the globe!
Being a work at home dad, entrepreneur, and small business owner it's hard to find the time in my schedule to get out to networking events. This is another area where social media has really been amazing – I'm able to take a more asynchronous approach to finding and starting conversations with other liked minded people I meet.  I think the key, however, is to then take those conversations to the next step and schedule a real-time phone call, Skype chat, or in person meeting when possible.
Still haven't taken the social media plunge?  I came across a recent article that helps you get up to speed on the big three:
Here's a quick 101 on how to best leverage the top three social networking sites — Twitter, Facebook, and LinkedIn. via Twitter, Facebook or LinkedIn? Finding the Right Fit for Your Small Business | Small Business Matters.
If you haven't explored any of these services yet I strongly urge you to do so!  You can connect with me on all three here – Twitter, LinkedIn, Facebook.
Twitter is by far my favorite – which is yours? Post your thoughts in the comments below.
It's no surprise that telecommuting, workshifting, or virtual work – whatever you choose to call it – not only makes smart business sense but can also help you run a more environmentally friendly business.
Whether you are a large corporation, small business, or solo professional there is a lot you can do to lighten your ecological footprint. When you reduce the need to travel and take advantage of technology to collaborate from anywhere you keep tons of carbon emissions from polluting the world.  A shift to printing less and using more digital documents saves untold numbers of trees.
By taking The Anywhere Office® approach you'll save money, be more productive, and be more green. So this Earth Day make a commitment to make even a small adjustment to the way you work to do your part.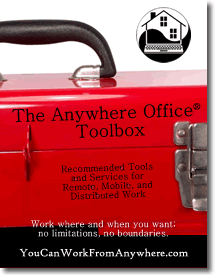 You can start by downloading The Anywhere Office Toolbox – our free eBook contains information and links to technology, services, and other resources we find of benefit to mobile workers, virtual teams and supporting virtual offices and distributed work.
You'll find tools for gaining remote access to your documents or computer, holding web meetings and conferences, sending and receiving digital faxes, sending video email and holding video conferences, dealing with time-zones, and marketing your business online.
These are all free or affordable solutions with free trials – so there is no excuse!  Incorporate some of these tools today and make your business more green.
Unchain yourself from the office; work where and when you want.
Recently while using my Flip camera to shoot some video for this blog I came across a problem. I was shooting the post about "working outside your office" so I wanted to move around and decided to hold the camera so I could be mobile and not be stuck with the static shot I would get from using my tripod (like I normally do).  There were two issues with this approach:
My arms are only so long so I couldn't hold the camera out far enough to get much of me and the background in the shot
The camera shook a lot so the video jumped around a bit
As I always do when looking for the solution to a problem I searched Google and found a solution – the XShot 2.0 camera extender.  This amazing device is only 9″ in length and weighs 5 ozs. when closed but folds out (like an antennae) to 37″ long and can hold a camera up to 1.25 lbs.  It includes a standard tripod mount on the end that swivels up to 180 degrees so you can attach your point and shoot digital camera or your pocket camcorder (like the Flip video), simply extend it and get yourself and others in the shot!  I was jonesing on trying it out so I contacted XShot and they were kind enough to send me one so I could give it a try and review it for you.
Watch this video below where I do a quick demo of how it works:

Ever since I've had a digital camera I've always done the single-arm stretch to take photos of myself and others without having to ask someone Read more