3 Secrets to Turning Your Office Into The Anywhere Office – webinar replay & follow-up Q&A post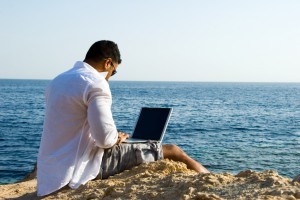 Late last year, I had the pleasure of presenting a webinar for Cisco where I shared my three secrets for turning your office into The Anywhere Office®. In the presentation I discussed how the world of work has changed and that whether you're a freelancer, entrepreneur, telecommuter or remote worker, there are smart ways to work without an office.
In case you missed it – you can watch the replay of  3 Secrets to Turning Your Office Into The Anywhere Office®. In this webinar I share three secrets to mobilize your workstyle and make your business and projects more flexible. These simple steps will allow you to work wherever and whenever you want.
We had a lot of questions during the webinar and not all were answered, so I answered the bulk of them in a 2 part guest blog post I did for the WebEx blog. There were some excellent questions – here are the links so you can check it out:
In this post I answer these questions:
How can you stay connected with workmates and interact with your team in a virtual office while avoiding feeling isolated?
What is the best way to convince 'old school' management that this will better for yourself and the company?
How do you keep the team spirit and consistency in the quality of work when everyone is working from home?
How do you convince a customer to trust in remote management of his/her data?
In part two of this Q&A I answer these questions:
What is the best way for a few employees to keep a task list for their boss that we can all access remotely?
Do you have some basic tools that you think are absolutely "must haves" for a virtual team?
I share some of the best free and low-cost tools available for keeping teams connected and productive.
If you're currently a mobile worker, or you're starting to get more involved with virtual teamwork and remote collaboration the tools and strategies I discuss in this Q&A will help. The key to success is embracing the change about what defines work and taking the time to really think about how business gets done.
So check out the webinar and part 1 and part 2 of my Q&A blogpost on the Webex blog.
If you have further questions, you can post them as comments below or over at the webex blog and I'll answer them there.