Catch my video chat with Dave and Brian on Freelance Jam
A few weeks ago I had the pleasure of joining my friends Dave Yankowiak and Brian Casel on their awesome web video show Freelance Jam. Dave runs AnywhereMan.com and once we met on Twitter and chatted on Skype we knew we had a lot in common! The show is targetted toward independent professionals who build the web but anyone who runs a small business can learn a lot from their guests and discussions.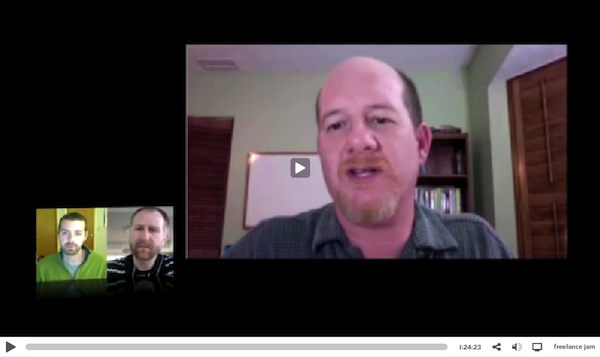 In this edition of the show we talked about things like how to build trust with clients you may never meet face to face, working in virtual teams, what effect technology has on the shift from employee to freelancer and the future of the "anywhere lifestyle" – being able to do the work where and when you want.If you already work where you want or if you're thinking about it, be sure to watch or listen to this episode. It will be worth your while. We all shared some great resources and strategies for collaborating and staying productive.
Freelance Jam is the brand-new show for independent professionals who build the web. Episodes are recorded live every other Tuesday evening, offering viewers a chance to discuss and ask questions during the live show.
Be sure to catch future episodes of FreelanceJam. It airs every other Tuesday night and the show includes interviews with guests from across the web industry and beyond. Topics include freelance business, web design, entrepreneurship, working from home, killer apps, marketing, web trends, and even music!
It's a laid back interactive discussion I know you'll enjoy – and they keep introducing me to new music!