Video Conferencing Breaks Out of the Boardroom – Watch it On-Demand
Video conferencing has changed.  What was once a very costly technology only used by large enterprise type organizations with dedicated IT departments is now easier to use and more cost effective. There are a variety of solutions to fit almost any budget.
This was the topic of discussion a few weeks ago when I joined Bloomberg Businessweek in their New York Studios for a live Video Webcast called "Video Breaks Out of the Boardroom".  The show was hosted by Jim Ellis, Assistant Managing Editor of Bloomberg Businessweek, and I was delighted that they invited me to join Marc  Beattie from Wainhouse Research to be part of this episode.  Here is a photo from our broadcast: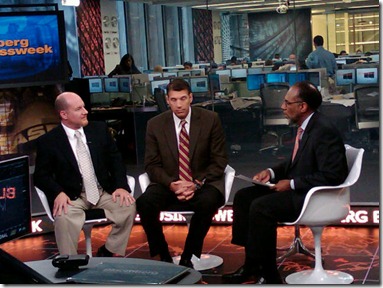 The Bloomberg building was amazing and everyone I met there was extremely friendly and helpful.  We had a wonderful discussion and looked at what's involved with implementing video conferencing including how much technical know-how it takes, how and why companies using it, what it costs, and what are some of the stumbling blocks. We also took some great questions from those that were viewing the live broadcast.
In case you missed it you can now view the entire Video Webcast live.  Just register here and you can watch the whole show.  We discussed the topic for about 20 minutes and then had about 10 minutes of Q&A.  If you're currently using video conferencing, or thinking about it, you definitely want to catch this.
A big thanks to everyone at Bloomberg Businessweek for having me be a part of this event. I hope to join them again for future shows!
Please post a comment below and let me know what you thought of the webcast and feel free to ask me any questions you might have about using video to connect with your virtual teams and remote workers.