Most Popular Mobile Printers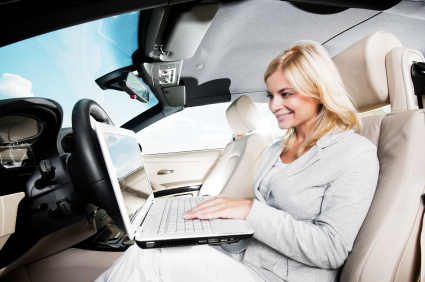 This guest post was submitted to The Anywhere Office by Joel Arnold of InkPal.com
Mobile computing is quickly changing the way that most people work. Because of their slim form factor and snappy speed, tablets are coming closer than ever before to making the paperless office possible. But it's still a basic reality that there is sometimes no substitute for printing things out. Unfortunately, mobile computing has only complicated things, since now it has become necessary to print on the go. So if you're looking for a printer you can tuck in a bag between your laptop and your iPad, what are some of the best options?
1) Epson PictureMate Charm
If you need a way to print full-color photos while traveling, you'll have a hard time beating the PictureMate for quality and cost. You can get your pictures to the printer through CompactFlash, Memory Stick, SD card, or XD-Picture Card, or of course connect it to your computer with USB. Bluetooth will cost an extra $39.
The PictureMate only prints in 4×6, but it is incredibly simple to use and the quality of the result is outstanding. Best of all, if you buy specially designed printer packs that include both ink cartridges and paper, it works out to around 25 cents per picture—not as good, obviously as color laser toners, but better than any other mobile printer.
2) HP Photosmart A646
The Photosmart A646 is a close competitor to the PictureMate Charm and performs the same basic set of functions. For a very reasonable price, the A646 delivers impressive versatility and reasonably good results. The printer body is quite solid and the carrying case is made of recycled bottles. The interface is fairly easy to use and the printer has the same media card slots except for CompactFlash. Bluetooth is built in, however. Very nice is the ability to print in 4×6, 4×12 or 5×7—a rare extra feature for most mobile photo printers. Unfortunately, the cost of replacement ink and paper is a little high and print quality leaves some serious room for improvement. Depending on your needs, this may or may not be a viable option for you.
3) Canon Pixma iP100 Photo Printer
Business users who need both reasonable speed and quality color printing should consider this excellent model from Canon. The Pixma folds up into a easily rectangle but when set up includes a nice paper tray (up to 50 sheets). It is also reasonably light and won't displace much in your suitcase. The most surprising aspect of the printer is the impressive speed and reasonably good printing quality. If you're picky, you'll notice a few flaws in high quality graphics, but the result is still excellent by mobile standards. You can also purchase other add-ons such as a rechargeable battery or a car charger.
4) HP Officejet H470
The Officejet H470 is the closest competitor to the Canon Pixma. Both are excellent printers with various strengths and weaknesses. One advantage of the H470 is how ruggedly the printer case is designed with everything folding into the body. The weight and size is roughly comparable to the Canon but replacement cartridges for the HP are cheaper considering how many pages they print. Where the H470 lags the most is with printing quality. Expect to see some noticeable problems in graphics and occasionally even with text. Depending on your needs, however, the issues may not be significant enough to matter.
The mobile printer is a task specific piece of hardware, no one printer is suitable for all tasks. If your looking for a well rounded, affordable, and compact printer for business related printing the best choice at the moment is most likely the  HP Officejet H470. That being said, if you need quality over convenience and you don't mind the more expensive ink costs, then the Cannon Pixma iP100 is for you. Like-wise, if your looking for a capable, quality photo printer, the Epson PictureMate Charm will fit the bill. The HP Photosmart A646, on the other hand, offers slightly less in the quality department and substantially more in flexibility and affordability.
The bottom line? It's a balancing act. Figure out what you print the most or would print the most if you had a mobile printer, weigh the cost of ownership for the models that jump out at you, look at factors such as connectivity, battery life or availability of a battery, quality of prints, and of course, size and weight.
Author Biography: This post is brought to you by Joel Arnold of Inkpal.com. He been writing articles from all corners of the planet as he travels and learns about global economics and the green efforts in places like China, India, Brazil, Europe, and Africa. He has been writing for over 6 years on the topics of reducing e-waste, emerging green techs, and global economics.