This guest post was submitted to The Anywhere Office by Sapna of  Taaza.com
To what extent is today's workforce adapting to the features that the smartphone offers cannot be exactly determined. The smartphone has taken communication to a whole new level. With features like Wi-Fi connectivity, fast processors and futuristic applications, smartphones have improved efficiency and made work fun in the process. Taking into account the rate at which the technology has been improving, the change in today's work environment is quite noticeable.
Social Media Plug-ins – With Facebook, Twitter, Linkdin and now Pinterest reaching out to everyone globally, accessibility of these social media platforms are being improved on a daily basis. The transition from desktops to mobile to satisfy browsing needs has been tremendously fast. Sharing information on facebook and promoting it on twitter is just a few touches or buttons away. Public Relations and corporate communications have become extensively easy with the social media addition on the smartphone.
Live Feeds – RSS feeds and news feeds for related information can be streamed into the mobile with ease. At work, knowledge is power and acquiring relevant knowledge has never been easier. With relevant feeds, everyone is armed with knowledge as the deals could be worked out and strategies could be planned with the right information obtained at the right time.
Chat Applications – Blackberry's BBM and Whats App for the rest of the phones have actually given a new meaning to instant communication. Speaking to a colleague or a team mate from any part of the world has become child's play these days. Getting in touch with a business client and arranging appointments has never been simpler. This in-turn improves the communicability within the organization and also externally.
Maps – One of the most useful additions to the array of smart phone features is the navigation application loaded with maps. It also serves as a guide to the lost traveler as it gives out a person's current location and the suggested route to the destination. A dream just comes true for the sweating door-to-door salesman as he can easily figure out his way around the city. Moreover, it also helps a frequent traveler to navigate his/her way through decent places to visit and spend the night at hotels well within the required budget. This in turn has helped the business traveler as searching for an office at new destinations is no more a difficult task.
The mobile phone manufactures make it a point to add in new features almost daily in order to make their products stand out from the rest. It is now up to today's work-force to get their hands on one of these smartphones and start touching screens or pushing buttons to enhance personal productivity at work.
Author Biography: This is a guest article written by Sapna, Manager at Taaza.com, an Indian horizontal site. Significant verticals include Jobs, Classifieds, News, Education, Photos, Movies, Shopping and Finance.
Stay in touch with what matters most—from wherever you work
Thanks to technology I am able to work remotely from home. I'm what you'd call a telecommuter. I'm hooked up for 8-hours a day with my head office, but I don't work there. How? Well it's thanks to the thousands of telecommuting apps on the market for the iPhone, Android, T-Mobile Samsung Galaxy S, and BlackBerry smart phone—I'm able to stay productive and efficient with no boss breathing down my neck.
Working from home has never been easier with the following 5 top apps for telecommuters. The following apps help remote workers track time, remind them about important deadlines, offer file-sharing with other remote employees, and offer total online synchronization with the head office. Now they won't help distract you from watching Ellen every day (for that you'll need to exercise your own sort of willpower), but they will give you access to all of the critical tools you need so you can work while away from your office or even on the go!
1. Skype (Free – for iPhone and iPad)
Skype for mobile offers video chat with your most important contacts—right at your fingertips. The thing I love the most about Skype is that it's simple with no fancy bells and whistles. Once you log into your Skype account, you can use the app to call, video chat, or instant message (with nifty emoticons to spice up your messages) anyone in the world. Plus, if you want to call a landline or mobile phone, simply buy some Skype Credit (it's far cheaper than a phone bill). Skype will also keep track of your recent calls and instant messages so you can look back at work discussions if you need reference.
2. Pinger Textfree (Free – for Android)
The Pinger Textfree app is similar to Skype in that it offers unlimited SMS texts and picture messaging with your personalized Pinger number. However, you can use this app to text friends who don't even have Pinger Textfree—all you need is a data connection to send texts to anyone around the globe for free. Make Pinger your default text and even reach out to friends on Facebook who don't have text.
3. Salesforce Mobile (Free – for BlackBerry)
Salesforce mobile gives remote workers peace of mind by putting all critical records and information at their fingertips—regardless of how far away they are from head office. Ideal for telecommuters, Salesforce Mobile helps home-based and remote workers keep their fingers on the pulse of late-breaking office news and projects in real time so they can collaborate easily with remote teams, respond to sales leads, log their own client notes and progress from anywhere, and get live access to the central business dashboard (or project center) to look up sales account activity, and communicate back to teams, even when they're on the road.
4. Dropbox (Free – for Android)
This app is a file and multimedia sharing cloud for remote-based businesses. I use Dropbox as a remote worker every hour of every day. This app allows me to drop documents, photos, videos, client emails and other correspondence, and business notes into the central Dropbox for sharing with my co-workers from absolutely anywhere. Simply install Dropbox on your computer, drop files into the tool, and Dropbox will instantly save the additions to the central Dropbox folder for sharing across the company. And if you're away from your computer, you can access your files using the Dropbox app as long as you have a smart phone and a wireless connection. It's nice to know I always have access to what I need to do my job.
5. Toggl (Free – for iPhone)
Toggl is a time-tracking app that provides both remote teams and telecommuting individuals with easy-to-use web 2.0 time sheets and time tracking reports that are saved to a central system that everyone has access to. The Toggl app's user-friendly interface will save your workers time because it offers one-click tracking so they can focus on doing their jobs rather than trying to figure out how to use a complex app.
Author Bio: Melanie Gray is a writer for GoingCellular, a popular site that provides cell phone related news, commentary, and reviews on all popular providers.
The infographic below shows the cost of commuting in both finances and time – then extrapolates the cost over a 10 year period for an eye-opening revelation. Thanks to Jessica Anderson for sharing this infographic she helped to create.
The numbers on this graphic remind me of a lightbulb moment I had many years ago while sitting in traffic during my daily commute to my job in New Jersey. I, also, took a moment to do the math and realized how much time I was losing just getting back and forth to my physical office.
That realization was the proverbial "straw that broke the camel's back" which has led to over 18 years of me helping people be more mobile and work in The Anywhere Office.
Take a look and be prepared for a shock:
 Click image to enlarge


Via: Streamline Refinance
A bit sickening when you think about it, huh?  Amazing that so many companies still insist on having everyone in a central office when it really isn't necessary considering these costs.
Post a comment below and share your thoughts!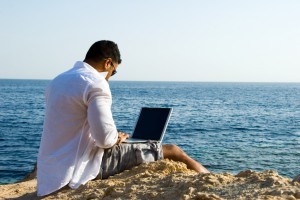 Late last year, I had the pleasure of presenting a webinar for Cisco where I shared my three secrets for turning your office into The Anywhere Office®. In the presentation I discussed how the world of work has changed and that whether you're a freelancer, entrepreneur, telecommuter or remote worker, there are smart ways to work without an office.
In case you missed it – you can watch the replay of  3 Secrets to Turning Your Office Into The Anywhere Office®. In this webinar I share three secrets to mobilize your workstyle and make your business and projects more flexible. These simple steps will allow you to work wherever and whenever you want.
We had a lot of questions during the webinar and not all were answered, so I answered the bulk of them in a 2 part guest blog post I did for the WebEx blog. There were some excellent questions – here are the links so you can check it out:
In this post I answer these questions:
How can you stay connected with workmates and interact with your team in a virtual office while avoiding feeling isolated?
What is the best way to convince 'old school' management that this will better for yourself and the company?
How do you keep the team spirit and consistency in the quality of work when everyone is working from home?
How do you convince a customer to trust in remote management of his/her data?
If you're currently a mobile worker, or you're starting to get more involved with virtual teamwork and remote collaboration the tools and strategies I discuss in this Q&A will help. The key to success is embracing the change about what defines work and taking the time to really think about how business gets done.
So check out the webinar and part 1 and part 2 of my Q&A blogpost on the Webex blog.
If you have further questions, you can post them as comments below or over at the webex blog and I'll answer them there.
I'm excited to be hosting a free webinar with Cisco/Webex on November 17th titled "3 Secrets to Turning Your Office Into The Anywhere Office®" as part of their No Office Required series.
Business as usual no longer involves working in a centralized office at set times. Whether you're a freelancer, entrepreneur, telecommuter or remote worker, modern workflow is far more dynamic and individual. There are smart ways to work without an office.
As you know, as a reader of this blog, I've created a blueprint for virtual work that I call The Anywhere Office®. In this webinar I'll shares three secrets to mobilize your workstyle and make your business and projects more flexible. These simple steps will allow you to work wherever and whenever you want.
I'll show you how to:
Make your work location independent
Improve communication and keep people connected
Manage a virtual team, distributed project group, or ebusiness across time and distance
This recent Cisco interactive infographic  serves as  a great visual representation of The Anywhere Office® concept I've been talking about for the last decade and will be discussing on this upcoming webinar. It shows the current and future state of workplace mobility. As Cisco states "Long commutes and being in an office at a certain time with limited flexibility is gradually becoming a thing of the past. The future will see an increase in workplace mobility creating the "anywhere office," a place where employees can work anytime from anywhere." By 2013, mobile workers will make up 35 percent of the worldwide workforce. While that leaves out over half of the global workforce, it shows us a new world of opportunity.  Are you shifting your business to "The Anywhere Office®?"

Who should attend
This webinar is perfect for anyone who must coordinate with co-workers, clients, vendors, or contractors across time and distance: project managers, program directors, team leaders, project coordinators, or anyone in a leadership role for a virtual team or distributed project group. This includes freelancers, entrepreneurs, telecommuters and remote workers.
Make sure to signup today and reserve your spot.  Even if you can't make the live event you will be emailed a link to the recording so you can still benefit from all the tips and strategies I'll be sharing.
I'm looking forward to a fun webinar and I hope to see you there!