How much time do people waste in the workplace?  A lot more than most people probably think!  I came across this great infographic today in a post on Campus Socialite called Hardly Working: A Look In To Laziness In The Workplace.  They grabbed these statistics from Online MBA who put together this eye opening display:
And this doesn't even touch on all the useless meetings and other time sucks of office life – one more feather in the cap of working from The Anywhere Office!  It's a wonder anything gets done at all. With a more flexible work schedule it's easier to schedule some of these "distractions" into your day and still get solid work time in – but when you are in the cube farm from 9 – 5 it's a different story.
What do you think are you surprised by any of these statistics?  Post a comment below and let us know!
Yesterday I did something I've been wanting to do for some time – I did my first live Ustream Broadcast to have an open Q&A about mobile work technology, working from anywhere, and growing your business online.  In case you are not familiar with Ustream it is a service that allows you to do live real-time online broadcasts using nothing more than your webcam and a microphone.  You can check out the replay of yesterdays session: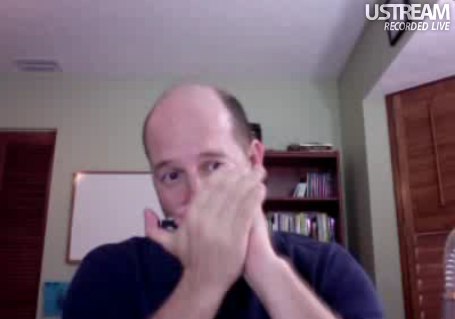 In this initial broadcast I chatted with some folks about mobile work technology – we discussed online musical collaboration, co-working and coffee shops, why it makes sense to create your website in WordPress, CRM software, Windows vs Mac, Skype and Tokbox, multi-person video chats, the Blue Yeti microphone, Twitter Apps, and I even jammed a little harmonica! Read more
I'm really loving the growth of social media – especially the way it can serve as a watercooler and networking environment for those that work in The Anywhere Office.  One of the downsides of being virtual is losing the connections and social element of working in an office.
I have found Twitter to be a great way to connect with people and in many ways it's even more powerful than the traditional water cooler as I have connected with people from all over the globe!
Being a work at home dad, entrepreneur, and small business owner it's hard to find the time in my schedule to get out to networking events. This is another area where social media has really been amazing – I'm able to take a more asynchronous approach to finding and starting conversations with other liked minded people I meet.  I think the key, however, is to then take those conversations to the next step and schedule a real-time phone call, Skype chat, or in person meeting when possible.
Still haven't taken the social media plunge?  I came across a recent article that helps you get up to speed on the big three:
Here's a quick 101 on how to best leverage the top three social networking sites — Twitter, Facebook, and LinkedIn. via Twitter, Facebook or LinkedIn? Finding the Right Fit for Your Small Business | Small Business Matters.
If you haven't explored any of these services yet I strongly urge you to do so!  You can connect with me on all three here – Twitter, LinkedIn, Facebook.
Twitter is by far my favorite – which is yours? Post your thoughts in the comments below.
I love it when people get creative with the tools and technology available to them!  When you think of social media you may think of staying in touch with friends, or another avenue of business networking – but what about tapping into this amazing technology in the classroom?
I came across a great post that was chock-full of ideas for how to use social media for learning.  It breaks them down into grade levels and topics and even links to some case studies or articles that explain in more detail the specific examples:
Sites such as Facebook and Twitter and tools such as Skype are connecting students to learning opportunities in new and exciting ways. Whether you teach an elementary class, a traditional college class, or at an online university, you will find inspirational ways to incorporate social media in your classroom with this list.

via Fred's Head from APH: 100 Inspiring Ways to Use Social Media In the Classroom.
Have you heard of any other innovative or creative uses of social media? Post a comment below and share!
It's no surprise with all the ads you see for iPhones, iPads, Blackberry's, and Android phones that accessing the web on mobile devices is a growing trend. I probably spend a good 1/3 or more of my time on the internet using my iPod Touch rather than my laptop to search Google, view websites, and connect with people on Twitter.
This article shares some eye-opening stats and graphs from Morgan Stanley analysts showing the most important online trends:
Here are a few highlights:
Video accounts for 69% of mobile data traffic.
Facebook is the single largest repository for user-generated content such as pics, videos, links and comments.
Apple and Android platforms are gaining in the mobile OS market, while Windows Mobile, RIM and Palm decline. Read more