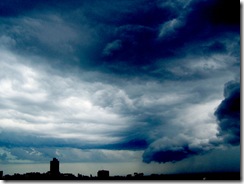 It's not really a 'put on a funny hat and blow a paper noise maker' sort of event, but September is National Preparedness Month and I thought in honor of that I would share The Department of Homeland Security's Ready.gov Business Fact Sheet. The fact sheet is distributed as part of their Ready Business campaign and you can find more details and resources for appropriate disaster planning and business continuity at www.ready.gov.
As our contribution to National Preparedness Month we have made our on-demand teleseminar, Riding the Storm Out, available FREE for the rest of the year.  Visit this page to listen to 4 South Florida experts discuss strategies, tips, and best practices for building a simple but effective business continuity and disaster recovery plan. The whole seminar is only about an hour and is packed full of real-deal advice, and each speaker also provided supporting documents that you can download.
2009 Business Fact Sheet Follows:
U.S. Department of Homeland Security
Washington, DC 20528

Fact Sheet
September 1, 2009
READY BUSINESS
The U.S. Department of Homeland Security and the Advertising Council launched the Ready Business Campaign in September 2004. This extension of Homeland Security's successful Ready Campaign, designed to educate and empower Americans to prepare for and respond to emergencies, focuses specifically on business preparedness. Ready Business helps owners and managers of small- and medium-sized businesses prepare their employees, operations and assets in the event of an emergency.
Ready Business was developed by Homeland Security and launched in partnership with U.S. Chamber of Commerce, Small Business Administration, Society of Human Resource Management, The Business Roundtable, The 9/11 Public Discourse Project, ASIS International, Business Executives for National Security, International Safety Equipment Association, International Security Management Association, National Association of Manufacturers, National Federation of Independent Businesses, and Occupational Safety and Health Administration.
The goal of Ready Business is to raise the business community's awareness of the need for emergency planning and motivate businesses to take action. The campaign encourages business owners and managers to: plan to stay in business; talk to their employees; and protect their investment.
Emergencies, including natural disasters and potential terrorist attacks, can paralyze business operations. Small- and medium-sized businesses in particular are most vulnerable to these events. Having an emergency plan can help protect a company and maximize its potential to survive and recover after an incident.
According to the U.S. Small Business Administration, small businesses represent more than 99 percent of all employers; provide approximately 75 percent of the net new jobs added to the economy; and represent 97 percent of all U.S. exporters. If these businesses are prepared to survive and recover, the nation and the economy are more secure. Read more
A couple of days ago in the Making Flexibility Work group on LinkedIn a question was asked
about the positives and negatives of smartphones on work/life balance.
In my experience when it comes to smartphones and work/life balance I think a lot of the pros/cons are about how a person uses a tool such as this. Like any technology you have to know when to turn it off and setup personal guidelines for how to use it.
These communication guidelines should be clearly explained to others you work with as well. Sometimes people think because you have a smartphone that gives you almost instant access to email you should be replying to every message within minutes regardless of what time of day it is.
I am a proponent of "work/life integration" as I believe balance can be difficult to achieve at times – but tools such as smartphones and other new communication tools make it easier to integrate work into your life. So if that means you have to do a bit of work on your vacation – but instead you get to take vacations you couldn't take before – in my opinion that is a win.
That being said I still think it's important to block out dedicated time away from work where you can focus on family, friends, relaxation, and personal development without the distractions.
I often joke about our company website being YouCanWorkFromAnywhere.com NOT "You Should Work From Everywhere". That's how I weigh in on this issue. Please share your comments below as I am eager to see your thoughts on this topic.
I want to invite you to join me and 9 other experts as we reveal how to revolutionize your business by harnessing the power of workplace flexibility. Flexibility is a proven business strategy, not a passing fad. In this free virtual seminar series you will learn the insider secrets of increasing flexibility, productivity, and success! Sign up for your free pass now: FlexibleWorkSummit.com.

Dr. Ashley Acker, of Workstyledesign.com, will be the host and emcee for this exciting event. On 4 consecutive days she will be interviewing a group of experts sharing techniques for increasing the flexibility of how, when, and where you work. You can participate in these FOUR 75-MINUTE TELESEMINARS for FREE.
I'll be interviewed on Tuesday, May 12th to discuss How Small Changes Lead to Big Results in The Anywhere Office. I'll be sharing best practices for successfully managing virtual teams.
Here's an overview of the 4 sessions:
Strategies for Stretching WHEN You Work | Monday, May 11th, 2pm CST

How to create a competitive edge in your business by harnessing work-life integration.
Why work-life fit is more important than work-life balance.
How workplace flexibility isn't just about mommies (Secret: it's actually a cross-generational and gender-neutral issue).
Phil discusses the need to be mindful about remembering to move yourself around when working out of the office, and gives a great website with some yoga stretches (mydailyyoga.com) you can do right at your desk.
Podcast: Play in new window | Download (Duration: 1:56 — 1.8MB)
We'd like to take a moment to wish you and your family a wonderful holiday season and the very best for the coming year.
Please enjoy a musical gift from us . . . a special holiday doo-wop song from our good friends Sha-Boom (just click the play button at the bottom of this post – or download the mp3 to your computer).
You can also view our online Holiday Card to you which includes some fun holiday videos!
We really appreciate you being a subscriber to The Anywhere Office and downloading our free virtual office and virtual team resources! We're fired up about some new webcasts, eBooks, and other surprises we have planned for 2008! Be sure to keep visiting this blog to stay updated and share your comments and thoughts.
We hope you enjoy this time with family and friends and look forward to an exciting and prosperous new year.
With warmest regards,
Phil & Jason Montero
Here is a photo of myself and Jason sitting on Santa's lap as kids – poor Santa!
Our Holiday Gift to you . . . This Doo-Wop Christmas song from Sha-Boom:
Podcast: Play in new window | Download (Duration: 4:33 — 0.0KB)