Ready.gov's National Preparedness Month 2009 Business Fact Sheet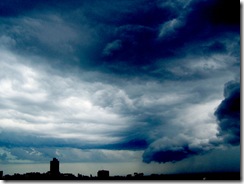 It's not really a 'put on a funny hat and blow a paper noise maker' sort of event, but September is National Preparedness Month and I thought in honor of that I would share The Department of Homeland Security's Ready.gov Business Fact Sheet. The fact sheet is distributed as part of their Ready Business campaign and you can find more details and resources for appropriate disaster planning and business continuity at www.ready.gov.
As our contribution to National Preparedness Month we have made our on-demand teleseminar, Riding the Storm Out, available FREE for the rest of the year.  Visit this page to listen to 4 South Florida experts discuss strategies, tips, and best practices for building a simple but effective business continuity and disaster recovery plan. The whole seminar is only about an hour and is packed full of real-deal advice, and each speaker also provided supporting documents that you can download.
2009 Business Fact Sheet Follows:
U.S. Department of Homeland Security
Washington, DC 20528

Fact Sheet
September 1, 2009
READY BUSINESS
The U.S. Department of Homeland Security and the Advertising Council launched the Ready Business Campaign in September 2004. This extension of Homeland Security's successful Ready Campaign, designed to educate and empower Americans to prepare for and respond to emergencies, focuses specifically on business preparedness. Ready Business helps owners and managers of small- and medium-sized businesses prepare their employees, operations and assets in the event of an emergency.
Ready Business was developed by Homeland Security and launched in partnership with U.S. Chamber of Commerce, Small Business Administration, Society of Human Resource Management, The Business Roundtable, The 9/11 Public Discourse Project, ASIS International, Business Executives for National Security, International Safety Equipment Association, International Security Management Association, National Association of Manufacturers, National Federation of Independent Businesses, and Occupational Safety and Health Administration.
The goal of Ready Business is to raise the business community's awareness of the need for emergency planning and motivate businesses to take action. The campaign encourages business owners and managers to: plan to stay in business; talk to their employees; and protect their investment.
Emergencies, including natural disasters and potential terrorist attacks, can paralyze business operations. Small- and medium-sized businesses in particular are most vulnerable to these events. Having an emergency plan can help protect a company and maximize its potential to survive and recover after an incident.
According to the U.S. Small Business Administration, small businesses represent more than 99 percent of all employers; provide approximately 75 percent of the net new jobs added to the economy; and represent 97 percent of all U.S. exporters. If these businesses are prepared to survive and recover, the nation and the economy are more secure.
The campaign's messages are delivered through: television, radio, print, outdoor and Internet public service advertisements (PSAs) developed and produced by the Advertising Council; brochures; www.ready.gov and www.listo.gov Web sites; toll-free phone lines 1-800-BE-READY and 1-888-SE-LISTO; and partnerships with a wide variety of public and private sector organizations.
The campaign's resources provide businesses with practical steps and easy-to-use templates that include information on creating an evacuation plan; fire safety; including employees throughout the process; considering people with special needs; and protecting business investments by securing facilities and equipment and reviewing insurance coverage.
As of September 1, 2009, the Ready Business effort has received more than $101.1 million in donated media support; its Web site has received more than 41.3 million hits and more than 4 million unique visitors; and more than 3.9 million Ready Business materials have been requested or downloaded from the Web site.
A national survey of businesses with 2-999 employees conducted by The Ad Council in December 2007 found:
91 percent of respondents said that it is "very" or "somewhat" important for businesses to take steps to prepare for a catastrophic disaster, such as an earthquake, hurricane or terrorist attack.
38 percent said their company has an emergency plan in place in the event of a disaster .
59 percent assessed their own business as "very" or "somewhat" prepared in the event of a disaster.
55 percent of businesses surveyed said that they had take either significant or small steps to improve emergency preparedness in the past year.
The surveyed businesses said that the most important threats for them to address are fires followed by cyber attacks and then hurricanes, winter storms, tornadoes and terrorist attacks.
The Department highlights public emergency preparedness through National Preparedness Month, a nationwide effort held each September to encourage Americans to take simple steps to prepare for emergencies in their homes, businesses and schools. In 2008, the Ready Campaign was joined by more than 3,200 NPM Coalition Members to educate individuals, families and communities on the importance of emergency preparedness. The 2008 coalition of national, regional, state, and local organizations was the largest in the five year history of NPM, and represented a 4,000 percent increase in participation to date.
###