I had the pleasure of being interviewed via Skype recently by Karl Walinskas, Founder of Smart Company Growth, to talk about virtual work, distributed teams and tips for growing a successful virtual organization. Karl's company helps small to mid-size businesses grow sustainable profits by leveraging the best strategies, appropriate talent and cost effective resources. In short he helps his clients ignite their sales and control expenses.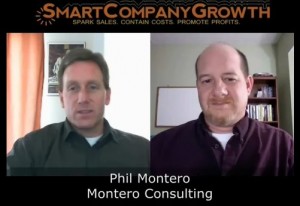 I met Karl late last year we instantly hit if off.  As we talked further he told me he wanted to embrace a virtual business model for Smart Company Growth. Shortly afterward I started working with Karl to help him refine his business model and choose the best strategies and tools that would allow him the flexibility to work from anywhere, keep his costs low, and work with clients from all over the world without the expenses and headaches of all that travel.
One of the things we discussed was how to use Skype for video conferencing and remote interviews as Karl wanted to include a series of these interviews with noted authorities on his blog. So after getting the technology in place he figured what better way to kick them off than by interviewing me about the strategies and technology that help entrepreneurs, small businesses, and solo professionals to work virtually.
Click below to watch the interview is broken down into 2 parts:
Video Interview Part 1 where we talk about the shift toward mobile work, how and why companies are embracing this type of work, some of the challenges, and what  it means to work with people you don't see every day.
Video Interview Part 2 where we talk about some of the non-tech elements critical for success when leading virtual or distributed workforces as well as some of the key gadgets and technology that help you and your team stay connected.  We also talk briefly about my on-demand webinar The Art of Virtual Leadership and how it helps managers learn to lead virtual teams.
I hope you enjoy the interview and find it informative.  Karl did a great job and had some great insight from his own experiences about what it means to work virtually and work with clients and team members remotely.
What do you think is the biggest shift in working virtually?  Please share your thoughts by posting a comment below.
In my blog post yesterday I showed you how to configure Google Sync to keep your Gmail, Google Calendar, and Contacts in sync with your iPhone, iPad, or iPod Touch.  Those steps work great if you use your Gmail address as your primary email address but they won't let you send mail from your own domain.
I have several different email addresses with different domains names all forwarding mail to Gmail and thanks to it's flexibility I was able to configure Gmail so that I can send or reply from any of them (with one being the default address for new messages).  For example even though I use Gmail as my email program I rarely use my Gmail address – instead my FROM address is phil@theanywhereoffice.com.
Although Gmail handles this perfectly I was disappointed when first configured my iPod Touch a few years back using Google Sync that it ignored these settings and always sent mail from my Gmail address.  This was unacceptable to me as I wanted emails I sent to come from my business address and didn't want to confuse my clients, customers, and colleagues.  I hunted and searched and tested and finally found out how to get this to work. You can still use the steps I shared in yesterday's post/video to sync your Google Calendars and contacts with your iPhone but you need to turn off the mail option there and follow some special (and somewhat convoluted) steps to get the mail to sync with Gmail AND send from your own domain.
No worries – I'm here to help.  I recorded 2 videos for you below walking you step-by-step through the entire process. The first step would be to have mail from your other domain forward to your Gmail account. I assume you're probably already doing this but if not you'll need to go into your current email settings for your domain and set it to forward your mail to your Gmail account. The steps for this will vary depending on how you currently get your email – most likely these settings can be controlled in the control panel of your web or email host.
The next step is to configure Gmail to send mail from your own domain rather than using your Gmail address.  Watch this video to learn how to do this:
The final step is the tricky part – how to get your iPhone, iPad, or iPod Touch to sync with Gmail and use your own domain.  Make sure to follow all the steps in the next video – there are a few gotcha's (like one part where you have to set it up with your Gmail address, back out, then go back in and Read more
If you have an iPhone, iPad or iPod Touch and you use Google's services (Gmail, Calendar, and Contacts) the video below will walk you step-by-step through the best way to sync all your data seamlessly with your Apple Device. Although these devices have a built in Gmail option it has some major limitations – specifically it doesn't offer the ability to sync contacts over the air and limits you to one primary calendar.
I have tried several different ways and found  Google Sync (which acts like a Microsoft Exchange connector) works great.  I used it for years on my iPod Touch and now that I'm the proud owner of a new Verizon iPhone 4 (I am stoked) I used this same method to keep my iPhone and Google services perfectly in sync. One of the great features is that it lets you sync multiple Google Calendars (up to 25). That means when you create a new appointment in the calendar on your iPhone you can add it to any of the Google calendars you have access to (your own or any shared calendars).
Watch my video below and follow along with your iPhone, iPad, or iPod Touch as I show you how to sync your mail, contacts, and multiple Google calendars with your Apple device so you can send/receive mail, schedule appointments, and call any of your contacts from anywhere – instantly.  Now that's The Anywhere Office in action!
Note that Google Sync is only supported on iOS versions 3.0 and above. You can check your current version by going to Settings > General > About > Version. If your business, school, or organization uses Google Apps, your administrator will first need to enable Google Sync before you can take advantage of this feature.
If you prefer written instructions Google provides them here but I figured it would be easier to follow along as you watch the steps in this video.
These steps work great if you are using your Gmail address as your primary email address.  If you prefer to send mail from your Gmail account (and your iPhone, iPad, or iPod Touch) using your own domain (ie I send email from @theanywhereoffice.com) then you will want to check out my next article and video where I'll walk you through how to change the mail setup.  It's tricky but I found a way to get it to work so stay tuned!
(BTW all the video of me configuring the iPhone was actually shot with the video camera on another iPhone – how cool is that!)

Yesterday I did something I've been wanting to do for some time – I did my first live Ustream Broadcast to have an open Q&A about mobile work technology, working from anywhere, and growing your business online.  In case you are not familiar with Ustream it is a service that allows you to do live real-time online broadcasts using nothing more than your webcam and a microphone.  You can check out the replay of yesterdays session: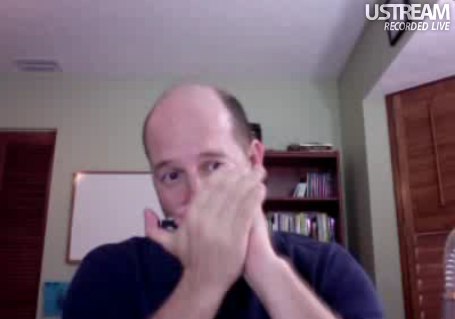 In this initial broadcast I chatted with some folks about mobile work technology – we discussed online musical collaboration, co-working and coffee shops, why it makes sense to create your website in WordPress, CRM software, Windows vs Mac, Skype and Tokbox, multi-person video chats, the Blue Yeti microphone, Twitter Apps, and I even jammed a little harmonica! Read more
This video is the basically part 3 of my series on switching from Windows to Mac. Yes I know I said it was a 2 part series but I thought this video would make a good 3rd part. In it I share 2 great resources I found that were invaluable to help me cut the learning curve.  These resources let me get up to speed quickly and be productive in no time!
Here are links to the resources in case you want to check them out yourself:
Switching to the Mac: The Missing Manual, Snow Leopard Edition By David Pogue
MacProVideo.com – Great video tutorials on Mac programs.  They are running a special sale until October 20th – use these special links to take advantage of these discounts: Read more
Podcast: Play in new window | Download (17.7MB)