A few weeks ago I had the pleasure of joining my friends Dave Yankowiak and Brian Casel on their awesome web video show Freelance Jam. Dave runs AnywhereMan.com and once we met on Twitter and chatted on Skype we knew we had a lot in common! The show is targetted toward independent professionals who build the web but anyone who runs a small business can learn a lot from their guests and discussions.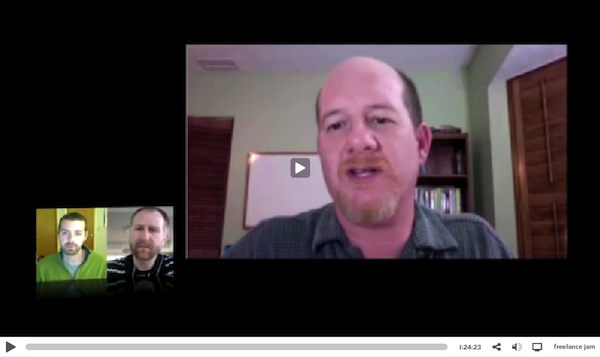 In this edition of the show we talked about things like how to build trust with clients you may never meet face to face, working in virtual teams, what effect technology has on the shift from employee to freelancer and the future of the "anywhere lifestyle" – being able to do the work where and when you want. Read more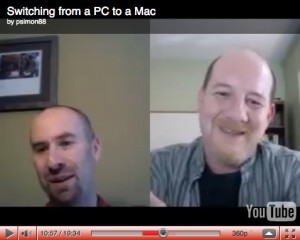 As you know I have done a series of posts (with many more to come) about my switch last year from PC to Mac.  Well recently, thanks to the amazing social media tool that is Twitter, I met Phil Simon. He is the author of several books the most recent of which is The New Small.  The book looks awesome and I just started reading it last night.  I'll be interviewing Phil here soon and giving away a copy of the book.
After chatting Phil and I realized we had a lot more than a first name/hairline in common – we both were born in Brooklyn NY, grew up in New Jersey, went to school in Ithaca NY and have a lot of the same views about emerging technologies and how small businesses/entrepreneurs can leverage these tools to grow their businesses.  We also like the same music (especially Rush, Pink Floyd and the Police) and have a very similar sense of humor (I think that is a NY/Jersey thing).
We also both recently switched from using PCs to Macs and are both now happily plugging away on our MacBook Pros. He also wrote  a series of posts detailing his transition to the Mac. I was sharing some of the great apps I discovered with him and told him about eCamm Call Recorder which makes it super easy to record Skype video and audio chats. He was excited by this and asked if we could do a video interview me about my switch to the Mac so I could share some tips.  Of course I said YES – so visit his blog and check out the interview.
I'll be returning the favor and interview Phil in the coming weeks once I finish reading The New Small and giving away a copy to a lucky reader so be sure to check back!
It's clear that video is booming on the web.  Video sharing sites like YouTube and portable camcorders like the Flip have exploded.  Also, as I've discussed in previous blog articles and in the recent Businessweek Video Webcast – video conferencing is growing in leaps and bounds.
I've seen significant growth in the desktop video conferencing space with services like Skype, Tokbox, and ooVoo being used for everything from virtual meetings and remote collaboration to friends and family keeping in touch.   Thanks to the increase in broadband and wi-fi people can meet face-to-face virtually from almost anywhere.
Well now it looks like video chat/conferencing is about to get even more mobile.   Last week Apple released the iPhone 4 which includes a forward facing camera and a built in program called FaceTime that allows video chatting from iPhone to iPhone.  Also Sprint released the EVO 4G which also includes a front-facing camera and the QIK video chat software. It seems like the natural next step . . .
There is no mistaking that the time is ripe to get into the mobile video chatting game. It is already big enough with tools from Skype, Google (Talk) and others, and it's only going to get bigger. There are already millions of notebook owners in the mix, and when you add what is likely going to be millions of smartphone and tablet owners, the potential market for video chat offerings is going to be huge.
I'm sure these two phones are only the start of this trend.  In fact you can be sure that once Apple starts to push this envelope others will be soon to follow – much the way that the iPhone invigorated the smartphone market and the iPad has woken up the sleeping tablet market.  I'm still shocked that the iPad didn't include a camera on it for video chats – but I'm almost certain the next generation will include that feature.  In fact it's Read more
Video conferencing has changed.  What was once a very costly technology only used by large enterprise type organizations with dedicated IT departments is now easier to use and more cost effective. There are a variety of solutions to fit almost any budget.
This was the topic of discussion a few weeks ago when I joined Bloomberg Businessweek in their New York Studios for a live Video Webcast called "Video Breaks Out of the Boardroom".  The show was hosted by Jim Ellis, Assistant Managing Editor of Bloomberg Businessweek, and I was delighted that they invited me to join Marc  Beattie from Wainhouse Research to be part of this episode.  Here is a photo from our broadcast: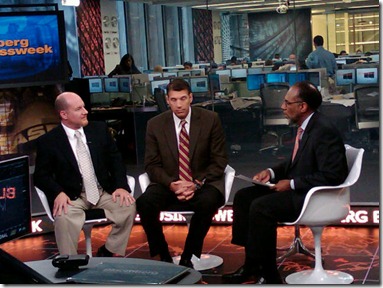 The Bloomberg building was amazing and everyone I met there was extremely friendly and helpful.  We had a wonderful discussion and looked at what's involved with implementing video conferencing including how much technical know-how it takes, how and why companies using it, what it costs, and what are some of the stumbling blocks. We also took some great questions from those that were viewing the live broadcast.
In case you missed it you can now view the entire Video Webcast live.  Just register here and you can watch the whole show.  We discussed the topic for about 20 minutes and then had about 10 minutes of Q&A.  If you're currently using video conferencing, or thinking about it, you definitely want to catch this.
A big thanks to everyone at Bloomberg Businessweek for having me be a part of this event. I hope to join them again for future shows!
Please post a comment below and let me know what you thought of the webcast and feel free to ask me any questions you might have about using video to connect with your virtual teams and remote workers.
I have to admit that these days I don't travel that often.  Having a 3 year old son makes me want to stay home a lot more than I used to – and being I work in The Anywhere Office I find I can often avoid unnecessary travel by wielding my mobile work technology to work from anywhere. However now and again an opportunity arises that I just can't pass up.  Last week I was invited to be a panelist on a Bloomberg Businessweek Live Video Webcast all about video conferencing.
It was a great opportunity that I didn't want to miss – so despite the fact that it meant flying out of town on my birthday – I went to the West Palm Beach Airport here in sunny Florida and flew to New York City.
The webcast was lots of fun and I got to spend some time with my good friend Marc and visit with his family as well – a splendid time was had by all!  I got to the airport very early because I hitched a ride in with my wife (who works close to the airport) and it got me thinking about being productive in an airport and why I love flying out of PBI.  Here is a short video I shot talking about working from an airport with The Anywhere Office:
To get updated on all our latest videos subscribe to our YouTube Channel!
What are your thoughts?  What is your favorite airport to work out of and why? Post a comment below and let me know!