Although many people feel remote collaboration is all about technology – the truth is virtual team work is a human endeavor – it's about people working with people. Sure the tech is important as it enables people to work together while apart – but the strategy behind which tools you choose and how you use them is easily just as critical.
As Jason and I often say it's about "the right tools thoughtfully applied". Yesterday I came across a great blog post by Isaac Gube (@IAMTHEGUBE) about the tools and strategies he and his brother put into place when they launched their latest venture DesignInstruct.com – a regularly updated web magazine for designers and digital artists where you can find and learn design tips and tricks. The Brothers Gube clearly share the same philosophy as the Brothers Montero:
Design Instruct is our first real venture together. It is the first time my brother and I sought to actually build something of our own (unless of course you count all the make-believe forts we built when we were kids).

There are many challenges associated with working with someone over a long distance. However, we found that there are solutions to those challenges, and so far, we've managed to make it work.
I love the way the post breaks down the 5 main challenges they had and describes the solutions they came up with.  When technology was needed they used free or low cost tools that can be embraced by any small business owner, solo professional, or entrepreneur. Read more
There is no shortage of stories about people being laid-off from corporate jobs and having to try and make it on their own.  Maybe you are one of them.  Well sometimes things that on the surface appear to be hardships turn out to be a blessing in disquise – it's all a matter of time and perspective.  I was reading a great article today about two women who wound up starting their own PR firm in Detroit – Entrepreneurs find community, networking and refuge, not to mention free workspaces
They have embraced their mobility and found it has not only saved them lots of money but also provided many networking opportunities with other similar entrepreneurs and solo-professionals.
Now, Ferraro and Marsik Friess, partners in their newly minted public relations firm Volare, have no formal office and no equipment other than their laptops and smart phones. They network like crazy, bartering for a new business logo, say, and taking advantage of coffee shops, a tearoom and other public spaces for meetings instead of renting traditional real estate. They even used Ferraro's Bluetooth-enabled SUV for their first conference call with a client.
It's no surprise that telecommuting, workshifting, or virtual work – whatever you choose to call it – not only makes smart business sense but can also help you run a more environmentally friendly business.
Whether you are a large corporation, small business, or solo professional there is a lot you can do to lighten your ecological footprint. When you reduce the need to travel and take advantage of technology to collaborate from anywhere you keep tons of carbon emissions from polluting the world.  A shift to printing less and using more digital documents saves untold numbers of trees.
By taking The Anywhere Office® approach you'll save money, be more productive, and be more green. So this Earth Day make a commitment to make even a small adjustment to the way you work to do your part.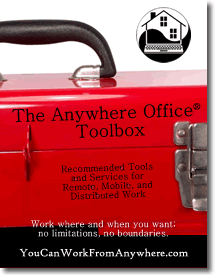 You can start by downloading The Anywhere Office Toolbox – our free eBook contains information and links to technology, services, and other resources we find of benefit to mobile workers, virtual teams and supporting virtual offices and distributed work.
You'll find tools for gaining remote access to your documents or computer, holding web meetings and conferences, sending and receiving digital faxes, sending video email and holding video conferences, dealing with time-zones, and marketing your business online.
These are all free or affordable solutions with free trials – so there is no excuse!  Incorporate some of these tools today and make your business more green.
Unchain yourself from the office; work where and when you want.
Today I'm psyched to share a guest video post by my friend and colleague Chris Ducker. I met Chris through Twitter and it was immediately obvious we shared a passion for working virtually and living a flexible lifestyle.
Chris is the CEO of the Live2Sell Group of Companies, a thriving Total Business Outsourcing corporation based in the Philippines where he lives.
Chris has developed systems and ideas to manage his time and make his business life easier and more productive. Watch this short video where he explains why multitasking actually makes you less productive and shares tips for staying focused and growing your business:
Yesterday was an absolutely beautiful day in sunny Florida so I decided to work from the back patio rather than my home office as I usually do.  It got me to thinking about how this is another example of what Jason and I are always talking about with regards to changing your workstyle – small adjustments that lead to big results.  I recorded this short video to talk about it and encourage you to work from somewhere other than your usual workplace.
Please excuse the shaky camera work – I was holding the Flip camera instead of using a tripod as I wanted to be able to show you some of the surroundings.  I'm still learning how to hold it steady when shooting myself (either that or maybe I should have had a little less coffee!)
So what is your favorite alternative place to work? Post a comment below and let us know!
Podcast: Play in new window | Download (10.1MB)