In this informative article technology expert Midori Connolly shares her top picks for tools to improve virtual team productivity. Connolly specializes in providing end-to-end hybrid meeting design, strategic planning, and technological execution. Here she shares some key collaboration and scheduling tools useful for working with distributed teams.
Digital Dish: 7 Tools for Virtual Team Collaboration
A few weeks ago I was interviewed by Elissa Vallano for an article she was writing for the Mindjet Blog about remote collaboration and one of the true benefits of working virtually: being able to hire the best talent regardless of location.
In this interview I shared tips for creating an effective distributed team, including my 3 keys for remote collaboration in The Anywhere Office – 1. a shift in perspective  2. finding the right tools and thoughtfully applying them and 3. becoming a conscious communicator. The result of these steps is a highly productive virtual team that functions as smoothly as its in-office counterparts.
The interview was used for an excellent article which you can find here, "Never hire based solely on geography again".
If you are not familiar with Mindjet,  they provide software and services that allow teams to collaborate in the cloud sharing tasks, mind mapping.  I recently discovered them and look forward to learning more about their services.
Their blog is full of great articles, so I encourage you to check it out!
Image Credits: Mindjet
Aaaaaaand it's a wrap! I would count last week as a successful Telework Week 2012. More than 69,000 pledged to telework.  Collectively, these pledges saved $5.5 million and removed 3,358 tons of pollutants from the air during Telework Week.  If all pledges teleworked for a year, they would collectively save $275 million.
Here is a snapshot of the final stats: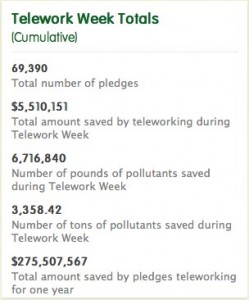 Pretty impressive! Currently, Telework Exchange and Cisco are compiling a report on the success of Telework Week 2012.   They will release the report at the upcoming Spring Town Hall Meeting on May 2.  To register for the event, click here.  To sign up to receive the latest information on the report, please contact info@teleworkexchange.com.
It's been proven time and again that telework or remote work can save money, be good for the environment, help improve employee recruiting and retention, and lead to increased productivity.
I challenge you to take this opportunity to go beyond "telework week" and really think about what providing a more flexible workplace can mean to you, your employees, and your business. Then stop thinking and START DOING!
Here are some resources we've put together to help you learn more about telework and jump start your efforts:
Announcing the Winners of our Virtual Team Management Webinar
Speaking of The Art of Virtual Leadership we had a fun contest encouraging you all to tweet about telework week and the resources we shared to help spread the word.  We are giving away 2 FREE enrollments to The Art of Virtual Leadership webinar (registration is currently $157).
The lucky winners are (drum roll please . . . . . . .) Read more
The Globe and Mail delivers again with this helpful article of real-world tips for improving your online and virtual meetings. I think #10 might be the best and most overlooked, it can be so difficult to force yourself to do nothing, it is like some kind of Zen koan.
10 tips for running online meetings – The Globe and Mail.
Leave a comment with any tips you have found for facilitating online meetings.
I came across this article on Canada's The Globe and Mail newspaper's site. The writer makes some excellent points about the 'naturalness' of electronic communication – and how collaboration across distance becomes easier and more productive as we grow accustomed to these new modes of communication.
via How to make the most of virtual teams – The Globe and Mail.
But I mostly wanted to share this because they are holding an online event at noon ET Friday that appears to be free to register for. The event is billed as a chat with Dr. Andrew Gaudes, an associate professor of business at the University of New Brunswick, about the new far-flung workplace.
There is a registration form on the page linked above.