This guest post was submitted to The Anywhere Office by Sapna of  Taaza.com
To what extent is today's workforce adapting to the features that the smartphone offers cannot be exactly determined. The smartphone has taken communication to a whole new level. With features like Wi-Fi connectivity, fast processors and futuristic applications, smartphones have improved efficiency and made work fun in the process. Taking into account the rate at which the technology has been improving, the change in today's work environment is quite noticeable.
Social Media Plug-ins – With Facebook, Twitter, Linkdin and now Pinterest reaching out to everyone globally, accessibility of these social media platforms are being improved on a daily basis. The transition from desktops to mobile to satisfy browsing needs has been tremendously fast. Sharing information on facebook and promoting it on twitter is just a few touches or buttons away. Public Relations and corporate communications have become extensively easy with the social media addition on the smartphone.
Live Feeds – RSS feeds and news feeds for related information can be streamed into the mobile with ease. At work, knowledge is power and acquiring relevant knowledge has never been easier. With relevant feeds, everyone is armed with knowledge as the deals could be worked out and strategies could be planned with the right information obtained at the right time.
Chat Applications – Blackberry's BBM and Whats App for the rest of the phones have actually given a new meaning to instant communication. Speaking to a colleague or a team mate from any part of the world has become child's play these days. Getting in touch with a business client and arranging appointments has never been simpler. This in-turn improves the communicability within the organization and also externally.
Maps – One of the most useful additions to the array of smart phone features is the navigation application loaded with maps. It also serves as a guide to the lost traveler as it gives out a person's current location and the suggested route to the destination. A dream just comes true for the sweating door-to-door salesman as he can easily figure out his way around the city. Moreover, it also helps a frequent traveler to navigate his/her way through decent places to visit and spend the night at hotels well within the required budget. This in turn has helped the business traveler as searching for an office at new destinations is no more a difficult task.
The mobile phone manufactures make it a point to add in new features almost daily in order to make their products stand out from the rest. It is now up to today's work-force to get their hands on one of these smartphones and start touching screens or pushing buttons to enhance personal productivity at work.
Author Biography: This is a guest article written by Sapna, Manager at Taaza.com, an Indian horizontal site. Significant verticals include Jobs, Classifieds, News, Education, Photos, Movies, Shopping and Finance.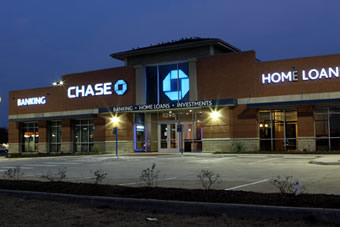 I know I'm dating myself when I say I remember a time before Automated Teller Machines when people would have to physically cash a check at the bank or grocery store in order to have some money on hand. Well, online banking was the next step forward, with the ability to manage your accounts, transfer funds, and even pay bills securely online, right from a web browser.
Chase Bank has introduced another small but significant advance in mobile banking by including Quick Deposit to their iPhone app, a feature that lets users deposit checks directly from their iPhones.
Using Chase Mobile, account holders can now select one of their accounts and enter the amount of the check, then the app prompts you to take a photo of both sides of the check and click a button to submit your deposit. When the deposit goes through you receive a confirmation email and can destroy the original check.
I was able to deposit a number of checks with no problem at all and I felt the system worked smoothly – the deposits appeared in my account quickly. I did have difficulty with one corporate client's check which is printed and has a background pattern to discourage fraud – I contacted Chase and the CSR I spoke to was very helpful: he said it was a known issue and that it is not EVERY check with a background pattern (I was able to deposit other checks with designs) and that Chase was working on a fix where at the very least you could call and have a rep visually OK the mobile deposit. He also passed along some other Chase Customer mobile deposit tips he had heard including placing the check against a black background, photographing it in a very dark room with the flash enabled, or placing the check on a piece of green screen material.
Unfortunately, I tried all of those with no success on my 'problem' check – so, they're still working out the kinks but it was good to know that another solution was in the works. I can practically eliminate trips to the bank if I can deposit all of my checks remotely – and in my opinion, removing that tedious errand from my life might be one of the best things an iphone application has done for me yet.
App Store – Chase Mobile SM.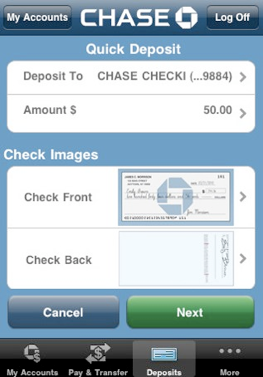 [img credit: TheTruthAbout…]
If you're like me, then the idea of online education occupies a precarious position in your mind. While you fully support and believe in the prospects of an online education, you have reservations as to how many people actually get one. Sure, you figure that some people need online education because of the same stock reasons: they can't afford the average college tuition; they're tied down by a rigorous day job; or they want to pursue an education in a vocational field. Basically you feel like online education is a good idea, but something that's not meant for everyone, right?
Not so fast. As a recent study from College Board and the Babson Survey Research Group shows, online education is growing at a fast clip, with more students enrolled in online courses now than ever before. The online college student has essentially become a key demographic in higher education. So what does that mean for web-based entrepreneurs?
More people are taking online courses
Firstly, the rate of growth in the online student demographic points to the growing trend of online education. As I said before, people had previously thought of online education with skepticism, assuming that it only fit certain lifestyles. But the College Board study suggested that as many as 6.1 million people enrolled in online classes in the fall semester of 2010 alone—that's no small figure. What's happening is that more and more people (students, teachers, and administrators alike) are realizing first-hand that online education has potential for all students, not just people forced into a distance education experience. The College Board also stated that 65% of higher education schools implement online education into their degree programs. Online education has merits for everyone, and more teachers are designing their courses to accommodate the online model for their students.
A new kind of workforce
Imagine how a legion of online college graduates will impact the workforce. Online college students could completely change the landscape of their professions, boasting an entirely different set of skills they learned through their schooling. Not only will they know the fundamentals in their profession, these prospective employees will also bring an impressive array of web experience and computer savvy.
Think about it: many of these students spent the majority of their education doing readings, projects, tests, correspondence and more over the web, relying entirely on their computers to help them learn and absorb lesson materials. Graduates from online college programs would be a great addition to any web-centered enterprise because they've spent their undergraduate career using the web as a learning tool. They've relied on the web as their number one resource.
Moreover, graduates of an online education understand the power of the internet, that the web is something more than a series of YouTube videos and tweets. More than anyone else, a person with an online degree could grasp the potential behind a new online business venture because they've already experienced firsthand the revolutionary effects of the web. To put it another way: if a person put their trust in the web for higher education, you can bet that they would do the same for a professional career.
Author Bio: This guest post is contributed by Lauren Bailey, who regularly writes for Accredited Online Colleges (http://www.bestcollegesonline.com/). She welcomes your comments at her email Id: blauren99 @gmail.com.
Recently I had the pleasure of having a video chat on Skype with my friend Phil Simon about his upcoming book The Age of the Platform. In it he explores how Amazon, Apple, Facebook, and Google are using the "platform" as a new business model. He explains how they are embracing partnerships, third parties, communities, and ecosystems in very interesting and different ways.
After talking with Phil about the book it sounds fascinating and it's obvious he is passionate about the topic. I can't wait to read it!
What's really interesting is the way he's publishing the book. Rather than go the traditional publishing route his is going it on his own (with his own publishing company he started when writing his last book The New Small).
In the video interview below we talk about the book and how he's using crowdsourcing and Kickstarter.com to fund this project. You can also win a free signed copy of the book – just read on below:
Here are a few links to info we mention in this video: Phil talks about a Korean Movie Director who shot an entire movie on his iPhone. He also mentions the Nano Watch as one of the most successful Kickstarter projects ever.
If you haven't heard about Kickstarter it is a funding platform focused on a broad spectrum of creative projects. Through it you can offer rewards such as copies of the work, limited editions, fun experiences in exchange for different amounts of money that people donate to fund or back a project.
If you are an aspiring author, or have any great idea for a project but need funding for it you'll be very interested to hear Phil talk about Kickstarter in this video. Read more
A few weeks ago I had the pleasure of joining my friends Dave Yankowiak and Brian Casel on their awesome web video show Freelance Jam. Dave runs AnywhereMan.com and once we met on Twitter and chatted on Skype we knew we had a lot in common! The show is targetted toward independent professionals who build the web but anyone who runs a small business can learn a lot from their guests and discussions.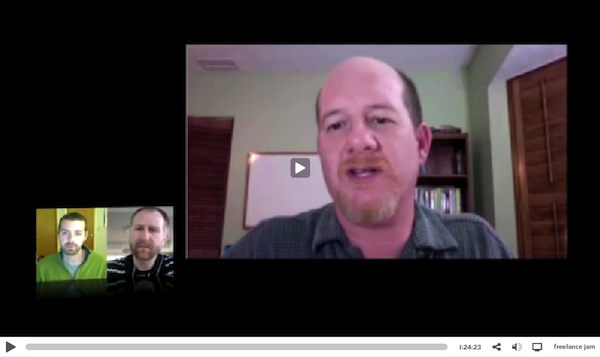 In this edition of the show we talked about things like how to build trust with clients you may never meet face to face, working in virtual teams, what effect technology has on the shift from employee to freelancer and the future of the "anywhere lifestyle" – being able to do the work where and when you want. Read more