Yesterday I did something I've been wanting to do for some time – I did my first live Ustream Broadcast to have an open Q&A about mobile work technology, working from anywhere, and growing your business online.  In case you are not familiar with Ustream it is a service that allows you to do live real-time online broadcasts using nothing more than your webcam and a microphone.  You can check out the replay of yesterdays session: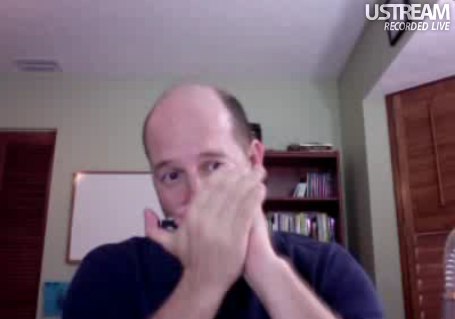 In this initial broadcast I chatted with some folks about mobile work technology – we discussed online musical collaboration, co-working and coffee shops, why it makes sense to create your website in WordPress, CRM software, Windows vs Mac, Skype and Tokbox, multi-person video chats, the Blue Yeti microphone, Twitter Apps, and I even jammed a little harmonica! Read more
This video is the basically part 3 of my series on switching from Windows to Mac. Yes I know I said it was a 2 part series but I thought this video would make a good 3rd part. In it I share 2 great resources I found that were invaluable to help me cut the learning curve.  These resources let me get up to speed quickly and be productive in no time!
Here are links to the resources in case you want to check them out yourself:
Switching to the Mac: The Missing Manual, Snow Leopard Edition By David Pogue
MacProVideo.com – Great video tutorials on Mac programs.  They are running a special sale until October 20th – use these special links to take advantage of these discounts: Read more
Podcast: Play in new window | Download (17.7MB)
Making the jump from working for someone else to working for yourself is a big step.  There is a lot to learn and much of it you wind up learning the hard way (through trial and error).  The freedom and flexibility that comes from being self-employed and running your own business however makes it all worth it!
I came across a recent blog post today from Glen Allsopp (@viperchill) "Living Self-Employed Online: The Manual They Forgot to Give You".  Glen shares 13 lessons from his first 18 months of being self-employed:
As some people here don't care about making their living from the internet, I understand that this post will not be for everybody. However, if you've just made the leap to working for yourself, currently run your own business, or you're looking to make your money online in the future, this article may be just what you need.

Over the last 18 months of working for myself, I've learned a ton of things on my journey. Not every piece of advice I took on board has helped, with many ideas quickly being discarded. From reading dozens of books, speaking with hundreds of entrepreneurs, and living this life myself for a year and a half, there are a few lessons I would like to share.
I found this post to be full of wisdom and something I wish I had read when I first made the leap.  One tip that I really liked Read more
This is the second of my 2-part video series on why I switched from Windows to Mac (click here to see Part 1).  In this video I discuss how cloud computing, being a web worker, and compatibility made this an easier switch than it would have been in the past.
In my next video I'll share some resources I found that really helped me get up to speed quick and shortened the learning curve as a new Mac user.
Have you made the switch to Mac or been thinking about it? Post a comment below and let me know your thoughts, what has made you want to switch, or what is keeping you on Windows.
Podcast: Play in new window | Download (Duration: 5:29 — 26.1MB)