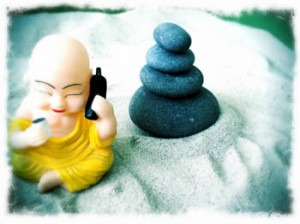 Cloud computing, smart phones, and technology truly allow you to have The Anywhere Office: the ability to get work done and be productive anywhere has brought untold flexibility to mobile professionals and web workers today.
This mobility and anywhere access has caused the lines to blur between our work and personal lives. For most entrepreneurs and small business owners, the two are forever intermingled. If done right, mobile work should be empowering: providing you more freedom and flexibility than you ever imagined as you easily manage the shifting flow of tasks, responsibilities, and communication that are part of your daily life.
But it's easy to let the technology, and our work, start to take over and demand more and more of our time.
I discovered that in today's eBusiness world, pure "work/life balance" doesn't seem to work (at least not for me). What seems a better, more dynamic, fit is a zen-like approach which aims for "work/life integration" instead. This quote called "Master the Art of Living" sums it up.
So how do you do it?  How do you handle the demands of today's fast paced, 24/7 business environment, along with all of the commitments and enterprises in your personal and family life?
Here are my top 5 tips for a zen approach to mobile work. They will help you achieve "work/life integration," and ensure that technology is your tool and not your master.
Know how your technology works. Turn off audible or visible notifications so they don't provide unnecessary interruptions when you are not working or need single-minded focus on a particular project or task.
Setup clear communication guidelines. Make sure everyone knows what is expected of them with regard to accessibility. These include prioritizing communication channels and determining expected turnaround times for different modes of communication (ie. 3 hours for emails, 1 hour for voice mail).
Centralize email and social media messages. Find ways to filter these messages into as few programs as possible so you can easily and quickly check and reply to them without feeling overwhelmed by too many systems.
Consolidate Technology. Find one tool that can serve multiple purposes. Smartphones and tablets can take the place of many devices such as point and shoot cameras, video cameras, laptops, voice recorders, and more. Finding ways to consolidate several tools, and information, into one device lets you travel lighter and stop wasting time switching between multiple platforms or programs.
Unplug and Turn off. Just because you can work from any place at any time doesn't mean you should. These tools have an off switch – use it! Give projects their proper focus and attention. And don't be so distracted that you fail to stay present with family and friends.
Following these simple steps will help you navigate the flow of digital information in your life.
Do you have a great tips or suggestion for clearing digital clutter?  Don't keep it a secret! Post a comment below and share it with the rest of the tribe here on The Anywhere Office.
I recently updated from my iPod Touch to the new Verizon iPhone 4.  The first accessory I needed was a good solid case.  I don't like to use belt clips and instead prefer to keep my iPhone in my pocket.  Although I love the Rebel Touch Case I have for my iPod Touch they didn't have the same case available for the new iPhones.  Also most other iPhone 4 cases that were designed for the AT&T iPhone 4 would not fit the new Verizon iPhone 4 because some of the buttons on the side moved slightly for the different placement of the antennae on the CDMA version of this phone.
I did lots of research (as usual) and reading of reviews and it seemed Case-mate was one of the first to release a variety of cases specifically designed for the Verizon iPhone 4.  There are many different case styles but I don't like to use a belt clip and prefer a case that has a combination of a solid spine (to protect from impact in case you drop it) but also has a rubber on the sides to help increase the grip to it doesn't feel like it will slide out of your hand.  The Case-mate Pop case seemed to fit the bill – so I ordered one and in this video I show my unboxing as well as my review of this case.  Although I need to see if it stands the test of time so far I am VERY happy with this case and feel confident it will keep my precious iPhone 4 safe and sound.
Watch my video review and unboxing below:
What case did you pick for your iPhone and what do you like most about it?  Share your thoughts by posting a comment below!
In my blog post yesterday I showed you how to configure Google Sync to keep your Gmail, Google Calendar, and Contacts in sync with your iPhone, iPad, or iPod Touch.  Those steps work great if you use your Gmail address as your primary email address but they won't let you send mail from your own domain.
I have several different email addresses with different domains names all forwarding mail to Gmail and thanks to it's flexibility I was able to configure Gmail so that I can send or reply from any of them (with one being the default address for new messages).  For example even though I use Gmail as my email program I rarely use my Gmail address – instead my FROM address is phil@theanywhereoffice.com.
Although Gmail handles this perfectly I was disappointed when first configured my iPod Touch a few years back using Google Sync that it ignored these settings and always sent mail from my Gmail address.  This was unacceptable to me as I wanted emails I sent to come from my business address and didn't want to confuse my clients, customers, and colleagues.  I hunted and searched and tested and finally found out how to get this to work. You can still use the steps I shared in yesterday's post/video to sync your Google Calendars and contacts with your iPhone but you need to turn off the mail option there and follow some special (and somewhat convoluted) steps to get the mail to sync with Gmail AND send from your own domain.
No worries – I'm here to help.  I recorded 2 videos for you below walking you step-by-step through the entire process. The first step would be to have mail from your other domain forward to your Gmail account. I assume you're probably already doing this but if not you'll need to go into your current email settings for your domain and set it to forward your mail to your Gmail account. The steps for this will vary depending on how you currently get your email – most likely these settings can be controlled in the control panel of your web or email host.
The next step is to configure Gmail to send mail from your own domain rather than using your Gmail address.  Watch this video to learn how to do this:
The final step is the tricky part – how to get your iPhone, iPad, or iPod Touch to sync with Gmail and use your own domain.  Make sure to follow all the steps in the next video – there are a few gotcha's (like one part where you have to set it up with your Gmail address, back out, then go back in and Read more
If you have an iPhone, iPad or iPod Touch and you use Google's services (Gmail, Calendar, and Contacts) the video below will walk you step-by-step through the best way to sync all your data seamlessly with your Apple Device. Although these devices have a built in Gmail option it has some major limitations – specifically it doesn't offer the ability to sync contacts over the air and limits you to one primary calendar.
I have tried several different ways and found  Google Sync (which acts like a Microsoft Exchange connector) works great.  I used it for years on my iPod Touch and now that I'm the proud owner of a new Verizon iPhone 4 (I am stoked) I used this same method to keep my iPhone and Google services perfectly in sync. One of the great features is that it lets you sync multiple Google Calendars (up to 25). That means when you create a new appointment in the calendar on your iPhone you can add it to any of the Google calendars you have access to (your own or any shared calendars).
Watch my video below and follow along with your iPhone, iPad, or iPod Touch as I show you how to sync your mail, contacts, and multiple Google calendars with your Apple device so you can send/receive mail, schedule appointments, and call any of your contacts from anywhere – instantly.  Now that's The Anywhere Office in action!
Note that Google Sync is only supported on iOS versions 3.0 and above. You can check your current version by going to Settings > General > About > Version. If your business, school, or organization uses Google Apps, your administrator will first need to enable Google Sync before you can take advantage of this feature.
If you prefer written instructions Google provides them here but I figured it would be easier to follow along as you watch the steps in this video.
These steps work great if you are using your Gmail address as your primary email address.  If you prefer to send mail from your Gmail account (and your iPhone, iPad, or iPod Touch) using your own domain (ie I send email from @theanywhereoffice.com) then you will want to check out my next article and video where I'll walk you through how to change the mail setup.  It's tricky but I found a way to get it to work so stay tuned!
(BTW all the video of me configuring the iPhone was actually shot with the video camera on another iPhone – how cool is that!)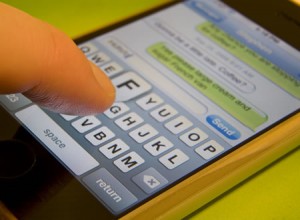 If you're like me, and apparently many others, after installing iOS4 for your iPod Touch or iPhone you were less than impressed.  Well after several weeks, and a few tries, I've successfully removed iOS4 from my iPod Touch 2G and downgraded/reinstalled the previous OS 3.12 (more on why it's not 3.13 in a bit).  Read on and I'll explain how you can do the same on your device to solve problems such as battery drain, sluggishness, and crashing.
I've always been someone who jumps on upgrades for software pretty much as soon as they come out.  I also try a lot of beta software – friends, colleagues, clients, and readers of this blog have come to trust  me to "test it all out" and then report back on what are the best programs, devices, and technology available.  I have to say however it was a mistake for me to upgrade my iPod Touch 2G to iOS4 the day it came out. I should have waited a few days and read about what others were experiencing as it would have saved me a lot of problems.
I was really excited about the new features in iOS4 and you have heard me mention here on this blog before that my iPod Touch has pretty much been my favorite piece of technology for the last few years.  It's amazing and it just works – I travel without my laptop a lot more these day thanks to this handy little device.  In fact it has essentially acted as an Apple gateway drug making me want to switch from a PC to a MAC.
But my wonderful, joyful piece of technology was no longer bringing me as much joy after upgrading the firmware/software from 3.13 to iOS4. As it turns out many of the new features I was excited about (multitasking and screen rotation lock) were not supported on my older device. But worse was that the addition of persistent wi-fi when the device goes into sleep/standby mode was killing my battery.  Even when it was off in my pocket what used to last a few days was out of juice by the middle of a single day.  UNACCEPTABLE! Read more