Mediaddiction: Technology and The 2008 Presidential Race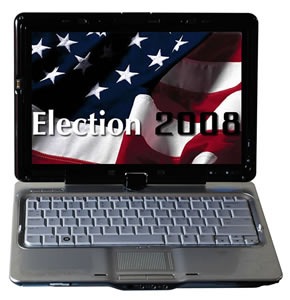 The 2008 US Election has been unique since the campaigning began almost 2 years ago: defying many of the electorate's expectations regarding gender, age, race, and party affiliation; and surpassing records of fund raising, voter registration, early voting, and potentially (likely!?) voter participation. Another way this election has been groundbreaking is in the use of technology both by the campaigns and in the coverage of the race.
From CNN's 'Magic Map' and Anchors like Larry King and Rick Sanchez responding to viewer's facebook and myspace messages on-air in real-time, to the use of email and text messaging to connect to supporters, social networking sites to organize volunteers, online videos to build candidates' 'brands', and massive amounts of internet fund raising it's clear that it is a brave new world out there.
Another way that technology has effected this election season is in the shear amount of information and just plain raw data available to voters. Like many others, I have become addicted to watching this historic moment unfold – frequently watching the television coverage over the top of my laptop screen while reading news articles and following polling data. I don't know if this is necessarily healthy but I can't bring myself to stop, and ultimately believe that these innovations are for the best.
Whenever the people are well-informed, they can be trusted with their own government… whenever things get so far wrong as to attract their notice, they may be relied on to set them to rights.
~ Thomas Jefferson to Richard Price, 1789. ME 7:253
Here are some of the places I have been feeding my jones:
techPresident.com – TechPresident is a blog that covers how the 2008 presidential candidates are using the web and how content generated by voters is affecting the campaign.
FiveThirtyEight.com –  538 is the number of Electors in the Electoral college and is also a mind altering blog by sport statistician Nate Silver. What is the mission of this website? Most broadly, to accumulate and analyze polling and political data in way that is informed, accurate and attractive. Most narrowly, to give you the best possible objective assessment of the likely outcome of upcoming elections.

Electoral-vote.com – The home of the Electoral Vote Predictor, which tracks political polls for U.S. federal elections. The site was immensely popular in 2004, ranking in the top 1000 Websites in the world and the top 10 blogs in the world, with about 700,000 visitors a day. In some surveys, it was the most popular election site in the country. In 2006, it tracked the Senate and House elections. Now it is back tracking the presidential, Senate, and House elections for 2008.
CNN Electoral Map – Move over John King, do your own electoral vote projections and calculations.