While I know it's probably not accurate (at least not as much as I'd like it to be), I'm going to assume that you have some type of backup system in place for your important data. You know those little things like the documents, email, and contacts you need to stay in business.  The sad truth is that many mobile workers and too few home offices have a good backup system in place.
There are plenty of options for backing up the data on your computer such as writeable CDs and DVDs, external USB hard drives, and affordable online backup services. And if you are smart you have some type of system in place – one that is automated and scheduled as much as possible so you don't have to think about it. But is ALL the data you need to be up and running easily restored?
How about all the contacts on your cell phone?  Have you found the best way to back up your cell phone address book? If you lost your phone or it was stolen could you restore them easily to a new phone?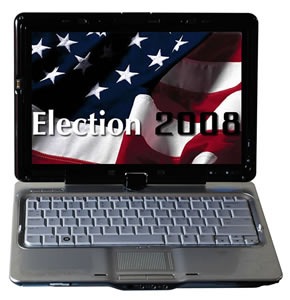 The 2008 US Election has been unique since the campaigning began almost 2 years ago: defying many of the electorate's expectations regarding gender, age, race, and party affiliation; and surpassing records of fund raising, voter registration, early voting, and potentially (likely!?) voter participation. Another way this election has been groundbreaking is in the use of technology both by the campaigns and in the coverage of the race.
From CNN's 'Magic Map' and Anchors like Larry King and Rick Sanchez responding to viewer's facebook and myspace messages on-air in real-time, to the use of email and text messaging to connect to supporters, social networking sites to organize volunteers, online videos to build candidates' 'brands', and massive amounts of internet fund raising it's clear that it is a brave new world out there. Read more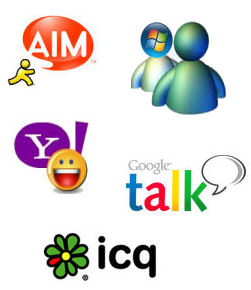 I have long felt that Instant Messaging (IM) is an often overlooked tool for remote collaboration and keeping virtual teams connected.  What was once a tool used by kids to chat with their friends now offers useful business features such as file transfer, video conferencing, multi-person chats, and document sharing.
For many knowledge workers IM has become a mission critical business tool, like the phone or email, for keeping in touch with team members and coworkers. However for many it is yet another digital source of interruptions that eats away at productivity when working in your virtual office.
Although it is often speculated that IM leads to increased interruptions and decreased productivity – A recent study by researchers at Ohio State University and University of California, Irvine found that workers who used instant messaging on the job reported less interruption than colleagues who did not. Read more