We all understand the importance of face-to-face communication and non-verbal cues. This study would suggest that even 'virtual' face time promotes more effective distributed team work.
MANCHESTER, England, November 6, 2012 /PRNewswire/ —

New research shows that video-conferencing is more effective than telephone and email for remote team-working.

The research was conducted by the globally-recognised Fraunhofer Institute, a specialist in workplace collaboration technology, for OmniJoin, a new video and webconferencing solution from technology giant Brother.

It tested the impact of video-conferencing on the behaviour and productivity of two teams who undertook simulated workplace tasks* while based at different locations.

The key findings were that, compared to collaborating by telephone and email, video-conferencing…
Read more:
Study: Video-conferencing Ups Productivity of Virtual Teams – World News Report.
Interesting infographic depicting the evolution of workshifting and remote work.
It's common practice that most of us spend some time each day working with remote team members and colleagues, but it's a reality that is very different to 10-15 years ago. The idea for the infographic was to try to show the movement over the past decade from remote work being a rare event to its current status as a common event. It proved more difficult to find numbers that worked together in a coherent way, but I think that the infographic tells the story it needs to tell.
For more about this graphic and these statistics visit Plantronics Blogcentral | The Smarter Office.
Mortensen and O'Leary examine some key recurring themes in virtual team management in this Harvard Business Review article.
Teams that are geographically-dispersed, or virtual, have now been used and studied for more than three decades — yet we all still wrestle with how to get them right. Managers frequently ask for best practices for managing their global teams, and recently we've noticed some common themes. Here are the three questions that keep coming up again and again, and what the research tells us about how to address them:
Managing a Virtual Team – Mark Mortensen and Michael O'Leary – Harvard Business Review.
Multigenerational Teams and Multicultural Teams – Human Resources Management | GDS Publishing.
This article explores challenges facing leadership of distributed, multinational, multi-generational business teams in the 21st Century – particularly about how to appropriately recognize team members. The thoughtful argument concludes with a prescription for redefining both the style and mode of employee recognition.
Redefine Recognition for the 21 st Century

Successful recognition in the 21 st Century is a strategic initiative with actionable objectives and measurable results that weaves appreciation into the fabric of a company's culture. These programs are based on the company's values to convey the company's critical messages and a consistency of purpose worldwide. Strategic recognition is frequent and timely to meet GenX and GenY needs while avoiding the micro-management pitfalls abhorrent to the Silents and Boomers. Well executed recognition is available to all, equally. These four facets of strategic recognition address the unique engagement needs of the multi-generational and multicultural workforce.
It's clear that the strategies and tools that comprise The Anywhere Office could be instrumental in filling this prescription.
Aaaaaaand it's a wrap! I would count last week as a successful Telework Week 2012. More than 69,000 pledged to telework.  Collectively, these pledges saved $5.5 million and removed 3,358 tons of pollutants from the air during Telework Week.  If all pledges teleworked for a year, they would collectively save $275 million.
Here is a snapshot of the final stats: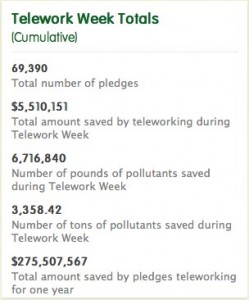 Pretty impressive! Currently, Telework Exchange and Cisco are compiling a report on the success of Telework Week 2012.   They will release the report at the upcoming Spring Town Hall Meeting on May 2.  To register for the event, click here.  To sign up to receive the latest information on the report, please contact info@teleworkexchange.com.
It's been proven time and again that telework or remote work can save money, be good for the environment, help improve employee recruiting and retention, and lead to increased productivity.
I challenge you to take this opportunity to go beyond "telework week" and really think about what providing a more flexible workplace can mean to you, your employees, and your business. Then stop thinking and START DOING!
Here are some resources we've put together to help you learn more about telework and jump start your efforts:
Announcing the Winners of our Virtual Team Management Webinar
Speaking of The Art of Virtual Leadership we had a fun contest encouraging you all to tweet about telework week and the resources we shared to help spread the word.  We are giving away 2 FREE enrollments to The Art of Virtual Leadership webinar (registration is currently $157).
The lucky winners are (drum roll please . . . . . . .) Read more