I'm excited to be hosting a free webinar with Cisco/Webex on November 17th titled "3 Secrets to Turning Your Office Into The Anywhere Office®" as part of their No Office Required series.
Business as usual no longer involves working in a centralized office at set times. Whether you're a freelancer, entrepreneur, telecommuter or remote worker, modern workflow is far more dynamic and individual. There are smart ways to work without an office.
As you know, as a reader of this blog, I've created a blueprint for virtual work that I call The Anywhere Office®. In this webinar I'll shares three secrets to mobilize your workstyle and make your business and projects more flexible. These simple steps will allow you to work wherever and whenever you want.
I'll show you how to:
Make your work location independent
Improve communication and keep people connected
Manage a virtual team, distributed project group, or ebusiness across time and distance
This recent Cisco interactive infographic  serves as  a great visual representation of The Anywhere Office® concept I've been talking about for the last decade and will be discussing on this upcoming webinar. It shows the current and future state of workplace mobility. As Cisco states "Long commutes and being in an office at a certain time with limited flexibility is gradually becoming a thing of the past. The future will see an increase in workplace mobility creating the "anywhere office," a place where employees can work anytime from anywhere." By 2013, mobile workers will make up 35 percent of the worldwide workforce. While that leaves out over half of the global workforce, it shows us a new world of opportunity.  Are you shifting your business to "The Anywhere Office®?"

Who should attend
This webinar is perfect for anyone who must coordinate with co-workers, clients, vendors, or contractors across time and distance: project managers, program directors, team leaders, project coordinators, or anyone in a leadership role for a virtual team or distributed project group. This includes freelancers, entrepreneurs, telecommuters and remote workers.
Make sure to signup today and reserve your spot.  Even if you can't make the live event you will be emailed a link to the recording so you can still benefit from all the tips and strategies I'll be sharing.
I'm looking forward to a fun webinar and I hope to see you there!
With our first named storm bearing down this season (Hurricane Irene) and a recent earthquake in the Washington, DC area it's the yearly wake-up call for small businesses to start thinking about business continuity and disaster preparedness. I prefer to talk about it from this perspective, 'continuity' and 'preparedness',  rather than "disaster recovery". With a smart, flexible business structure in place, hopefully you won't need much recovery.  Instead, you are fluid and can simply roll with whatever comes along.  If  you work in The Anywhere Office – you're mobile and  can communicate and collaborate across time and distance. You can work where and when you need to – just like you do every day.
Not quite there yet?  That's OK – you're not alone – and we've got you covered!
Below are some useful disaster preparedness resources including websites, an episode of our radio show, a free business continuity teleseminar,  and some recommended tools to help you weather any storm.
AUDIO (Radio Show Archive):
Failing to Plan is Planning to Fail (Business Continuity in the Changing World of Work)
There are many potential obstacles that can interrupt a company's ability to do business as usual: inclement weather, natural disasters, special events, transit strikes, and skyrocketing transportation costs just to name a few. In this episode from our radio show archive we took a look at the differences between business continuity and disaster recovery as well as some strategies and technology to help you and your organization prepare. Jason and I talk with Brian Donahoo of Citrix Online, makers of GoToMyPC and GoToMeeting, to explore how aspects of the digital lifestyle can address and overcome these obstacles. As the Zen proverb says . . . The obstacle is the path.
FREE TELESEMINAR:

Riding the Storm Out (Tips to develop a business continuity plan)
Consider this, almost 40% of small businesses that close due to a disaster event never re-open.
What would you do if the building your business is located within was damaged or destroyed in a disaster? Where would you go to continue providing your business services? Would you have the resources, databases, contact information and other necessary items to adapt to these changes? Read more
This is only the second guest post we have had here on The Anywhere Office. I was delighted when Ripley Daniels approached me about writing this for the blog. As someone who has been working virtual for years and now works with a company that is completely remote she has some great lessons learned to share about making the shift to virtual work.
I was just talking with someone the other day about when I first started working primarily from my home office.  The adjustment period took at least 6 months for me to find my workflow and adjust to my space (or adjust my space to my work).  Ripley shares some essential strategies here to help make the transition easier.
Thanks for the great article Ripley . . . take it away . . .
– – – – – – – – – – – – – –
Being a telecommuter may seem like a dream come true but there are often many aspects of working from home that can cause tension, stress and even depression. For most people, transitioning from an office environment to a home office is both daunting and difficult. The office environment facilitates a social setting where you interact with your co-workers throughout the day. Working from home immediately limits your opportunity to socialize and at times can create a sense of isolation that can be hard to adjust to. Another possible change you will undergo is balancing your work and home life. This can be extremely challenging as working from home blurs the lines.
In order to get the most out of your telecommuting experience, it's important to have a strategy. Here are some simple steps to help relieve the pressure and tension that working at home might create:
Create a specific work space. There is nothing more distracting than trying to work in front of the television or in a common area where the children might be playing or your spouse might be on the phone. If possible, turn a guest room into a home office where you can set up a desk, computer and other office supplies as well as where you can hold conference calls and teleconference calls without any distractions or disruptions. If you do not have an additional room or space, designate a Read more
I had the pleasure of being interviewed via Skype recently by Karl Walinskas, Founder of Smart Company Growth, to talk about virtual work, distributed teams and tips for growing a successful virtual organization. Karl's company helps small to mid-size businesses grow sustainable profits by leveraging the best strategies, appropriate talent and cost effective resources. In short he helps his clients ignite their sales and control expenses.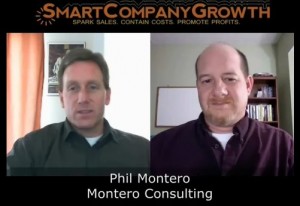 I met Karl late last year we instantly hit if off.  As we talked further he told me he wanted to embrace a virtual business model for Smart Company Growth. Shortly afterward I started working with Karl to help him refine his business model and choose the best strategies and tools that would allow him the flexibility to work from anywhere, keep his costs low, and work with clients from all over the world without the expenses and headaches of all that travel.
One of the things we discussed was how to use Skype for video conferencing and remote interviews as Karl wanted to include a series of these interviews with noted authorities on his blog. So after getting the technology in place he figured what better way to kick them off than by interviewing me about the strategies and technology that help entrepreneurs, small businesses, and solo professionals to work virtually.
Click below to watch the interview is broken down into 2 parts:
Video Interview Part 1 where we talk about the shift toward mobile work, how and why companies are embracing this type of work, some of the challenges, and what  it means to work with people you don't see every day.
Video Interview Part 2 where we talk about some of the non-tech elements critical for success when leading virtual or distributed workforces as well as some of the key gadgets and technology that help you and your team stay connected.  We also talk briefly about my on-demand webinar The Art of Virtual Leadership and how it helps managers learn to lead virtual teams.
I hope you enjoy the interview and find it informative.  Karl did a great job and had some great insight from his own experiences about what it means to work virtually and work with clients and team members remotely.
What do you think is the biggest shift in working virtually?  Please share your thoughts by posting a comment below.
In my blog post yesterday I showed you how to configure Google Sync to keep your Gmail, Google Calendar, and Contacts in sync with your iPhone, iPad, or iPod Touch.  Those steps work great if you use your Gmail address as your primary email address but they won't let you send mail from your own domain.
I have several different email addresses with different domains names all forwarding mail to Gmail and thanks to it's flexibility I was able to configure Gmail so that I can send or reply from any of them (with one being the default address for new messages).  For example even though I use Gmail as my email program I rarely use my Gmail address – instead my FROM address is phil@theanywhereoffice.com.
Although Gmail handles this perfectly I was disappointed when first configured my iPod Touch a few years back using Google Sync that it ignored these settings and always sent mail from my Gmail address.  This was unacceptable to me as I wanted emails I sent to come from my business address and didn't want to confuse my clients, customers, and colleagues.  I hunted and searched and tested and finally found out how to get this to work. You can still use the steps I shared in yesterday's post/video to sync your Google Calendars and contacts with your iPhone but you need to turn off the mail option there and follow some special (and somewhat convoluted) steps to get the mail to sync with Gmail AND send from your own domain.
No worries – I'm here to help.  I recorded 2 videos for you below walking you step-by-step through the entire process. The first step would be to have mail from your other domain forward to your Gmail account. I assume you're probably already doing this but if not you'll need to go into your current email settings for your domain and set it to forward your mail to your Gmail account. The steps for this will vary depending on how you currently get your email – most likely these settings can be controlled in the control panel of your web or email host.
The next step is to configure Gmail to send mail from your own domain rather than using your Gmail address.  Watch this video to learn how to do this:
The final step is the tricky part – how to get your iPhone, iPad, or iPod Touch to sync with Gmail and use your own domain.  Make sure to follow all the steps in the next video – there are a few gotcha's (like one part where you have to set it up with your Gmail address, back out, then go back in and Read more