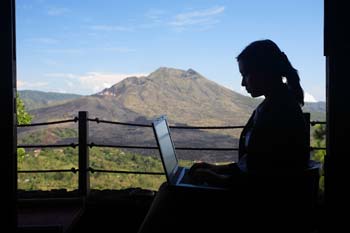 Today marks the beginning of the second annual  Telework Week hosted by Telework Exchange. The goal is to encourage people and organizations to pledge to telework during this week in order to get a first hand account of just how flexible, simple, and economical it can be to work in this mode. Already, more than 64,000 pledges have signed up for Telework Week, collectively saving more than $4.7 million in commuting costs in just one week.
I thought this event was a great opportunity to look back on my own year and review what we have accomplished to champion telework here in The Anywhere Office. Early in the year we published a free white paper called, WORK UNCHAINED: Workshifting and the Competitive Edge of The Anywhere Office®'- this 16 page special report details:
Why workshifting provides a critical competitive edge
Common mistakes to avoid when enabling a mobile workforce
Best practices for evaluating your organization before implementing a workshifting strategy
How to assess information, communication and collaboration needs
Key tools to consider when implementing a workshifting program
Then I was fortunate to be included on a panel of  experts along with Jeff Zbar and Rachel Hastings to produce a teleseminar entitled, Telecommuting in the 21st Century: How to Implement or Improve Virtual Teams and Flexible Work in Your Organization which I turned into a free 13 part audio series. These 13 sessions comprise over an hour of informative content and will provide you with all the information you need to help you evaluate if telecommuting is a good fit for your business and how to get started or improve your virtual team work.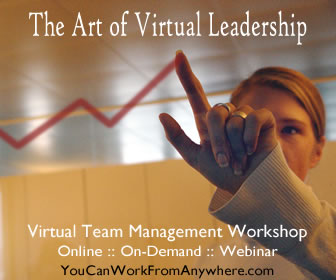 Finally, and perhaps most significantly for me, I redeveloped my virtual team leadership webinar –  The Art of Virtual Leadership. It now contains new and updated material and for the first time it's available on-demand on any device that has Internet access. This 3-hour concise go-at-your-own pace course is packed with easy-to-understand overviews, key takeaways, action plans, checklists, tips, audio interviews, best practices, steps to take, proven strategies and more.
So, I'm proud of what we've created and contributed this year – and I hope you all can find some useful guidance and advice in this information. In order to celebrate Telework Week 2012 in the hopes that more organazations and individuals will realize the tremendous benefits of telecommuting, workshifting, and virtual teamwork, I am going to give away 2 FREE enrollments to The Art of Virtual Leadership webinar (registration is currently $157).
In order to enter the contest and be eligible to win your free enrollment you must do the following 2 steps:
Follow me on Twitter – @philmontero (I share information on telework, virtual teams, mobile technology, and tips on how to work in The Anywhere Office so I promise it'll be worth it!)
Send out the following Tweet (you can copy and paste it into twitter or use the tweet button below):
RT @philmontero: It's #telework week – visit The Anywhere Office for free resources – win a $157 webinar. http://bit.ly/twk2012 #tlwk2012
To make it even easier simply click this tweet button Tweet
and you will be taken to your twitter page with the text already in place so you can just click SEND.
I am also offering a 20% discount to anyone who enrolls for The Art of Virtual Leadership during Telework Week 2012 (let's say through Sunday March 11th). Use coupon code telework2012 in the shopping cart while registering for the webinar to receive an additional 20% off of the already discounted $197 registration fee.
Have a great Telework Week, let's shoot for a telework MONTH next year…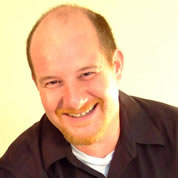 Phil Montero
Founder of TheAnywhereOffice.com
Follow me on Twitter
Subscribe to our YouTube Channel
Connect with me on LinkedIn
Links to Resources Mentioned Above:
Work Unchained Report: http://youcanworkfromanywhere.com/workunchained-specialreport.htm
Telecommuting in the 21st Century Audio: http://www.theanywhereoffice.com/telecommuting-in-the-21st-century
Art of Virtual Leadership Webinar: http://www.youcanworkfromanywhere.com/avl/