The Anywhere Office Toolbox – Download it Today!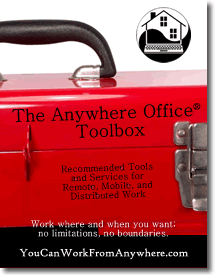 We believe that even small adjustments to the way you work can have profound effects. A small adjustment can be learning about a new tool or service, or discovering a feature of a program or device you are already using. Or it might be implementing a new collaboration strategy, or evolving a regular conference call into a virtual meeting.
In order to help you take these steps we would like to give you a free copy of The Anywhere Office Toolbox.
This eBook contains information and links to technology, services and other resources we find of benefit to mobile workers, virtual teams and supporting virtual offices and distributed work.
We recommend these tools and services. Using them, you can bring the power of The Anywhere Office™ to your business. These providers offer affordable solutions and most have free trials, so we encourage you to explore them further.
Unchain yourself from the office;
work where and when you want.