Free eBook on How to Design the Ultimate Home Office
Do you have a messy, disorganized and cluttered workspace? If so then I have great news for you – your solution is at hand thanks to an eBook titled How to Design the ULTIMATE Home Office and it's sure to help you whip your office into shape!
This book was written by Hassan Osman who writes a blog called TheCouchManager.com about working remotely. Being we share a passion for mobile work he sent me a copy of his book to review and I was very impressed with his approach and envious of the photos of his very organized home office.
He normally sells this book for $19.95 but he generously offered to make it available free for one week to members of The Anywhere Office tribe.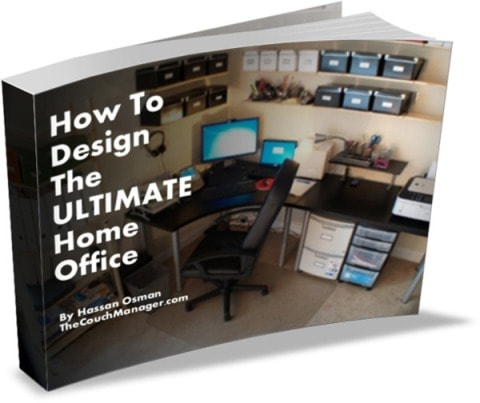 How to Design the ULTIMATE Home Office is a downloadable ebook that will help you transform your home office into a highly efficient space. It contains over 40 pictures that show you what organizers and tools to use and where to best position them for maximum impact.
Here's what you'll learn:
Where to put all that clutter that's been lingering around
What types of budget-friendly organizers to use for your reference files and documents
How to position everything on your desk to save you time and increase your productivity
Examples of applying the GTD principles on organizing all your "offline" stuff
To get your free copy visit this link and  sign up for his "Managing Virtual Teams" newsletter and you'll receive 2 FREE ebooks:
"How To Design the ULTIMATE Home Office"  ($19.95 value) – a GTD-friendly guide with over 40 pictures that will help you clear up your office clutter and create a more productive workspace
"Time Zone Meeting Coordination in 7 Easy Steps" – a free guide that will help you schedule virtual team meetings across different time zones without losing your hair (includes a downloadable Excel spreadsheet)
This is a limited-time offer exclusively for The Anywhere Office tribe, so make sure you sign up and download the books before Friday, Aug 17 at 9pm PST!