Virtual Team Leader: Boss or Facilitator? Join us this Wednesday for a Live Google Hangout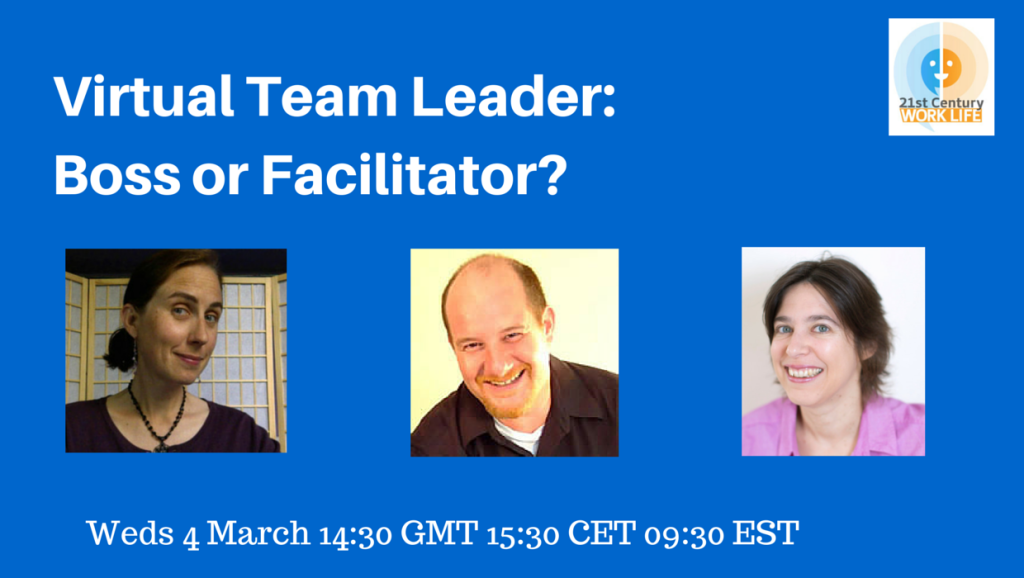 I am delighted to be joining Lisette Sutherland (@lightling – collaborationsuperpowers.com) and Pilar Orti (@PilarOrti – virtualnotdistant.com) this coming Wednesday for some virtual coffee and a live Google Hangout to discuss the changing role of the manager and team leader in virtual teams. The key to successful virtual teams is a leader that can navigate the changing landscape of our current world of work.  What are the qualities and traits of a great virtual manager?  All three of us have varied experience managing and working on virtual teams so it should be a fun, interesting exchange of ideas!
Join us Wednesday March 4th at 9:30 EST / 14:30 GMT / 15:30 CET. To join us and comment through Google Hangouts, register here: https://plus.google.com/events/cv2gj9g3ei206vqq8lar2odbrv4
Or you can watch from this page or right on YouTube.
We hope you can join us for this event.  If you have any questions you would like to ask about virtual leadership feel free to leave a comment below or send them to me on Twitter @philmontero and I'll be sure to address it during the hangout!