Free Webinar: Work Unchained – The Competitive Edge of the Anywhere Office®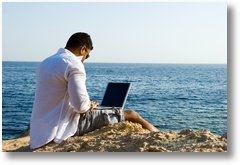 If you have employees working remotely or are just getting started with telecommuting, virtual teams, or workshifting you won't want to miss the free webinar I'm delivering next Thursday, April 29th:
Work Unchained: The Competitive Edge
of the Anywhere Office®
Thursday, April 29 at 11 AM (PDT) / 2 PM (EDT)
Business as usual no longer involves working in a traditional workplace at set hours. Today's workforce is more mobile than ever, and every day more people are working from virtual offices, client sites, home offices, coffee shops, airports, hotels, and any number of remote workplaces. Companies that take an ad-hoc approach to this work-style struggle, while those with a strategic, planned approach reap the benefit and flexibility of distributed work.
I partnered with Citrix (makers of GoToMyPC) to deliver this free Webinar. Learn how to evaluate your own organization's workflow to strategically turn your ordinary office into The Anywhere Office®.
Attend to learn:
Why workshifting provides a critical competitive edge
Common mistakes to avoid when enabling a mobile workforce
Best practices for evaluating your organization before implementing a workshifting strategy
And more…
Click here to reserve your complimentary seat
I'm looking forward to the presentation and I hope you'll join us!